Miles Ahead |

reviews, news & interviews
Miles Ahead
Miles Ahead
Don Cheadle puts heart and soul into his portrayal of the man who transformed jazz
The man with the horn: Don Cheadle as Miles Davis
Catching the essence of the mercurial, secretive and notoriously abrasive Miles Davis on film might reasonably be described as a mission impossible, but Don Cheadle has put his heart and soul into it. He directed it and plays the title role, he co-wrote the screenplay with Steven Baigelman, and he put some of his own money into it. A jazz saxophonist since his youth, he took tips from Wynton Marsalis about playing the trumpet for the movie.
The results are both better and worse than you might have expected. Cheadle succeeds remarkably well at embodying Davis in the different periods in his career over which the timeline keeps jumping. The film initially clocks in at the end of the 1970s, when Davis was coming to the end of a long fallow period (which would eventually be broken by 1981's The Man with the Horn) and was living in a daze of sex, drugs and paranoia in his Upper West Side apartment. With his fizzy Afro hair, electric-dandy clothes and malevolent hissing speech, Cheadle perfectly nails this unkempt and chaotic incarnation of the jazz legend.
One of the film's stylistic devices is to pause on an image and use it to transition to a matching shot at a different moment in time. For episodes depicting some of Davis's Fifties high points, Cheadle morphs smoothly into the groomed and tailored Davis of Miles Ahead or Kind of Blue. This was when Davis came closest to becoming a household name, not only acknowledged as a key shaper of post-World War Two jazz, but now also a fashionable name to drop with the white folks. Scenes of him working in the studio with arranger Gil Evans and a large jazz orchestra have been beautifully shot in rich period colours and impeccable attention to detail.
But inevitably, racism and exploitation force their way into the foreground. Davis once commented, "If I woke up tomorrow and I was white, I'd kill myself," but he had reasonable grounds for his hostile attitude to the white world. The real-life episode from 1959 where Davis was beaten up by police and arrested while standing outside the Manhattan jazz club Birdland, where he was gigging with his band, is recreated here with indignation-evoking force.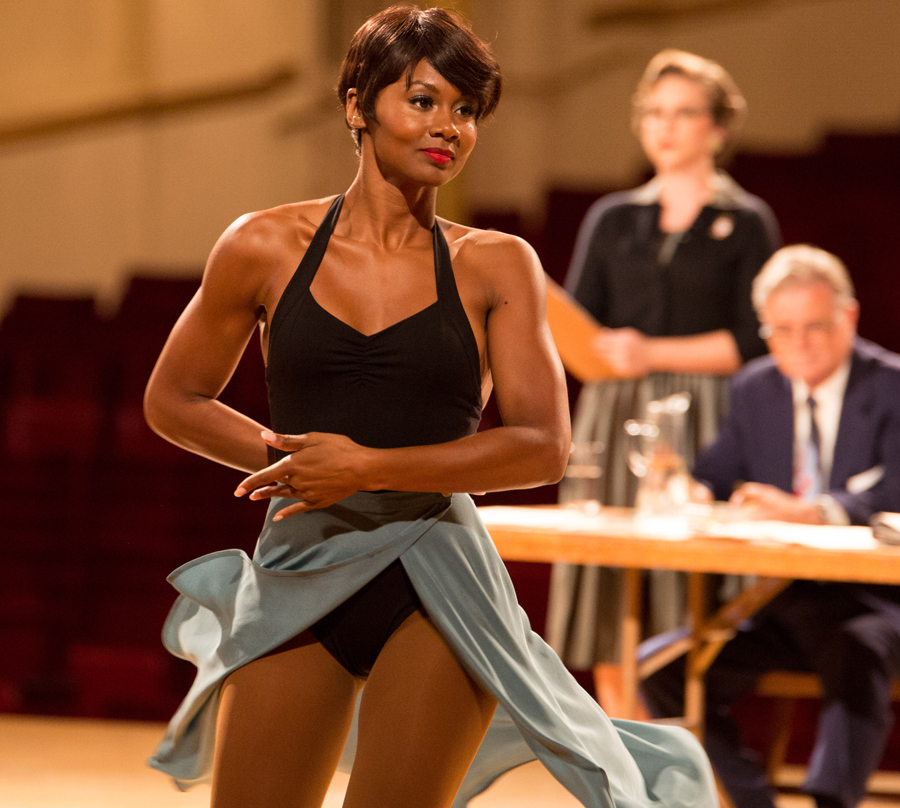 When Davis goes to watch his future wife and inspirational muse, Frances Taylor, auditioning for a dancing role, he can't help overhearing the mocking racist remarks of the white producers (Emayatzy Corinealdi as Frances, left). As for Miles's relationship with his record company, Columbia, he sees it as a form of slavery, the label demanding more product and claiming ownership of all his work while never showing Davis the respect he felt he'd earned. Mind you, plenty of white recording artists have felt exactly the same way.
With so much life and work to use as raw material – and Cheadle doesn't pull any punches regarding Davis's violent and possessive attitude to women, with Frances feeling the full force – it's unfortunate that Cheadle felt it necessary to invent a completely fictional subplot starring a hustling freelance journalist, Dave Braden (Ewan McGregor, pictured below). Cheadle has admitted he needed a white co-star to boost international sales, but Braden has been shoehorned into the narrative with all the subtlety of the Statue of Liberty suddenly falling through the ceiling. He comes banging on Davis's door, claiming to have been hired to write his comeback story for Rolling Stone magazine. This guy is so pushy he even barges into the trumpeter's apartment and locks him out, tape-recording his impressions in tabloidesque drivel – "Jazz's Howard Hughes, reviled and revered..."
Braden becomes Miles's barkingly implausible partner in crime, taking him down to the record company for a showdown where Miles pulls a gun, and assisting him in an absurd caper involving a tape of Davis's new music which has been stolen by an unscrupulous music-biz hustler called Harper Hamilton (Michael Stuhlbarg, in a caricature of smirking villainy). A late-night car chase where Davis gets shot in the leg by Hamilton's bodyguard is rubber-burningly dramatic, but it never happened to Miles Davis.
See this movie for Cheadle's crackling performance and the musical content, not least a concluding comeback performance featuring the real Wayne Shorter and Herbie Hancock in Miles's band. Hats off to Cheadle for getting a film about Davis made at all. What a pity he had to make some glaringly obvious compromises to get it done.