Miss Julie |

reviews, news & interviews
Miss Julie
Miss Julie
Jessica Chastain and Colin Farrell are the mistress and servant messing with each other's heads in an airless Strindberg adaptation
Tuesday, 01 September 2015
The television series Downton Abbey and Upstairs, Downstairs, along with Robert Atman's film Gosford Park, notably illustrate the public's continued fascination with the relation between masters, mistresses and their servants. Yet none of them, not even the Altman, charted that relation with quite as much complexity and ferocity as Strindberg's Miss Julie, in which no-one emerges well from the class struggle.
Written in 1888, the play represented Strindberg's attempt to bring a new degree of naturalism to theatre. Its style and psychological acuity lend itself well to cinema; though being a chamber piece with just three characters and a single setting are theatrical constraints which any film adaptation must confront. Sadly Liv Ullmann's new film singularly fails to do so.
Plays don't have to be "opened out", but it helps. Cinema's greatest Miss Julie is Swedish director (and in some ways Bergman mentor) Alf Sjöberg's 1951 version, which is visually arresting and offers a full-blooded view of the society in which Miss Julie and her father's valet Jean conduct their class and gender battle of wits.
Rarely has the indoctrination of social position been so disturbingly depicted Mike Figgis's 1999 version kept the focus on the protagonists, offering little more than a mobile camera to make it cinematic, and paid the price. Ullmann does even less, using mostly static medium shots, her filming of the drama as stiff and airless as it's possible to be. And that's a shame, because the actors really do go for it.
The action has been transposed to the Ireland of 1890, with Miss Julie now the daughter of an English baron (if I've gauged Chastain's not wholly convincing accent correctly), which adds another layer of discord between mistress and servant.
She is the lonely child of the house, her mother dead, her father away, left alone with the staff as it makes merry on Midsummer Night. She's lofty, vain and disdainful of her servants, at one point insisting that John (Farrell) kiss her boots, and rudely dismissive of his engagement to the cook, Kathleen (Samantha Morton), as she insists on dancing with the valet. For his part, John is a preening ladies' man and social climber, and like Julie proud, manipulative and fundamentally weak. They're birds of a feather, you might say; but in their dangerous game, it's Julie who's the most vulnerable.
The story is constructed as a seesaw of power between the two, which could also be regarded as a struggle of two halves – before and after they have sex, both of them thrown out of kilter by this ultimate breach of their social contract. Aside from Julie's personal tragedy, it's the degree to which the characters are governed by class, status and money that is the meat and drink of the piece. Rarely has the indoctrination of social position been so disturbingly depicted, as when John admits that the very presence of the Baron on the other end of the bell gives him no choice but to defer, and serve.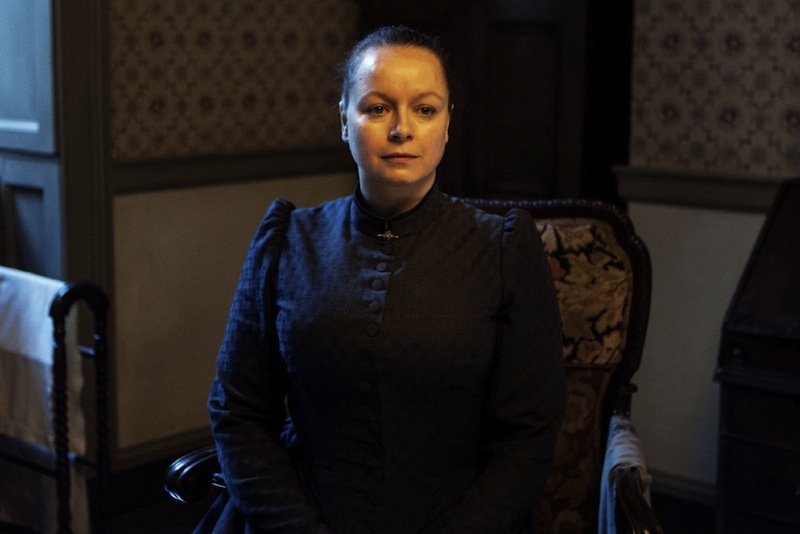 Standing between Julie's self-destructive desire to "fall" and John's vainglorious dreams of a life spending her money, it's Kathleen (played with a compelling stoutness of character by Morton, pictured right) who is the most comfortable with her standing, chiding the others for stepping outside their boundaries. In a brilliant put down, she informs John that she'd only be jealous of him if he'd dallied with one of the other servants.
The class aspects are well presented, then. But there are two problems with the film. One is the direction, whose faults include too few external shots, no other characters and no attempt to present the world in which the action takes place. Farrell is made to constantly pace up and down vast interiors in a way that is repetitive and wearing, while the constant light outside the windows – even given that this is the longest day of the year – counteracts the idea that we are watching seething passions play out over the course of a sultry night; and that simply underlines the theatrical origins of the piece.
The other issue is that Chastain's performance feels too skittish, if not a little mad straight out of the blocks, playing into the hands of Strindberg's chauvinistic portrait of Julie, rather than challenging it; certainly, the character doesn't travel quite the distance that she might.
Nonetheless, with her red hair, pale skin and a nervous alertness in her eyes, the actress is extremely watchable; her doomed coquette makes me want to see her play Blanche DuBois. Farrell, on a good run of form that includes his conflicted cop in True Detective and in the up-coming, gloriously odd sci-fi The Lobster, has his machinating John turn on a dime – with those famous eyebrows working overtime – in a way that's quite chilling. It speaks volumes that the film is simply too staid to contain the energy of their performances.
Overleaf: watch the trailer for Miss Julie
rating
Explore topics
Share this article