Nightcrawler |

reviews, news & interviews
Nightcrawler
Nightcrawler
Jake Gyllenhaal turns in a memorable performance in Dan Gilroy's dark thriller
Wednesday, 29 October 2014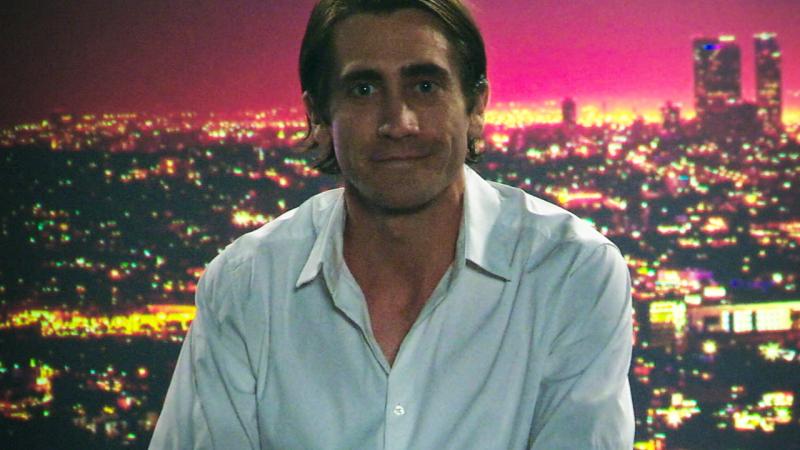 Jake Gyllenhaal as the manipulative newshound Lou Bloom
"If it bleeds it leads", proclaims crime news reporter Joe Loder (Bill Paxton) as he investigates the bloody remains of a car crash with his invasive camera lens in a bid to make the biggest bucks out of the exploitation of human tragedy. It's a mantra which curious onlooker Lou Bloom (Jake Gyllenhaal, who has shed a massive 30 pounds for the role) takes to grim and vicious extremes when he sets up his own TV news business.
First-time director Dan Gilroy sets his grisly and blackly funny satire of modern media practices and the American dream on a seedy night-time LA canvas which oozes style, and recalls the aesthetic of Brian De Palma's
Body Double
and more recently Nicolas Winding Refn's
Drive
.
Jake Gyllenhaal turns in an incredibly convincing performance as a sociopath – repellent enough to sit alongside Patrick Bateman – who is grasping ruthlessly for success in the vilest of ways. Gyllenhaal's character is a petty thief turned self-taught freelance cameraman who makes his money from trawling the streets at night, searching for the most gruesome accidents to sell to the local news channels. His sunken eyes and pale complexion add to his unnerving presence, and while Gilroy's film may not say anything particularly original, Gyllenhaal's committed turn ensures a skin-crawling experience.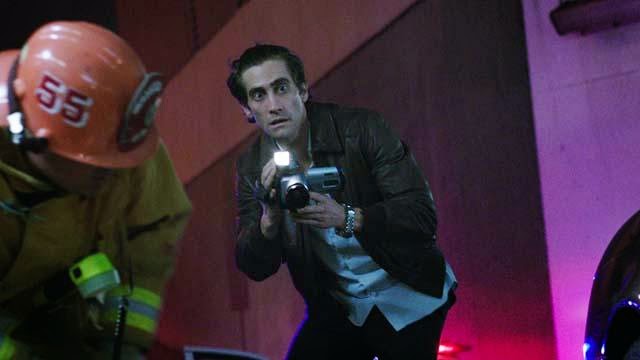 Bloom's charm offensive is gross and his morals are non-existent. His gleeful admiration of his ghoulish footage shows he has no shame about the work he is doing, and which he openly celebrates if it's labelled with "viewer discretion is advised" as that brings home the fattest pay cheque. Bloom's obsessive behaviour and blind desperation is reminiscent of Rupert Pupkin in The King of Comedy, and with the calibre of roles Gyllenhaal has taken on in recent years, including Enemy and Prisoners, he perhaps deserves to be held in as high esteem as Robert De Niro was in his heyday. Gyllenhaal's fast-talking, manipulative and monstrous Lou Bloom proves a most memorable and disturbing character.
Riz Ahmed is also fantastic as Rick, Bloom's overworked, underpaid intern who helps him navigate the streets and provides not only the moral centre of the piece but allows Gilroy to take a brilliant dig at modern media internships. Bloom's increasingly nasty and exploitative tactics, and penchant for rubbernecking, mirror the current attitudes of news outlets. The dazzling backdrop is complemented by a pulsating synth and rock soundtrack from James Newton Howard which further immerses the viewer into the textured, stifling nocturnal LA setting. Gilroy is aided by experienced cinematographer Robert Elswit, who also worked on There Will Be Blood and has in fact worked closely with Paul Thomas Anderson since the start of his film career. Gilroy expertly guides the viewer through the mindset of a man so determined in his quest for success that he's happy to use human corpses as bargaining chips to get there. It makes for both chilling and exhilarating viewing.
Overleaf: watch the trailer for Nightcrawler
Gyllenhaal's fast-talking, manipulative and monstrous Lou Bloom proves a most memorable and disturbing character
rating
Explore topics
Share this article