Our Ladies review - five go wild in Edinburgh |

reviews, news & interviews
Our Ladies review - five go wild in Edinburgh
Our Ladies review - five go wild in Edinburgh
Roll over Renton, tell Begbie the news...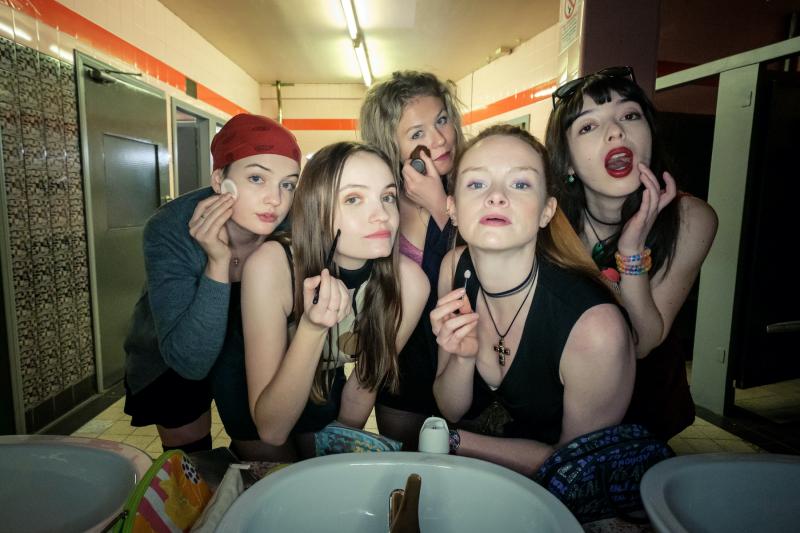 Girding up: (from left) Tallulah Greive, Abigail Lawrie, Sally Messham, Rona Morison, and Marli Siu.
It's often the company one keeps that makes a journey worthwhile, not the destination. That's as true for the five ebullient Fort William schoolgirls making their first trip to Edinburgh in Our Ladies as it is for the film's audience. These Highland hoydens are so much fun, it's a pity when our brief time with them ends.
Choir members at a Catholic all-girls' school, they descend on Edinburgh, after some unnecessarily beautiful shots of braes and glens, with high hopes of getting laid and zero interest in winning the singing competition the choir's been enrolled in by its optimistic organiser and conductor Sister Condron (Kate Dickie in an underwritten role), who's known to her charges, of course, as "Sister Condom".
Should Edinburgh not provide willing sexual partners for the girls, sailors from a nuclear submarine newly arrived in Loch Linnhe might be persuaded to comply after they arrive home on the school coach that night, though it transpires one of the five heroines prefers women to men. Not all the story arcs end in sex. In only one case is it an act of completion. Most of the girls have agendas in which sex figures but resolves nothing.
Our Ladies was adapted from Alan Warner's third novel The Sopranos (also the source of the 2015 Olivier-winning play Our Ladies of Perpetual Succour) by the Rob Roy team of director Michael Caton-Jones and the late Scottish Hollywood screenwriter Alan Sharp; Caton-Jones got the film made in his native Scotland after a 20-year search for financial backing, resisting opportunities to shoot it in America instead.
The film is bookended by ill-fitting tableaux of the five working-class girls standing in flowing white robes beside the loch – shots as unnecessary as the picturesque images of braes and glens that illustrate their journey (pictured above) to Edinburgh, where inevitably Princes Street and other civic landmarks appear. The film's American distributor Sony Pictures International and Screen Scotland must have mandated its touristy commodifying of Scotland, which directors like Ken Loach, Lynne Ramsey, and Danny Boyle have debunked. Our Ladies doesn't lack for ironies, but they are ironies of fate – the voids left by unfulfilled expectations in the film are funnier than their realisation would have been.
The actresses swiftly establish their characters' identities. The protagonist Orla (Tallulah Greive) is a cheerful, level-headed recovering leukaemia patient with a submissive kink she's yet to experience; the ringleader Manda (Sally Messham) is a tough, none-too-bright, and permanently randy force of nature; her booksmart best friend Finnoula (Abigail Lawrie) is bitter because her family's too poor to enable her to escape Fort William via further education; cool punk singer Kylah (Run's Marli Siu) is unconscionably manipulative; and deceptively sparky Irish lass Chell (Rona Morison) can't come to terms with her father's death. Though Kylah and Chell have little to do in the movie's present, flashbacks vividly flesh out their stories, as still photos trace the history of Manda and Finnoula's friendship since toddlerhood.
A sixth girl, a posh doctor's daughter Kay (Eve Austin), bears the brunt of Finnoula's sarcasm because she's the school's university-bound head girl. Yet the script dismantles her goody-goody reputation through a series of reveals, and by the end of the film she has assumed as much importance as the other five girls and unintentionally caused a rift between two of them. While indicating that the girls' togetherness is not only vulnerable but finite, the film luxuriates in it – never so more than when they're shown girding up for conquest in their gladrags and makeup, the scene being Caton-Jones's homage to his depiction of Christine Keeler and Mandy Rice-Davies doing exactly that in Scandal. (Pictured below: welcome to Edinburgh)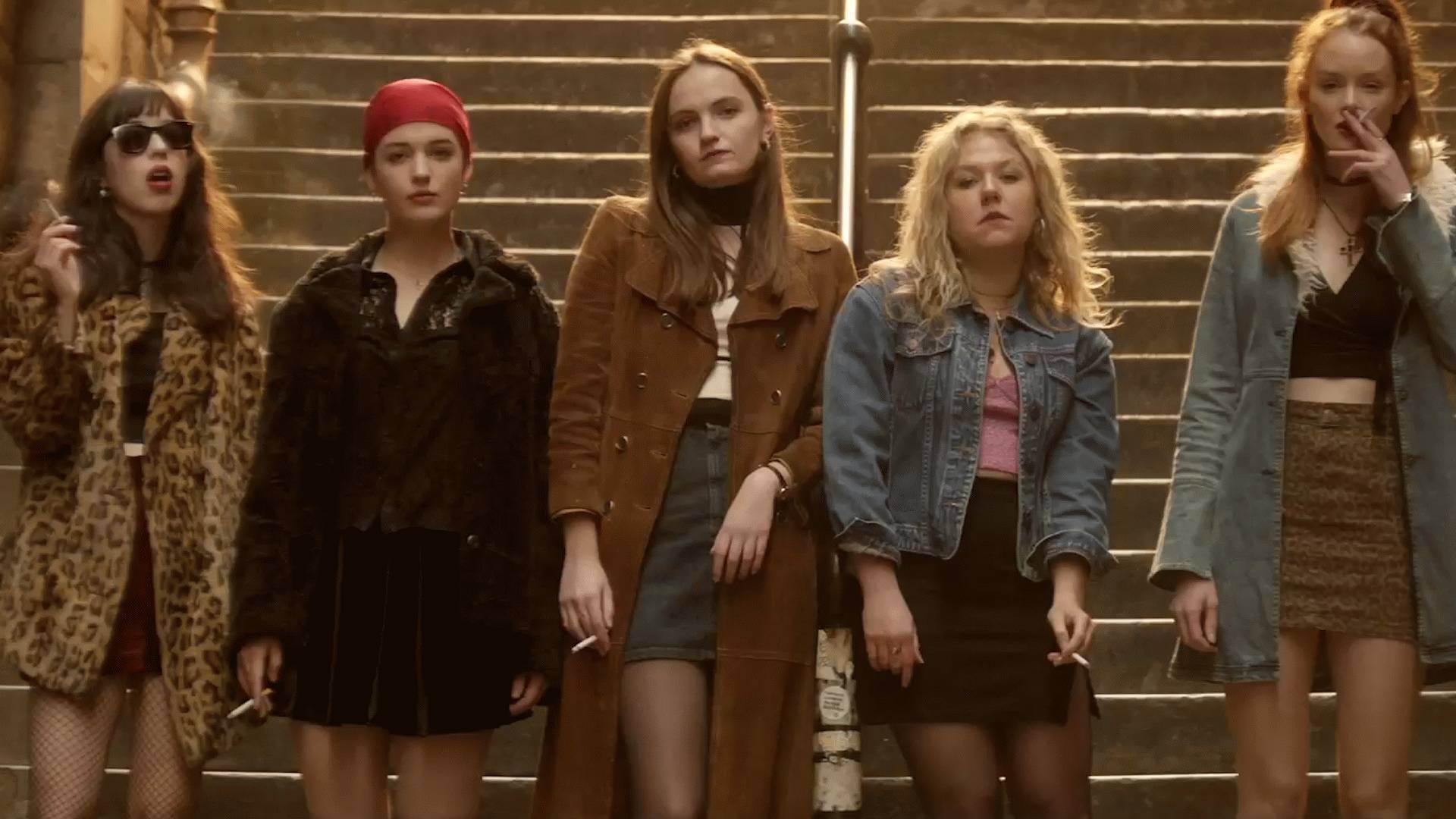 The Sopranos was published in 1998, so it's easy to fantasise the girls colliding with Renton and the rest of Irvine Welsh's Trainspotting gang (not least Kelly Macdonald's gymslip clubber). However, unlike Ramsay's 2002 Morvern Callar, adapted from Warner's 1995 debut, Our Ladies is long removed from the era in which it was conceived, so its raucous ladette nostalgia is out of sync with restrictive contemporary morality. Schoolgirl sex (and teen pregnancies, of which there are two in the film) is no longer a joking matter – or something that can be treated as casually as it was in, say, The Prime of Miss Jean Brodie (1969). It's up to the individual viewer to decide if Our Ladies is a welcome gift from the pre-woke past or an insensitive anachronism.
There's no greater proof of the unruly quintet's magnetism than the montage of fourth-wall breaking outtakes that accompanies the final credits. Outtakes usually commit a crime against cinema because they break a movie's spell too quickly; better to let the audience meditate on it until it fades like a dream. The equivalent larkings-around in Our Ladies calculatedly soften the blow dealt one of the girls by closing titles that explain what happened to them after the story (and might preclude a sequel based on Warner's 2010 follow-up novel The Stars in the Bright Sky). The outtakes are therefore an emotional cheat – yet they're also oddly thrilling celebrations of the actresses and their characters' infectious vitality.