Passages review - amusing, lusty, surprising Parisian love triangle |

reviews, news & interviews
Passages review - amusing, lusty, surprising Parisian love triangle
Passages review - amusing, lusty, surprising Parisian love triangle
Whishaw, Exarchopoulos and Rogowski fight it out, in Ira Sachs' latest romantic drama
Friday, 01 September 2023
Adèle Exarchopoulos and Franz Rogowski in 'Passages'
From Forty Shades of Blue, 20 years ago, to Keep the Lights On and Love is Strange, writer/director Ira Sachs has proved himself to be a master at exploring romantic relationships – and the messier, the better. So, after the whimsical, inconsequential ensemble Frankie, he's back to his best with a good old-fashioned love triangle.
Passages is set in Paris, where German filmmaker Tomas (Franz Rogowski) and English printer Martin (Ben Whishaw) are an expat married couple, with a gorgeous apartment in the city, a country house, and some understandings, nay compromises in place that balance their very different characters – Tomas a broodingly attractive, but ridiculously preening prima donna, Martin sensitive, responsible, and maybe a bit of a bore. Needless to say, the compromises appear to be entirely Martin's.
At the wrap party for Tomas's latest film, Martin cries off early, leaving his partner to fend for himself. Meanwhile, Agathe (Adèle Exarchopoulos), a school teacher whose boyfriend is on the crew, chooses this moment to end the relationship. Soon, she and Tomas are dancing, which leads to another party, and bed.
The next morning Tomas returns home very excited, brazenly eager to share his experience with his partner – declaring that sex with a woman has elicited feelings he hasn't had for a long time. Cute. Though clearly upset, Martin isn't surprised. "This always happens when you finish a film. You just forget."
While there clearly is a pattern here, the course of the film involves Tomas's attempt to push it further, to have both relationships; even when made to choose, and apparently making that choice, this awful narcissist can't let go of the assumption that he really should be allowed to have his cake and eat it.
This is no Jules et Jim, there is no complicity, or noble sacrifice on behalf of the others, but a passage of shifting dynamics between the three, with Martin's decision to forge a new relationship of his own adding to the complications. As much as an investigation of love, friendship and desire, this is, perhaps primarily, a study of pathological need.
Tomas's machinations are certainly entertaining, in an awful kind of way. One highlight is the worst imaginable first meeting with a lover's parents, which ends with Tomas telling Agathe's fully appraised and concerned mother, "I don't want to cope with you any more", long before dessert is served; another, when he makes a fool of himself in her classroom. Sachs cleverly balances Tomas's behaviour with the sincerity of the other characters; both Martin and Agathe offer enough love and tolerance to make their pairings with Tomas almost believable, if not quite, and to make us continually wonder how it will finally pan out.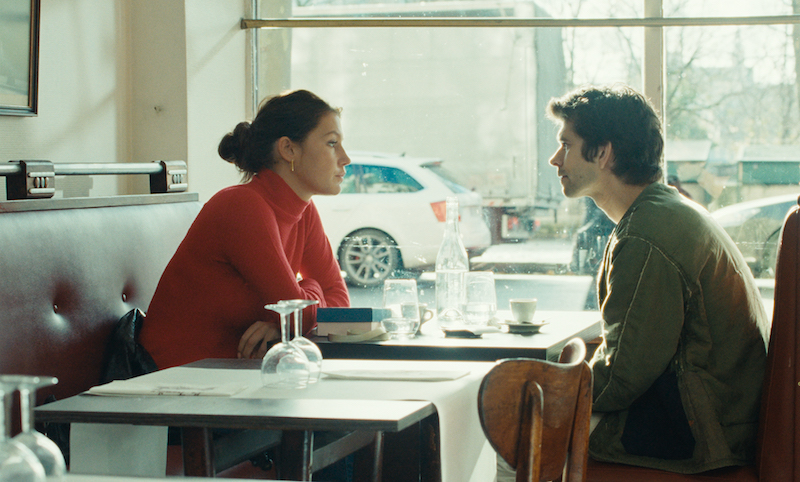 Along the way, this romantic tale is wryly amusing, curious, raunchy (especially between the two men) and very beautiful to look at, whether the actors, the gorgeously designed interiors or Paris itself (full marks to costume, production design and cinematography). It's notable that, despite the character fuelling the action, the film itself is not histrionic, even when Sachs and regular co-writer Mauricio Zacharias bring the idea of children into the mix – a bold move as calmly executed and explored as everything else.
The actors are exceptional. Rogowski (Transit, Undine) can combine vulnerability with a raw edge and sly charisma, in a combination that reminds me of a young Joaquin Phoenix. A scene in which Tomas sings along to an old Romany song is so sweet and leftfield that one can imagine how Marthe could fall in love with him, and Rogowski somehow makes this a persuasive part of his mostly self-centred character's psyche. He's also quite the clothes horse, carrying an amazing wardrobe with aplomb.
Both Wishaw and Exarchopoulos bring more grounded characterisations, each conveying an inner steel and resilience to their characters that they will need. Exarchopoulos's scenes in the classroom (the same profession as her breakout role in Blue is the Warmest Colour) and Wishaw's in the printing studio offer glimpses of professional lives that contrast nicely with the romantic mayhem.