Pink Wall review - scattered scenes from a tortuous relationship |

reviews, news & interviews
Pink Wall review - scattered scenes from a tortuous relationship
Pink Wall review - scattered scenes from a tortuous relationship
Actor Tom Cullen's directorial debut contains intense performances but lacks clarity
Saturday, 14 December 2019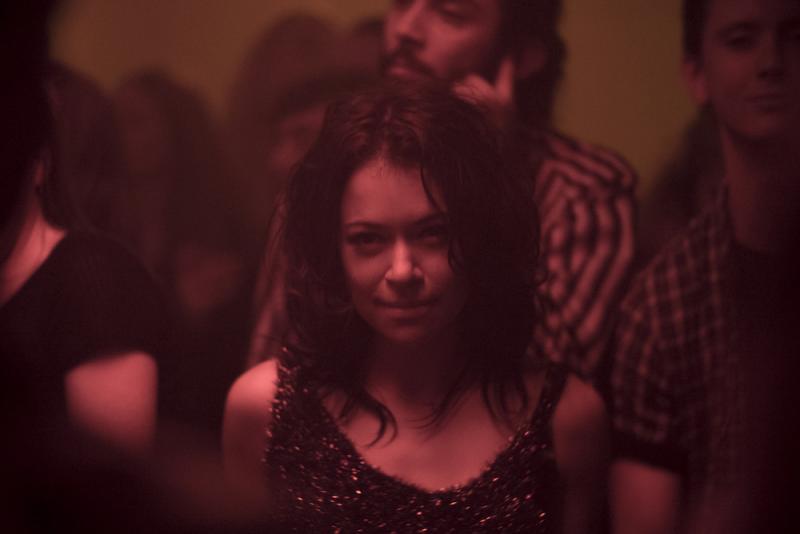 Tatiana Maslany as hot-shot movie producer Jenna
What Jenna (Tatiana Maslany, star of Orphan Black), likes doing is wrangling and coordinating, not creating – she hates that - which makes for a refreshing change in a heroine. Her new boyfriend Leon (Jay Duplass, pictured below, of the Duplass brothers), an ambition-free photographers' assistant, tells her that, given her talents, what she must do is become a film producer and, in a lightbulb moment, her future is suddenly mapped out. They've just met while clubbing – he's also a DJ - and there's an instant attraction between them on the dance floor. But what will her ambition bring to their love affair?
Actor Tom Cullen, who starred in Weekend and, as Lady Mary's boyfriend, in Downtown Abbey, has made a low-budget directorial debut (he also wrote the script) shot over nine days in Cardiff and Rhayader, Powys – though, unsettlingly, there is no sense of place, no mention of Wales itself - that explores this relationship of two Americans in the UK in non-linear, semi-improvised scenes over a six-year period.
This time-line can be confusing, though the acting is impressive and Maslany (Cullen's real-life partner) as Jenna is wonderfully engaging and full of verve. But you do wonder why she stays with Leon. He's pretty irritating. He admits he's lazy and unfocused, but at the same time, he tells his dealer that he thinks he might be an enlightened being who's "transcended a lot of levels that a lot of people are working on right now". Is Leon living off Jenna? Does he have private means? Is this a comedy? Why is his character so inconsistent? Unanswered questions abound.
We start with year four – each year is emblazoned on the screen in large letters – when Leon and Jenna are in a pub with Jenna's brother and parents, who, for some reason, are heard but not seen. An argument starts up, not surprisingly, when Jenna's brother calls Leon a pussy-whipped cuck after he's been describing Jenna, jokingly, as the enforcer. She defends Leon but soon they're outside, fighting over Leon's lack of drive. Jenna comes home from work, the dishes aren't done, he's in front of the TV, then she has to make dinner. What's he been doing all day? Nevertheless, they end up laughing. Apparently they're still cool. Except they're obviously not.
Cullen is influenced by Cassavetes and 70s realism, as well as Richard Linklater and his Before trilogy, and there is a gritty, intense quality to Pink Wall. It could be seen as a wilder, indie companion piece to Marriage Story, perhaps. But the uncomfortable relationship between Jenna and Leon doesn't have room to grow, partly because of the scattered time-line, and neither character seems wholly credible.
Still, many of the scenes are off-beat and impressive: Leon's lonely buying of full-fat beef for ragu – "You can't have lean beef, my mom is Italian so I know" – his stoned desperation to get his dealer to stay to lunch in year five, his enthusiasm as he introduces Jenna to the Meters' "Cissy Strut" in year one. But there's not enough back story to understand why he's so hopeless, apart from some vague daddy issues, or why he feels the need to dress up as a loo-paper-covered zombie in an unsuccessful sex gambit when Jenna gets back from work (there's also a lot of aggressively overheated, but oddly disembodied and unreal sex talk at a dinner party in year two).
In year three, it's clear that what Leon wants is to be a dad. He's looking after a friend's son in a park and the teasing bond between them is touching. "Our kid will adore you because you win at everything in life," he tells Jenna sycophantically. "You're going to be a great mum." This doesn't follow, says Jenna. "Just because I'm good at stuff doesn't mean I'll be a good mum. Maybe I just want to do my shit." These ordinary, complicated imbalances – career, parenthood, masculinity, feminism, monogamy, communication – lie at the heart of the film.
Cullen wants us to be witnesses to these characters' intimate moments, as if we are observing their memories flashing to and fro. It's an unusual debut, but at the end, in a beautifully shot scene on a Welsh hillside, you don't believe Jenna when she tells Leon how much, in spite of appearances to the contrary, she loves and admires him. Perhaps her ambivalence is the point – but it's not made clearly enough.
Ordinary, complicated imbalances – career, parenthood, masculinity – lie at the heart of the film
rating
Explore topics
Share this article