Rocks review - impressively well-crafted neo-realist drama
Rocks review - impressively well-crafted neo-realist drama
Sarah Gavron and Theresa Ikoko's collaboration pays off in this lovingly observed tale
Thursday, 17 September 2020
Rocks is a beautifully made slice of neo-realist filmmaking which deserves to get a wide audience but may well slip off the radar in the current climate. It really should be experienced in a cinema as the camerawork by Hélène Louvart is stunning and the sound design is excellent.
Co-written by playwright Theresa Ikoko from her original story, it follows a few days in the life of Rocks, a 16-year-old girl growing up in Dalston. It's the end of the summer holidays and her widowed mum is having mental health problems and has taken herself off. She's left a bit of cash and a note saying that she needs "to clear my head". This leaves Rocks struggling to take care of her little brother Emmanuel and fearful of social services getting involved. Her grandma is back home in Lagos and she's left relying on her friends to help her dodge adult interference. Balancing her school-work, Emmanuel's fears and keeping food on the table, proves tricky. Circumnavigating rivalries and loyalties among her friends adds to Rocks' challenges.
Director Sarah Gavron has assembled an impressive cast of young actors, from first timers Bukky Bakray (pictured below right) as the eponymous heroine and D'angeolou Osei Kissiedu as Emmanuel in the leading roles. But there are also outstanding performance by Kosar Ali (pictured below left), who plays Rocks' long term schoolfriend, who lives with her Somalian family and Shaneigha-Monik Greyson, cast as the disruptive new girl in school with a Polish stepmum. All the complexity of inner city multicultural life is dealt with in a naturalistic, non-didactic way and the film is all the better for it. Chatting about family origins, one classmate talks about her grandma being raped in Auschwitz only for another girl to be surprised because she's not Jewish and get told that Hitler also thought gypsies were "bad people" too. Describing that dialogue makes it sound like a lecture, but it's to the filmmakers' credit that those lines just slip by in a wholly naturalistic way.There's a strong sense that scenes have been extensively work-shopped to ensure their naturalism and the result is wholly convincing. We watch the girls hanging out in golden hour on the roof of a council block overlooking the City, or being cheeky and argumentative with the beleaguered teachers in school. Rocks has an impressive energy and rawness as we're let inside the world of make-up videos, dates with dodgy boys and complicated family dynamics.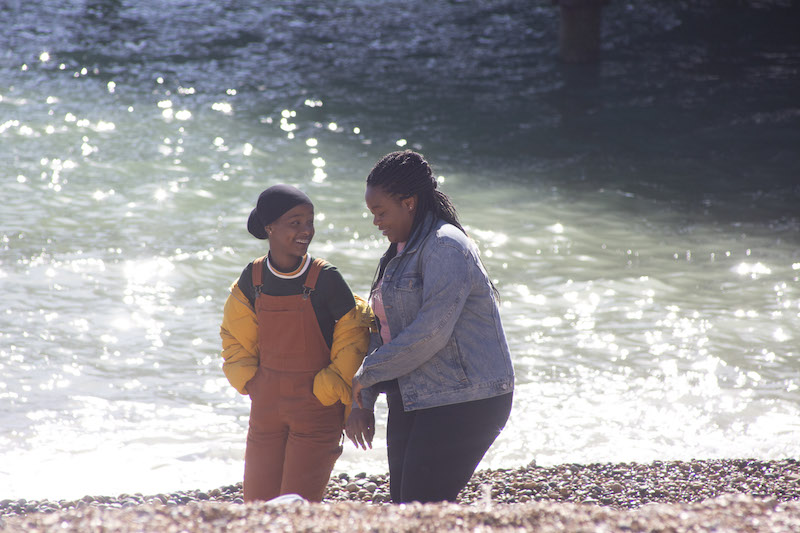 Gavron bookends the film with some footage shot on a phone to convey the teenage world of selfies and Instagram posts, but she doesn't resort to flashy editing and sticks firmly to the neo-realist tradition of story telling. She's treading on Ken Loach territory – Cathy Come Home comes to mind – but there's none of Loach's nagging finger-wagging. While there are heartbreaking scenes, there's a warmth, resilience and humour here which owes more to Gavron's acknowledged influence, Stephen Frears' 1980s films.
London is a shape-shifting character in Rocks; with scenes set in the market streets of Dalston, a high end luxury apartment, and along the canal at Hackney. It's all filmed by Louvart with a documentarian's observant eye and the elliptical montage of Maya Mattioli does the images credit.
Rocks is Gavron's best work since her adaptation of Monica Ali's Brick Lane. As a director she's unencumbered here by period recreation and can go straight for realism. She really shows her skills which seemed a little smothered in Suffragette. It'll be fascinating to see what she does next and even more interesting to see where playwright Theresa Ikoko goes after this collaboration. We need more films that feature young BAME women not as sex objects or helpless victims but as rounded characters with complex lives and full agency; Rocks does that job impressively and is hugely enjoyable along the way.
She's treading on Ken Loach territory, but there's none of Loach's nagging finger-wagging
rating
Share this article