Days of the Bagnold Summer review - wry suburban drama |

reviews, news & interviews
Days of the Bagnold Summer review - wry suburban drama
Days of the Bagnold Summer review - wry suburban drama
Simon Bird's feature film debut as director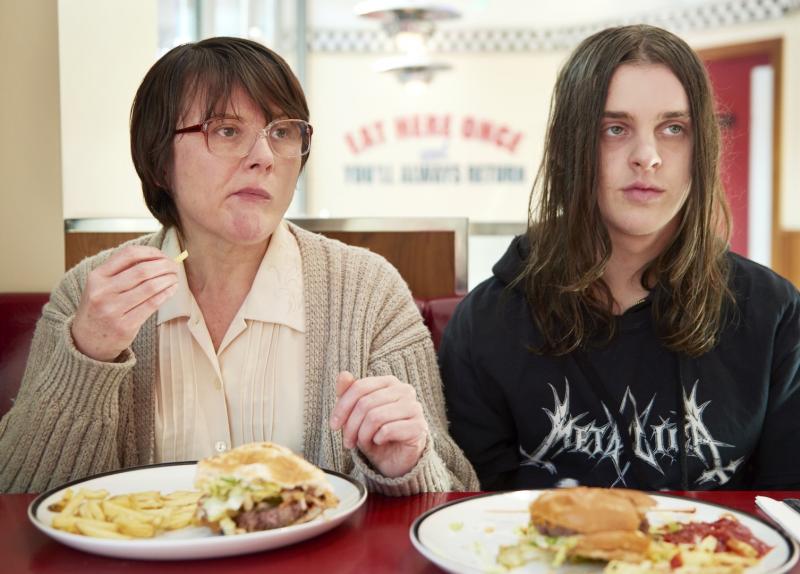 Monica Dolan and Earl Cave as a mother and son forced to spend a summer together
Simon Bird's feature film debut as a director is a gentle, warm-hearted look at a mother and son's strained relationship as they are forced to spend the summer holidays together when the teenager's dad cruel
ly cancels a trip to see him and his pregnant, much younger wife in Florida.
Days of the Bagnold Summer started life as Joff Winterhart's graphic novel, and Bird's wife, Lisa Owens, has adapted it for the screen. It has a slow-moving, elegiac quality as we see Sue Bagnold (the ever-wonderful Monica Dolan) and 15-year-old heavy-metal fan Daniel (Earl Cave, son of Nick, note-perfect as the sullen teen) gradually find their way to peaceful co-existence as she learns to live a bit and he comes out of his shell.
Bird allows the story to unfold like the long, lazy days of summer it charts. Sue and Daniel couldn't be more different; she's a mimsy librarian who has given up on men since Daniel's father left, and represents everything that Daniel pretends to despise in his emo world and the music he archly says is his religion. More pertinently she's the parent close at hand that he can be mean to, rather than the feckless disappointment of a father thousands of miles away whom he's really angry at, the one who buys a flash car but forgets to send child support.
The film is a long way from the often pie-in-the-face comedy shows that made Bird famous, The Inbetweeners and Friday Night Dinner, and its only real misfire is when the comedy goes too broad, such as when Sue and Daniel's trip to the seaside brings them into Tim Key's fudge-making class, with has zero laughs.
But there are exquisite, subtle touches, sometimes without a line of dialogue, that evince two loners who find themselves in unexpected and unwelcome close quarters for a whole summer. In one, we see that in the Bagnolds' suburban garden there are two lines of washing; Sue's white and pastel shades on one, Daniel's all-black wardrobe on the other.
There's wry humour, too, helped by some big comedy names in the cast: Rob Brydon as Daniel's would-be lothario history teacher who is sniffing around all the middle-aged mums of his pupils and Alice Lowe as Sue's spirited, outgoing friend, while Tamsin Greig does an excellent turn as the mother of Daniel's best mate. She's all faux compliments and studied one-upmanship but her intervention leads to a breakthrough of sorts in Sue's buttoned-up life, which describes her interaction with men as well as her extensive range of cardigans.
It's a quiet treat of well observed domestic ennui, with an ace soundtrack supplied by Belle & Sebastian.
Days of the Bagnold Summer is available on streaming platorms from 8 June
There's wry humour, too, helped by some big comedy names in the cast
rating
Share this article