A Russian Youth, MUBI review - First World War setting, contemporary orchestra |

reviews, news & interviews
A Russian Youth, MUBI review - First World War setting, contemporary orchestra
A Russian Youth, MUBI review - First World War setting, contemporary orchestra
Drama about a blinded boy soldier has a unique musical touch
The abyss of silence: Alexey in A Russian Youth
Alexander Tolotukhin's debut film places the viewer into a microcosm of the first world war and frames the experience with a peculiar musical device.
Spliced between grainy images of trenches, artillery strikes and field hospitals are shots of a contemporary orchestra preparing and then performing the soundtrack to the film. It is as though the tragedy of war is being dramatised and memorialised at the same time.
The narrative follows a small Russian regiment as they prepare defensive strongholds against an oncoming German battalion. During an early gas attack, the main character Alexey (Vladimir Korolev), an adolescent, is blinded and transferred to a nearby base. He is quickly repositioned at a listening post where he is tasked to warn his regiment of enemy planes. Like some tank or massive wind instrument, the listening device completely envelops Alexey and extends out to the world via two large horn-shaped cylinders. The boy's visible horizon is replaced with a cacophony of previously unnoticed sounds.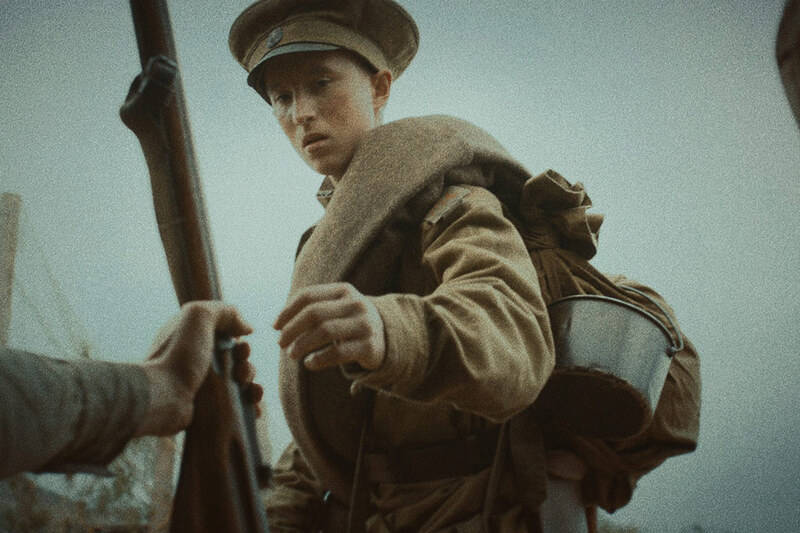 For the viewer, the experience is more complex. We are asked to embrace two realities: that of the boy's new world and the separate world of the orchestra. Alexey is blinded but we are given an extra vision, as it were, of a space outside the temporality of the film. Such a technique seems like a rather unsubtle challenge to our emotional relationship with the characters, but it might also be used to complement that relationship. The music almost always intrudes in sudden dramatic bursts that signal key dramatic scenes, as opposed to offering atmosphere or an overarching mood. During battle scenes the strings jerk, run and wrench, but during melancholy moments, such as Alexey's recovery, the music stops altogether.
One wonders if more could have been made of the music during these softer moments. For long stretches, I forgot that the orchestra was "there", only for it to return suddenly with a jarring intensity. Little is done in the way of build-up tension. The occasional cuts to the musicians smiling or whispering, as if sharing an inside joke about the film, came off as confusing rather than emotive.
Still, Tolotukhin's story contains snippets of great poignancy. Reduced to sound and touch, Alexey's mode of contact with other humans is severely attenuated. When he comes into contact with a German soldier – who is also a young boy – Alexey greets him by running his hands up the soldier's arm, across his epaulettes, and finally across his face. The enemy soldier welcomes the gesture in an ambiguously sensual exchange. Perhaps the strength of this scene actually lies in the fact that it is unaccompanied. No music to instruct (or distract from) the mood. But would the scene have achieved this poignancy had the orchestra not intruded elsewhere in the film, thereby calling our attention to this particular moment of stillness? That is the mystery of this bizarre but intriguing film.
We are given an extra vision of a space outside the temporality of the film
rating
Explore topics
Share this article