Serenity review - a game of two ill-fitting halves |

reviews, news & interviews
Serenity review - a game of two ill-fitting halves
Serenity review - a game of two ill-fitting halves
Steven Knight's fishy tale goes to a watery grave
Tropical trouble: Matthew McConaughey and Anne Hathaway
You'd expect the man who created Peaky Blinders and the ingenious one-man-and-his-car drama Locke to have his ducks in a row and his feet planted securely on terra firma, but in Serenity Steven Knight seems to have permitted himself a leisurely mental vacation. It's a tale of love, loss, multi-dimensional weirdness and a very large fish.
Technically it's a tuna, but really it's a red herring in disguise.
Our protagonist is Baker Dill (Matthew McConaughey), a bearded and sun-blasted fishing boat captain on the tropical island of Plymouth. Being McConaughey, he's also prone to showing us his bottom and leaping off cliffs in the nude.The film was shot in Mauritius, but we're never told where the fictional Plymouth is, though if you had to guess you'd probably conclude it was in the Caribbean. Anyway, Dill is pitched somewhere between Ernest Hemingway and Captain Ahab, roaring at the skies and obsessed with catching the giant tuna he calls Justice, which every now and again looms eerily in the glittering turquoise waters beneath his boat. Meanwhile he earns a crust by ferrying wealthy vacationers out on boozy deep-sea fishing trips by day, then downing whiskeys in the local bar by night before stumbling off into the arms of Constance (Diane Lane), with whom he enjoys a transactional relationship (pictured below).
Clearly, grizzled burnt-out Dill has retired to this idyllic but remote retreat to forget about something in his past (and not just his military experiences in Iraq), and before too long we find out what. His ex-wife Karen (Anne Hathaway) turns up one day, offering him $10 million if he'll take her abusive husband Frank Zariakas out on a boat trip, get him blind drunk and then chuck him overboard. In a film rife with one-note performances, Hathaway is a femme fatale of disappointingly low wattage, who broke Dill's heart but claims she has never forgotten him. It's hard to tell whether her remorse stems from leaving Dill or for being dumb enough to fall into the clutches of a wealthy brute who beats her up. Even (or perhaps especially) dyed blonde and wearing white, Hathaway is no Barbara Stanwyck.
The crude, violent, hard-drinking Frank is played by Jason Clarke as if he unplugged his frontal lobe for the duration of the shoot, and frankly it's difficult to care whether he gets drowned or not. I think I might have opted for an accident with a speargun. The only moderately sympathetic character is Dill's crewman Duke (Djimon Hounsou), whose job is to be Dill's moral conscience every time he's about to do something especially stupid (pictured below, McConaughey, Clarke and Hounsou).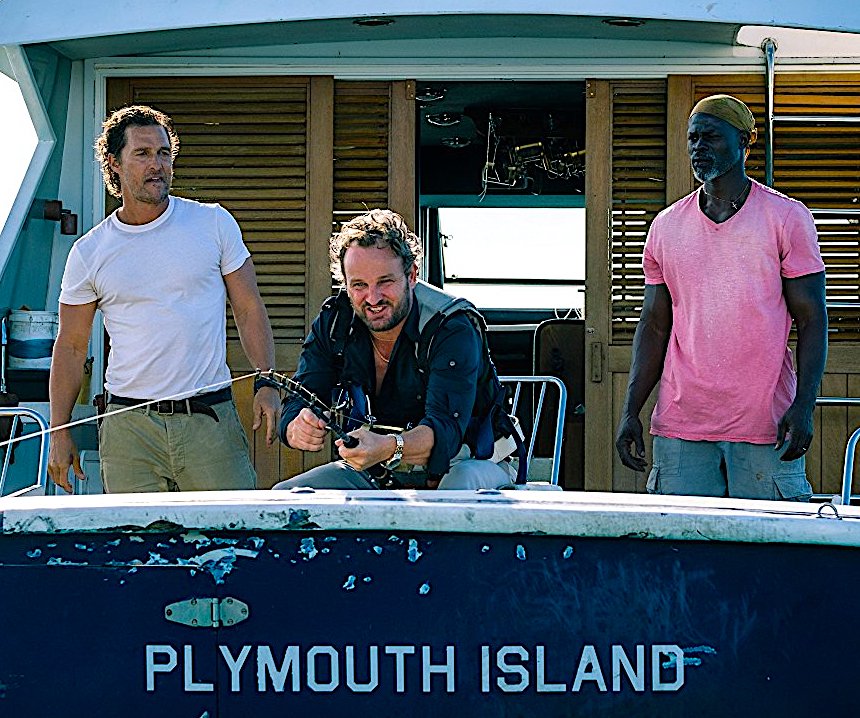 But above and beyond all this, Knight has added a layer of cyber-fantasy in which Dill maintains a kind of psychic connection with his son Patrick, a computer genius who lives unhappily with Karen and Frank, but escapes into fantastical self-created digital worlds. As an avatar of this meta-universe, there's the preposterous fishing equipment salesman Reid Miller (Jeremy Strong), trekking around the island in a Brooks Brothers suit and patent leather shoes, trying to deliver a message to Dill. "I'm the rules," he eventually tells him.
The snag with Knight's late twist is not just that it's plain daft, but that it pulls the rug out from under everything that went before. It's as if you've been watching a movie which wasn't that great to begin with, and then the director crashes through the screen, doubling up with laughter and telling you you've been had. Mauritius looks gorgeous, at least.
Serenity is available on Sky Cinema