Ocean's 8 review – half-cocked caper |

reviews, news & interviews
Ocean's 8 review – half-cocked caper
Ocean's 8 review – half-cocked caper
All-female cast can't revive flagging franchise
Debbie Ocean (Sandra Bullock, centre) with Nine Ball (Rihanna) and Tammy (Sarah Paulson)
Perfectly timed, in theory, for the advent of #MeToo and Hollywood's post-Weinstein era, this girl-power redesign of the Ocean franchise has lined up a turbo-charged cast and then not given them anything very interesting to do.
Director
and co-writer Gary Ross (
The Hunger Games
,
Free State of Jones
) was probably wise not to try to replicate the sleight-of-hand plotting, laconic wit and stiletto-sharp editing of Stephen Soderberg's
Ocean
flicks, but the unfortunate consequence is that
Ocean's 8
often ends up lapsing into a glammed-up vacuum.
The set-up is that Debbie Ocean (Sandra Bullock), the sister of George Clooney's Danny Ocean – now supposedly deceased – gets out of jail, and sets about putting into action the heist plan she's been painstakingly cooking up during her five tedious years in the slammer (where, seemingly, she was perfectly coiffeured and made-up). She gathers a team of female felons around her with the aim of stealing the Toussaint necklace (worth $150m), which if all goes to plan will be adorning the perfectly-formed neck of movie star Daphne Kluger (Anne Hathaway, pictured below with Helena Bonham Carter) at the glittering Met Gala at Manhattan's Metropolitan Museum of Art.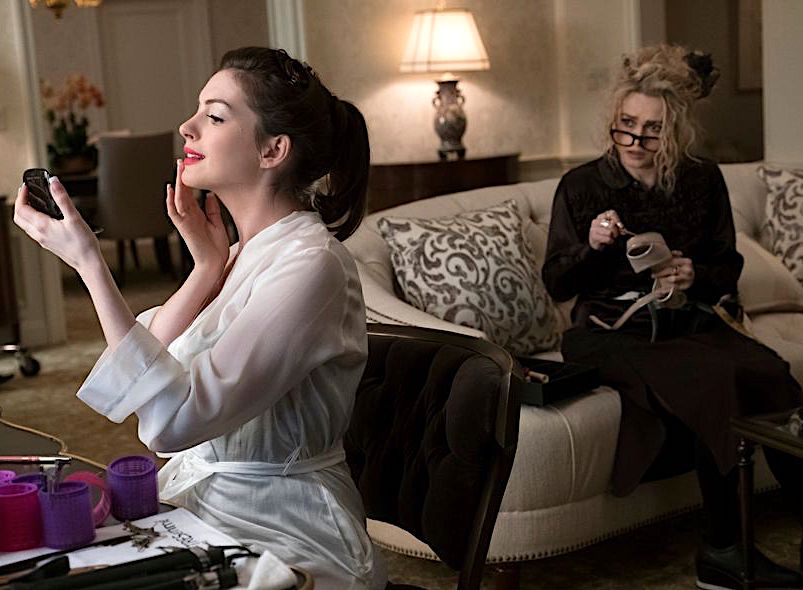 Among Debbie's light-fingered, multi-culti sisterhood are her old buddy Lou (Cate Blanchett, not doing her most persuasive work as a supposedly hard-boiled biker-babe and bar owner), jewellery designer Amita (Mindy Kaling), Tammy (Sarah Paulson) who fences stolen goods while purporting to be a demure suburban housewife, and street-smart pickpocket Constance Wong (Akwafina). Rihanna delivers a pleasant if undemanding turn as computer hacker Nine Ball. Token Bloke is Claude Becker (Richard Armitage, resolutely one-dimensional), a sleazy art dealer who unwisely shopped Debbie to the cops.
Crucial to Debbie's plan is Rose Weil (Helena Bonham Carter, sporting a farcical leprechaun accent), a high-end fashion designer who's hit hard times and is being hounded by the Internal Revenue. Debbie's gang offer to cut her in on the action if she'll play along with their plan by luring Kluger into the plot, and voila! The game is afoot.
The plot is serviceable enough, and there are assorted comic adventures with poisoned food, high-tech glasses and 3D printers as the story proceeds to its denouement, but the adrenalin is never pumped up by a sense of the potential consequences if it all goes wrong, since it's implicitly taken for granted that it's not going to. They should have written in a decent villain to give the gang a real run for their money. Worse, some of the steam fatally leaks out of the blagging-the-necklace story when the focus wanders self-indulgently into bouts of celeb spotting at the real-life Met Gala. There are coy glimpses of icy fashion queen Anna Wintour, as if she's doing the world a favour by deigning to appear, and red-carpet meet-and-greets with the likes of Heidi Klum and Serena Williams, amid many unsubtle placements of Vogue magazine's logo.
You can't really blame the performers, because everybody does as much as they're allowed to do. We know Sandra Bullock has plenty more up her sleeve than she shows here, and it's telling that her best moments come in some solo scenes early in the piece, where she gives a sleek demonstration of how to shoplift at Bergdorf Goodman and then scam a free stay at the Plaza Hotel. The one performer who rises conspicuously above the pack is Anne Hathaway, relishing Kluger's air-headed vanity and treating everyone around her with delightfully vacuous disdain. The fact that she proves to be sharper than she looks is the film's most effective twist.