Solo: A Star Wars Story review - timid and torpid |

reviews, news & interviews
Solo: A Star Wars Story review - timid and torpid
Solo: A Star Wars Story review - timid and torpid
A Star Wars too far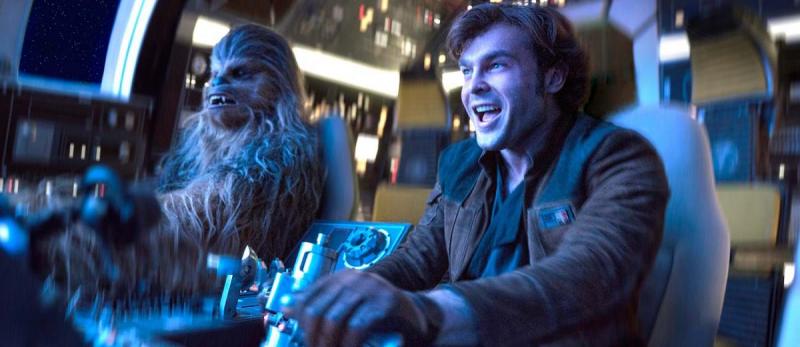 First flight: Chewbacca (Joonas Suotamo) and Han Solo (Alden Ehrenreich)
This is franchise film-making at its worst. A Han Solo: Year Zero origin yarn makes some sense, after Harrison Ford's piratical hero finished on the wrong end of a lightsaber in The Force Awakens.
But the apparently freewheeling approach of
Solo
's ditched original
directors
, Phil Lord and Christopher Miller, has been replaced by Ron Howard's safe pair of hands, which administer an anaesthetic to any chance of deviant surprise.
We find Alden Ehrenreich's young Han scrabbling for a living on his backwater home planet, much as the hitherto wholly dissimilar Luke Skywalker and Daisy Ridley's Rey did. Forced apart from love of his young life Qi'ra (Game of Thrones' Emilia Clarke, pictured below, filling next-gen Star Wars' posh young English actress slot), Solo next turns up as a soldier helping the nascent Empire scrabble for territory. There, Beckett (Woody Harrelson, donating his usual sardonic gravitas) takes him under his crooked wing for a Western-style train robbery.
Along the way, Solo gains his pistol, Chewbacca and the Millennium Falcon. As the latter's owner, Lando Calrissian (Donald Glover, pictured below) has the lazy, omnisexual allure Solo himself badly lacks. Rake, cardsharp and probable coward, this cross between the Saint and Shaft gives Solo the kiss of life, and looks happy to kiss Solo, Qi'ra and Chewbacca too. It also seems possible he could have matured into Billy Dee Williams' Lando in The Empire Strikes Back. Lawrence Kasdan co-wrote both films, but his talent has fallen far.
Paul Bettany, a late addition for Ron Howard's reshoots, is livid-scarred villain Dryden, and Emilia Clarke deepens an initially weak, apparently miscast role by his side. Beyond them lies nothing. Arcana from Han's Star Wars dialogue are lengthily dramatised. Here are the Kessel Run and Corellia. Like Blade Runner's ships off the shoulder of Orion, we didn't need to see them.
Two jokes work: Imperial recruitment ads ("Join the Empire! Create Order!"), and a bit of record-setting cheating by Han which has the light touch of casual improv. Lord and Miller were handed their cards for that sort of thing. Maybe this is the sound of their film.
As for Ehrenreich, he seems to channel Dennis Quaid's flashing smile, not Ford's cynically lopsided grin. Aged 32 when he made Star Wars (Ehrenreich is 28), Ford was always experienced. Callowness doesn't suit Han. He never needed a back-story, and doesn't fit the one Solo forces on him. The lines Ford threatened to make George Lucas eat on Star Wars' set worked because he said them. The character was his.
After the unexpected scale of Star Wars' success, it was widely suspected that Lucas scribbled the rest of the trilogy on the back of a fag packet, and dispensed with the fag packet for the prequels. Unlike that of Marvel, the Star Wars universe has proved threadbare around the edges. Gareth Edwards' tough-minded Rogue One seemed to show it could survive outside its nine-film saga, but dovetailed so smoothly into Star Wars' start that it effectively joined the "canon".
Beyond the Oedipal agonies of its original characters, this isn't a mythology. Decades of nostalgia for '77's heroes and villains give the series weight, more than anything intrinsic. Even John Williams' score has lost its Pavlovian jolt.
Hollywood is hooked on cash infusions from Star Wars and superheroes. Kicking the habit after Episode IX would do cinema and Star Wars a favour.