Somewhere |

reviews, news & interviews
Somewhere
Somewhere
Coppola heads to another hotel to measure the distance between father and daughter
Tuesday, 07 December 2010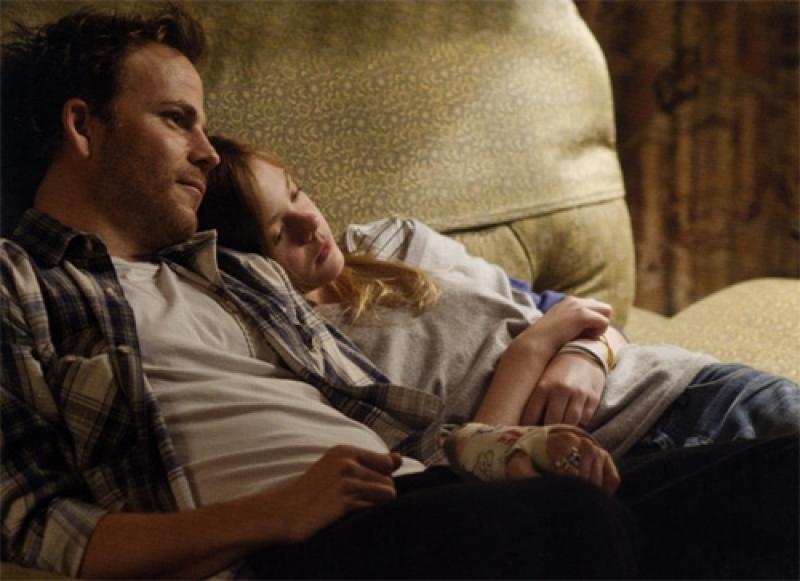 Will they, won't they? Stephen Dorff and Elle Fanning play a father and daughter who reach for an emotional connection
Sofia Coppola proved, with Lost in Translation from seven years ago, that there's hardly a better location for showing the nuances of emotional dysfunction than the anonymity of an international hotel.
No surprise then that much of her new film
Somewhere
, winner of the Golden Lion award at the Venice Film Festival, is set in the characterless corridors and rooms of the celebrity hang-out Chateau Marmont in Los Angeles, though her investigation here of a central father-daughter relationship delivers a stronger emotional reflection than in the earlier film. Understatement remains the key in a film that is distinctly light on dialogue, but resonant in its recreation of locale, and the
sotto-voce
feelings that slowly come together on screen.
Hollywood B-film actor Johnny Marco (Stephen Dorff) has been holed up there for an unspecified time, loosely surrounded by friends and groupies who provide him with occasional company at parties at which the star himself seems to be more a casual guest than a centre of attention. When he hurts his wrist he's laid up there more literally, distracted only by the occasional demands of his work, such as an occasional press conference, or a fitting for a mask for a future role.
The concept of the mask seems symbolic enough, since Marco shows little sense of character, apparently content to go with the current of whatever his working life brings. He hardly seems to have any private life at all, diverted by the likes of a couple of identical-twin pole dancers who bring their act to his bedroom in a couple of early scenes. If that sounds like a lead for some sexual element, you couldn't be more wrong: their gyrations are far more mechanical than arousing, and the scenes reflect an emotionally empty inner life in which such occasional diversions are a kind of vacuous performance. We can't help feeling that to a degree it's Coppola's comment on the LA entertainment machine of which Marco is a part, albeit a fairly insignificant one.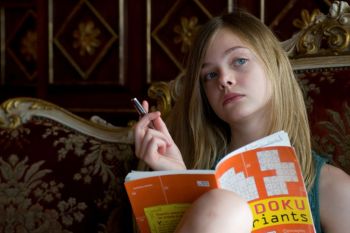 All that changes with the arrival of his 11-year-old daughter Cleo - played very sympathetically by Elle Fanning (pictured right), whom you'll most likely remember from The Curious Case of Benjamin Button - after the actor's estranged wife leaves the girl with her father to set off on a trip of her own. Their interaction is distinctly gradual – though when he takes her skating, at last Johnny seems to be watching something with a degree of emotional engagement, rather than the blank eyes with which he has regarded the world around him thus far.
They cruise around LA in the actor's requisite black Ferrari, play music and games back at the hotel, and in one of the film's openly funny scenes, he takes her off to Italy where he's promoting one of his recent films. There the satire on the entertainment industry becomes open, as the two witness an excruciating Italian television awards ceremony. As they flee, it's soon time for a brief helicopter jaunt through Las Vegas, before the father must deliver his child to her summer camp.
We are left wondering whether these initial sparks of contact will ever flare into anything like a fuller relationship. Coppola remains firmly ambivalent on that score: the film opens, as Marco races his car around the desert, and closes, as he drives away from LA with no indication where he's going, in a kind of "nowhere". Is the "somewhere" of the film's title referring to the fact he is actually heading towards a new life – or just suggesting that for a time and in a specific place he has actually found something that means something for him? Deciding on that question will depend on how you've received the emotional dynamic between the two lead players, where nuance and emotion is played out principally through the changing expressions of Dorff's face, more strongly than any words he (doesn't) utter. I'd risk a more optimistic interpretation.
Coppola seems to have refined for herself a territory in which occasional poetry mixes with emotional understatement, alongside hints of passing comedy. We have the sense that Cleo knows her father, with all his failings, far better than he knows himself. Call Coppola's sensibility a European one if you will, though a handful of other American directors - Gus Van Sant, for one, with whom Somewhere's cinematographer Harris Savides was an early collaborator - embody the country's independent movie scene no less notably. Coppola's voice is a quiet one indeed, but definitely to be treasured.
Watch the trailer for Somewhere
We are left wondering whether these initial sparks of contact will ever flare into anything like a fuller relationship. Coppola remains firmly ambivalent
Share this article