Spooks: The Greater Good |

reviews, news & interviews
Spooks: The Greater Good
Spooks: The Greater Good
First widescreen adventure for Harry Pearce and his MI5 crew
London calling: Kit Harington as Will Holloway, back in from the cold
The idea of a movie spin-off from BBC One's spy show Spooks has been lurking with intent ever since the tenth and final series ended in 2011. Finally it's here, helmed by director Bharat Nalluri (who shot the first and last episodes for TV) and with Peter Firth's Sir Harry Pearce at its centre. Where, as the Spookfather-in-chief, he had to be.
Since Spooks stuck unswervingly to its grand tradition of bumping off leading characters – diehards will still be wiping away a tear at memories of Rupert Penry-Jones's Adam Carter, Richard Armitage's Lucas North and Nicola Walker's Ruth Evershed – Pearce finds himself surrounded by a bevy of fresh faces, though Tim McInnerny bounces back vigorously as sneery MI5 supremo Sir Oliver Mace. There's the inexperienced but determined June Keaton (Tuppence Middleton) and stone-faced agent Hannah Santo (Eleanor Matsuura), while Jennifer Ehle gives herself airs and graces as MI5 grandee Dame Geraldine Maltby. David Harewood (pictured below), fortified no doubt by his experiences of CIA chicanery in Homeland, steps decisively into the "cynical politician" slot, shamelessly schmoozing the Americans for cash bungs to prop up Britain's security apparatus.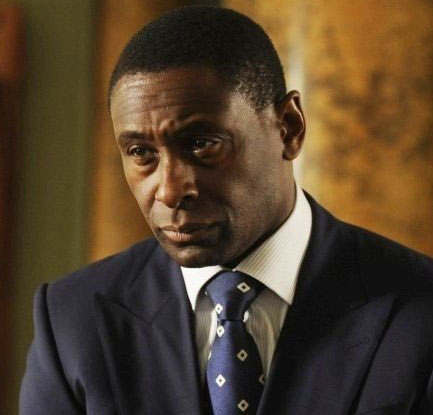 The biggest dose of marquee dazzle is delivered by Kit Harington as Will Holloway, an ex-MI5 agent previously cashiered by Pearce. Harington, still adorned with his tumbling Game of Thrones curls, is brought back – or more or less kidnapped, in fact – from Moscow to assist an off-the-grid Harry to winkle out a traitor in MI5's midst, which he does with a vigorous display of bratty attitude and sustained athleticism. I especially liked the scene where he sprinted onto the roof of his Audi saloon, bounced up in the air and hauled himself up to the balcony of Ms Keaton's council flat.
Making the transition from long-arc TV series to 100-minute feature film is no simple matter, but they've accomplished it with some skill here. From the opening set-piece, an attack by heavily tooled-up motorcyclists on an MI5 motorcade transporting the murderous jihadist Adem Qasim (Elyes Gabel), The Greater Good is boldly and expansively filmic.
Spooks always made a point of exploiting London locations, and here Nalluri cashes in on a bigger budget and a wider screen to deliver some spectacular panoramic views of the metropolis, framed in forbidding greys and steely silvers. One shot where the camera tailgates a jet airliner heading for Docklands airport is heart-stoppingly dramatic. Heathrow Airport, Waterloo Bridge, Brixton and the director's favourite Thames-side beach are all roped in almost like supporting characters (Harington and Peter Firth, pictured below).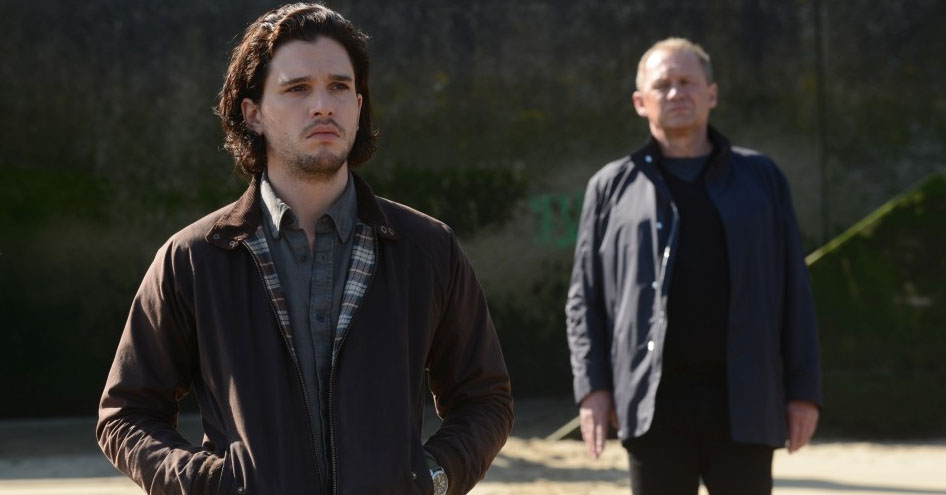 Plot-wise, it's a tortuous tale of duplicity and cynicism (Lara Pulver's Erin Watts gets a recall from the TV show, but probably wishes she hadn't). Qasem's terrorist atrocities have put him into heavy rotation on the CIA's most-wanted list, but equally disturbing is the possibly all-too-accurate depiction of MI5 as an enfeebled, cash-starved service viewed as a moribund liability by the Americans. As Harry has grasped, some of its own employees aren't squeamish about wanting to put it out of its misery. In order to root out the cancer consuming the service from within, Harry has to go rogue and gamble everything on a gigantic game of Russian roulette.
The one false note is the screenwriters' laboured efforts to "humanise" Qasem, so that he isn't just a merciless fanatic but a man tormented by the incarceration of his wife in Russia, and motivated by humanitarian concerns for victims of Western adventurism in the Middle East. Perhaps ascribing virtuous liberal tendencies to a ruthless terrorist killer is just a hangover from Spooks's BBC origins. Despite that though, The Greater Good outperforms expectations.