The Starling, Netflix review - a slender idea unsatisfyingly executed |

reviews, news & interviews
The Starling, Netflix review - a slender idea unsatisfyingly executed
The Starling, Netflix review - a slender idea unsatisfyingly executed
Alluring cast can't save Theodore Melfi's trite melodrama
Friday, 17 September 2021
Analyse this: Melissa McCarthy and Kevin Kline
Despite an alluring cast which includes Melissa McCarthy, Chris O'Dowd and Kevin Kline, The Starling is doomed to be remembered, if at all, as a slender idea unsatisfyingly executed.
Directed
by Theodore Melfi from a
screenplay
by Matt Harris, it's the story of Lily (McCarthy) and Jack (O'Dowd), a couple whose domestic dream was blown apart by the death of their baby daughter Katie.
The past is filled in as the narrative ambles along, from scenes of the pair eagerly imagining what career their new baby might take up (podiatrist? Vegetarian butcher?) to the gradual realisation that all bets are now tragically off, as both of them struggle to cope with their grief. Lily, who works in the local Wally's supermarket, has trouble keeping her mind on the job, and finds herself absent-mindedly re-pricing swathes of products at a nickel per item. Bizarrely, Travis, the heroically understanding store manager, is played by Timothy Olyphant, but his contribution is limited to a couple of brief and inconsequential scenes.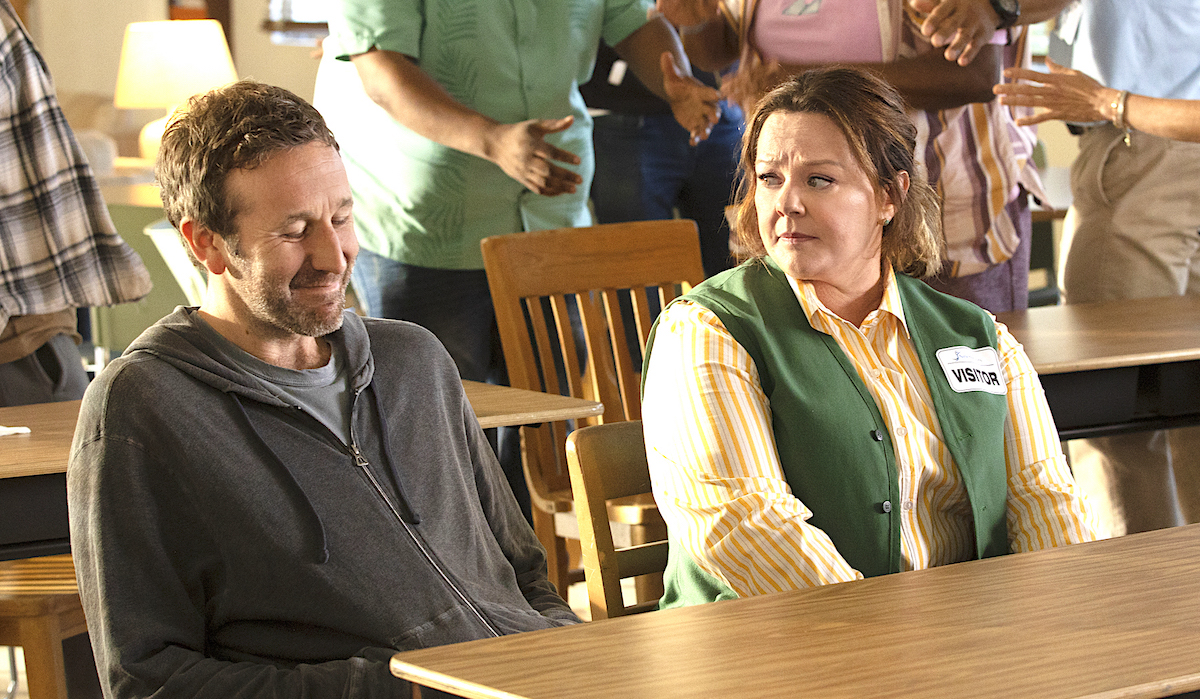 Essentially it's a somewhat lachrymose study of the process of grieving, with McCarthy (pictured above with O'Dowd) at least getting a chance to show off some of her considerable range (she's left the gross-out comedy stage miles behind, as she's also currently showing in Amazon's series Nine Perfect Strangers) as she moves through anger and depression towards a sort of stoicism. Jack, on the other hand, blames himself for Katie's cot-death, and is wallowing in suicidal hopelessness. He's convinced that his old life, and the happy and contented person that he used to be, have gone forever, and there's nothing that can be done about it. The idea that Lily has suffered at least as much doesn't seem to have impinged upon his consciousness. While Jack certainly looks like Chris O'Dowd, he's lacking O'Dowd's air of loveable whimsicalness.
When Lily, who attends therapy groups with Jack, gets referred to Dr Larry Fine (Kline), she's surprised to find he's a somewhat taciturn vetinary surgeon, though it transpires that he used to be an eminent psychiatrist. Fine's role is to give Lily bite-sized prods in the right direction without ever letting on that he's become her therapist, delivering little kernels of wisdom in between stitching up a dog or transfusing a cat.
The animal theme is made flesh by the titular starling. The bird has taken up residence in a tree in the garden of Lily's unfeasibly spacious ranch-style property (a parental inheritance), and for some reason starts making dive-bombing attacks on her. The starling (or at any rate its computer-generated avatar) gradually serves an instructive purpose, embodying the kind of values that Lily and Jack might do well to learn from. Just in case they're missing the point, Dr Larry spells it out: "They build a nest together, they protect the nest together… they're not meant to exist in the world alone."
Really, you can get equally instructive messages from a Christmas cracker or a Hallmark greetings card. You may find yourself scratching your head and wondering where the rest of Harris's script went.