Stray review - a delightful portrait of a dog named Zeytin |

reviews, news & interviews
Stray review - a delightful portrait of a dog named Zeytin
Stray review - a delightful portrait of a dog named Zeytin
A glimpse of life in Turkey through the eyes of an independent spirit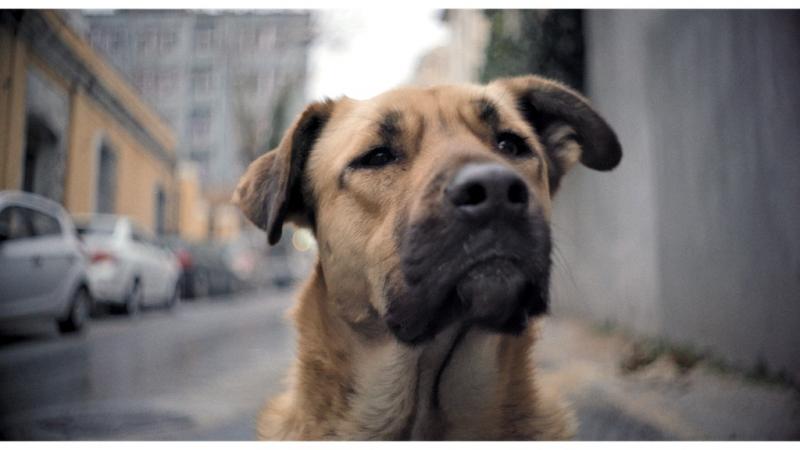 Zeytin: nonchalantly roaming Istanbul
It's a dog's life, this lockdown; if only I could meet my friends whenever I want to and roam around freely without obeying these annoying restrictions!
Stray is a documentary about the street dogs of Turkey in which film-maker Elizabeth Lo plays with our preconceptions about the relative merits of life as a dog and a person, especially now that our freedoms are being curtailed and our lives controlled more than ever.
Shot mainly in Istanbul, her pavement-level view of the city suggests, in fact, that feral dogs may have something to teach us about freedom, choice and independence. For six months Lo followed Zeytin, a handsome, tan-coloured bitch as she nonchalantly roams the streets, explores the beaches and waterfront, snoozes in the sun or plays in the park with her male friend, Nazar (pictured below). While Lo was filming, the sound engineers were recording ambient sounds such as birdsong, traffic noise, snippets of overheard conversation and a broadcast announcing President Erdogan's bid for increased powers. With incredible lightness of touch, Lo creates juxtapositions of sound and vision/people and dogs that provide glimpses into what life is like in present day Turkey, and one can't help noticing the discrepancy between the free-wheeling life style of the strays and the social constraints that govern human behaviour.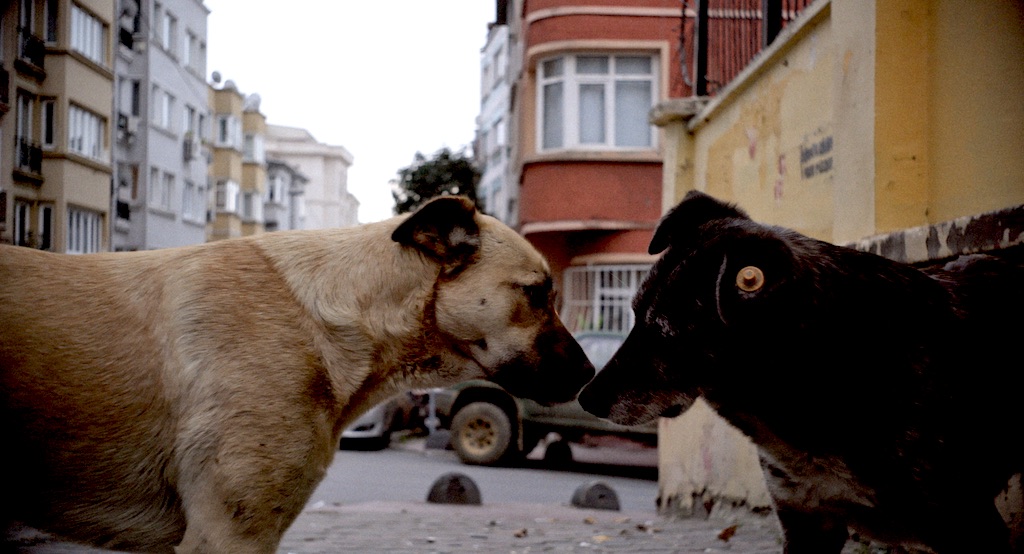 Turkey is one of the few countries in the world where stray dogs are protected. Until 1909, the authorities routinely rounded them up, but widespread protests forced a change of heart and it is now illegal to capture or kill them. And as the country's increasingly repressive regime continues to erode people's freedoms, the strays have become an emblem of resistance.
Lo doesn't speak Turkish – she was born in Hong Kong and studied film making in California – so her subtle incursions into the lives of Istanbulites are made from the point of view of an outsider who is guided mainly by Zeytin, as she sniffs around the margins of city life. Stray is as much about people as dogs, then, but there's no obvious agenda; the revelations are oblique, subtle and often humorous.
A man sits at a cafe table scolding a young woman. Her crime? She responded to an instagram message posted by a male colleague. "Aysel, I know how men are," he intones. "Do you understand me? I would take a girl for granted if she accepted my request… And you followed him back!" he continues. "Can't you understand the meaning of this?" Aysel looks bored and resentful, but he doesn't give up: "Can't you understand it, or do you pretend not to?" Cut to Zeytin, a free spirit doing exactly what she pleases – in this instance, crapping in the park near a disgusted Japanese tourist, who angrily berates the dog as she hastily puts her shoes back on.
Zeytin and Nazar are having sex in the middle of the road with that urgency peculiar to dogs. The timing couldn't be more perfect; they are surrounded by women staging a reclaim-the-night protest march and their reactions speak volumes. "Do it only if she wants to," demands one. "Ask her first," insists another, adding "there can't be love without equality." Then an older woman yells emphatically: "Don't do it, shit face."
The dogs often hang out with three glue-sniffing lads, Syrian refugees who, without work permits, have no option but to beg for small change and doss in some derelict buildings. When a security guard shoos them away, they are forced to sleep out on the street. Longing for warmth, affection and some semblance of a family, they befriend Zeytin and Nazar and even steal one of the stray puppies looked after by the security men. They and the dogs have a lot in common; both exist on the margins of society and are dependent on handouts, but whereas the strays seem happy with life on the periphery, the refugees are desperate to assimilate.
Stray is Lo's first feature-length documentary. She has won numerous awards for shorts such as Hotel 22, which she filmed on board route 22 – a bus that, at night, becomes a shelter for Silicon Valley's homeless – and Mother's Day, which follows a group of children as they visit their mothers in prison. With amazing grace, tact and delicacy, in each case, Lo addresses an issue that invites you to reflect on society at large and its values.
The ancient Greek philosopher, Diogenes – famous for sleeping rough and eschewing possessions – remarked that, "Human beings live artificially and hypocritically and would do well to study the dog." Interspersed throughout the film, this and other quotations such as, "To become a true individual and proper human being, one must turn aside from conventional society and reject all its values, to live in accordance with nature, and nature at a very basic level", alert one to the fact that Stray is far more than simply a dog lovers' delight.