T2 Trainspotting |

reviews, news & interviews
T2 Trainspotting
T2 Trainspotting
Danny Boyle and his reunited cast defy the curse of the sequel
Lust for life? From left, Spud (Ewen Bremner), Renton (Ewan McGregor), Simon (Jonny Lee Miller) and Begbie (Robert Carlyle)
"This had better not be shite, Danny," was the warning delivered to director Danny Boyle from his cast, amazingly reunited from the original Trainspotting 21 years later. They had reason to be fearful, knowing how things often go with sequels, but Boyle, teaming up again with original screenwriter John Hodge, has pulled a fabulously misshapen rabbit out of his hat, which triggers echoes of the 1996 film yet can stand unaided in its own right.
The first film's odyssey of a bunch of Edinburgh heroin addicts yawed vertiginously between horror and farce, though its pounding pop-culture veneer meant that however bleak it got, it was rocketed along at a relentless pace. Iggy Pop's "Lust for Life", so totemic of the first film, makes a comeback here, but as though heard from afar through a crackly electronic filter.
Now, our "heroes" are older but disastrously none the wiser, even if they might try to put on a bold facade. Jonny Lee Miller's Sick Boy – now usually known as Simon – is engaged in a blackmail scam involving Russian-style kompromat, using his Bulgarian girlfriend Veronika (Anjela Nedyalkova) to honey-trap hapless victims (for instance a middle-aged headmaster) while he films the proceedings from an adjoining room.
Renton (Ewan McGregor) claims to have started a new career, with matching nuclear family, in the Netherlands. Spud (Ewen Bremner) has almost given up the unequal struggle against his addiction, even if Renton does get him into shorts and trainers and drags him on lung-bursting training runs up the Edinburgh crags. Begbie (Robert Carlyle, pictured above) is, quite rightly, in jail.
The narrative (based on Irvine Welsh's novels Porno and Trainspotting) is hectic, riotous, gross and menacing, and frequently hilarious. The scene where Renton and Sick Boy go on a credit-card-stealing spree at a Battle of the Boyne celebration night and end up becoming the entertainment is surely destined for YouTube immortality, and the pair's deadpan application for council funding for an artisanal leisure destination (a bordello, in fact) is satirical gold.
Yet Boyle and Hodge's underlying theme is a sombre one. Where the earlier film was, in its own grotesque fashion, a kind of celebration of chaotic youthful hedonism lived in the present without any notion of the future, now the characters find they're suffering the accumulated disillusion of 20 years. What were once merely madcap schemes have become desperate last-ditch stratagems, as the players are reminded as they glimpse ghosts of their younger selves rushing past them through the Edinburgh streets (McGregor, Miller and Danny Boyle, below).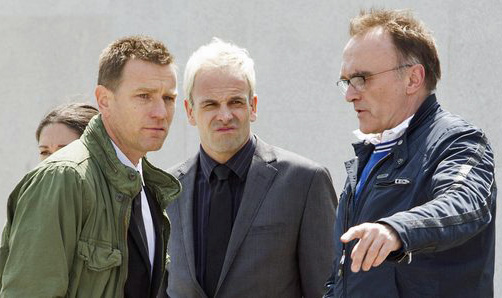 This is most poignantly realised in Begbie. Though still a psychotic maniac, with spittle rattling between his ferociously-bared teeth, he's now forced to confront his built-in obsolescence. Having sprung himself from prison, he finds his wife is sympathetic but uncomprehending, while his son spurns his dad's overtures to join him in a life of breaking and entering in favour of taking a course in hotel management. Begbie even has a touching little soliloquy about changing times and lost opportunities. Renton, meanwhile, catches the tone of creeping disappointment with a rewrite of his "choose life" monologue from the first film, its acidic comedy now morphing into a furious tirade against social media and its demolition of meaningful human interaction.
Anyway, if you loved Trainspotting first time around, you'll probably love this too. If you never saw it, you could start here and go backwards.