Those Who Wish Me Dead review - Angelina Jolie battles baddies and blazes in Montana |

reviews, news & interviews
Those Who Wish Me Dead review - Angelina Jolie battles baddies and blazes in Montana
Those Who Wish Me Dead review - Angelina Jolie battles baddies and blazes in Montana
Taylor Sheridan's rugged thriller is effective but unmemorable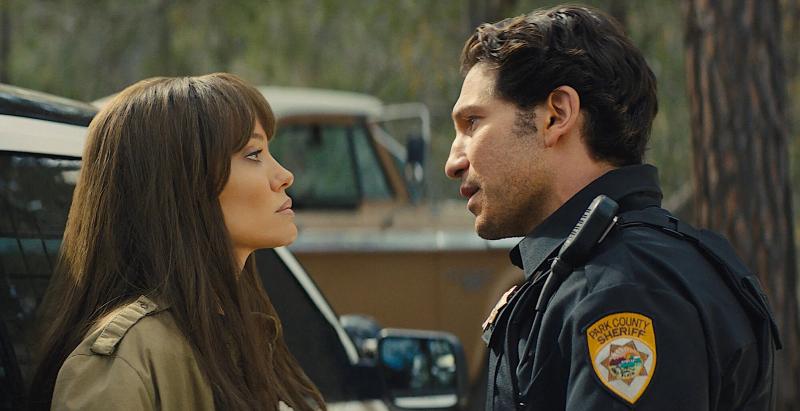 Fire hazard: Hannah (Angelina Jolie ) and Ethan (Jon Bernthal)
With a track record which includes both Sicario movies, Hell or High Water and Wind River, Taylor Sheridan packs some muscle in the action-thriller department, though Those Who Wish Me Dead can't match those previous highlights.
Nonetheless, it's the kind of great-outdoors adventure flick featuring some bankable names that's been largely AWOL during the pandemic hiatus, which could prove tempting to movie-goers. It's
adapted
from Michael Koryta's novel by Sheridan and Charles Leavitt, and Sheridan directs with pragmatic efficiency.
Having said that, Angelina Jolie wouldn't be everybody's first choice as Montana smoke-jumper Hannah Faber, based in Soda Butte in Yellowstone National Park. She makes a living by leaping out of aircraft to battle forest fires raging across the mountainous landscape. The opening scenes of the jumpers free-falling down towards a blaze below, then being engulfed by roaring flames and flying white-hot debris, viscerally convey the terrors and dangers of the job.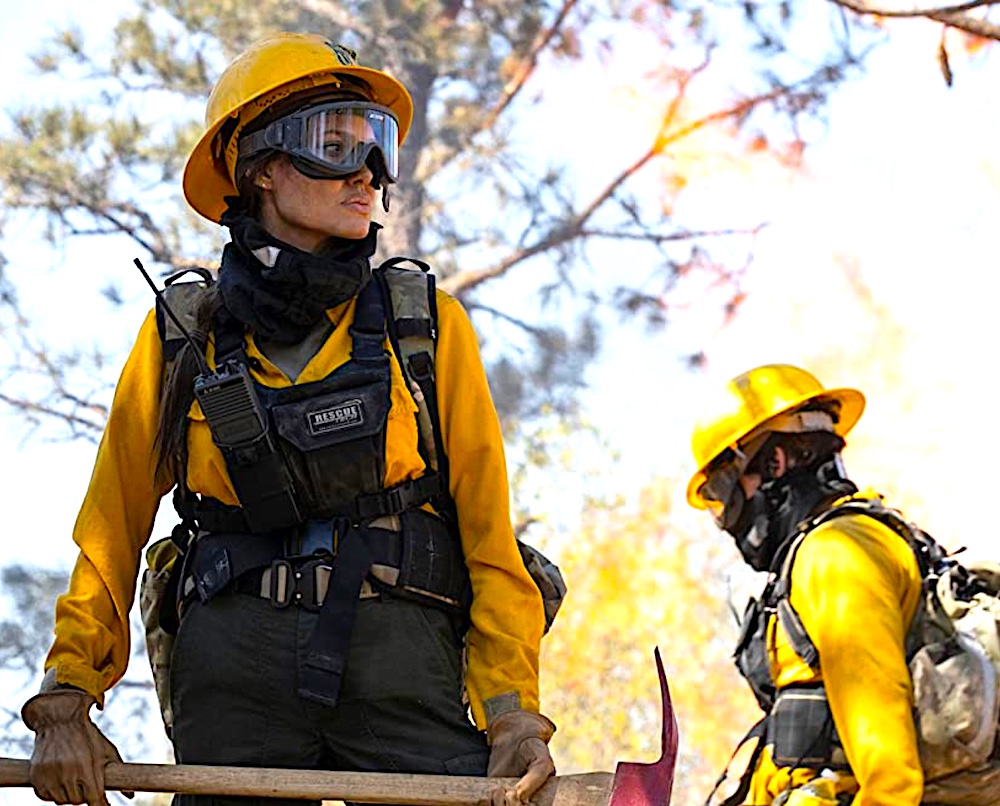 Perhaps Ange was suffering a nostalgic pang for her past incarnations as Lara Croft and CIA agent Evelyn Salt, but her smoothly-sculpted features and impeccable maquillage aren't altogether compatible with her efforts to kick back with her gnarled all-male compadres and have a few beers after a hard day's firefighting. To prove she can kick ass with the best of 'em, she does a daredevil stunt where she jumps off the back of a speeding truck while wearing a parachute, and is lucky not to break her neck.
But we learn that the reason for her nihilistic recklessness is that she's traumatised by the death of three young boys in a fire, whom she believes she should have saved. Her boss wants her to take a rest from front-line action and sit in a fire-watch tower in the midst of the forest – oddly, this looks like a model knocked up by the props department, in contrast to the ruggedly naturalistic look of the rest of the movie – where she can spot weather systems or fire risks for miles around.
But inevitably, Hannah's supposedly restful gig "in a 20 by 20 box on stilts with no toilet" (as she puts it) turns out to be far from relaxing, since she's about to cross paths with the other major fork of the story. Down in Florida, forensic accountant Owen Casserly (Jake Weber) is horrified to learn that his boss, the local DA, has been blown up in his home. Evidently he'd been unearthing corruption and organised crime (details aren't specified), and Casserly has the financial records to prove it. He assumes correctly that the bad guys will now come after him. He jumps in his car with his young son Connor (Finn Little) and heads for, funnily enough, Soda Butte, where his brother-in-law Ethan Sawyer (Jon Bernthal) is the deputy sheriff. He's also Hannah's ex-boyfriend.
Casserly and son are pursued by a pair of truly nasty contract killers, Jack and Patrick Blackwell (Aidan Gillen and, pictured right, Nicholas Hoult), and their game of cat-and-mouse racks up the tension remorselessly and puts almost everybody in peril. Some of the violence is shockingly sadistic, and the scene where a pregnant woman is terrorised by the merciless duo makes for difficult watching. It grips your attention though, as the story hurtles to a climax which ties together the various personal themes against a towering backdrop of encroaching disaster. The acting is as good as it needs to be, the standout performance being Little's portrayal of young Connor, who's forced to grow up fast.
This is slick, beer-and-pizza film-making which gets the job done and isn't too fussed about its place in cinematic history.