Tish review - haunting portrait of a driven working-class photographer |

reviews, news & interviews
Tish review - haunting portrait of a driven working-class photographer
Tish review - haunting portrait of a driven working-class photographer
Intimate documentary on the life and extraordinary art of Tish Murtha contains a timely political message
'The demon snapper': social realist photographer Tish Murtha (1956-2013)
Paul Sng's documentary Tish is one of the best British films of 2023 – both a heartfelt tribute to the life and work of the late photographer Tish (born Patricia) Murtha and a timely reminder of the war waged on the nation's industrial working-class by the Thatcher government and its successors. Murtha's death in 2013 was not unrelated to that war.
Her black and white documentary photos, as touching as they were trenchant, represented the politically and socially disenfranchised families of north-eastern England during the Seventies and Eighties as photographers like Dorothea Lange and Walker Evans represented the tenant farmer casualties of Dust Bowl America during the Great Depression.
Raised in extreme poverty with nine brothers and sisters in South Shields and Elswick in Newcastle upon Tyne, Murtha had the discipline not to sentimentalise the people in her pictures, yet humour and tenderness abound in them because she had a protective spirit. She also had the gift of being able to capture lightning in a bottle – a deceptive phrase since it must have demanded from her patience and relentlessness when she was out and about with her camera and exacting judgment during the developing and editing process.
Importantly, Murtha was an insider snapping people she knew and who trusted her, often including her brothers and sisters and their peers at play on wastelands and in (or sometimes jumping from) derelict buildings. But she wasn't regionalist. The same scrappy humanity she brought to her back yard characterises the photos she took of drinkers in working-class pubs in Newport, South Wales, when she was a photography student there, and those she was assigned to take of Soho sex workers and their clients after she'd moved to London in 1982.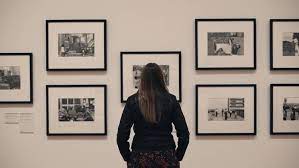 It would do Murtha's photos a disservice to describe them here – their raw poetry is such that they need to be seen, their effect felt first-hand, without commentary. The film is a good place to start. It follows Ella Murtha, the keeper of her mother's flame, as she traces her arduous personal and professional journey through interviews with surviving siblings, friends, colleagues, and advisors. (Pictured above: Ella Murtha views her mother's photos at Tate Britain)
Where Murtha's talent came from is mysterious, though her younger sister Eileen (her first confidante and an insightful contributor to the doc) recollects how their mother encouraged her children artistically by buying them crayons she could ill-afford. The kids were bright and articulate. One brother aspired to be an actor (a dream destroyed by his hailing from Elswick); another is photographed with his ventriloquist's dummy.
Their father sent the boys out to collect scrap metal to raise money. He terrorised his family much like the patriarch did in Terence Davies's autobiographical Distant Voices, Still Lives (1988). Murtha covered up her physical scars and wouldn't take shit from anyone. She was "a firebrand", "tough", "scary", "determined". Sng – who previously directed documentaries on the Sleaford Mods, Poly Styrene of X-Ray Spex, and the social housing crisis – discreetly channels his subject's anger through the flow of photos and her own words.
In a few visually low-key re-enactment scenes, Murtha (played with her back to the camera by Shin-Fei Chen) prowls her flat as Maxine Peake (who also narrated Sng's housing doc Dispossession) speaks in voice-over some of her writings. They include a passionate and rigorously argued piece of social invective and an application for a grant to create a colour portfolio celebrating the diversity of Middlesbrough's under-appreciated community spirit. It was turned down by Arts Council England.
In 1983, Murtha became pregnant with Ella, whom she raised as a single mother. She found it difficult in a male-dominated art practice to combine motherhood with work. A teaching gig lasted half a day, apparently because she wouldn't compromise her vocation. (Pictured above: Ella Murtha, left, and her aunt, Eileen Murtha-Brown, Tish's younger sister)
Her career was further blighted by the refusal of institutional support owing to her leftist stance; she'd worked voluntarily for unions when young and protested the 1979 closure of the Vickers Armstrong engineering works in Scotswood.
The subtext of the film is the political fear aroused by her agitational agenda and the resentment of some of her arty middle-class contemporaries. One letter Murtha wrote reported dark-room sabotage of her undeveloped photos by a gallerist's girlfriend. She ended up as marginalised as she had been in childhood. Peake reads another letter wrote late in life in a humble, desperate voice seeking any kind of employment. A vegetarian, she was sent by an agency to work at a meat-processig factory. She was living on the breadline when she died of an aneurysm the day before her 57th birthday in 2013.
Had Murtha lived, she would have seen her photos exhibited at Tate Britain – which brought comfort and pride to Ella – and her legacy growing in the Brexit years of food banks and increasing class polarisation. A major artist, perhaps the most gifted and compassionate chronicler of inequality and oppression in British photography of the last half-century, she isn't going away.
One letter Murtha wrote reported dark-room sabotage of her undeveloped photos
rating
Share this article