Titane review - love under the bonnet |

reviews, news & interviews
Titane review - love under the bonnet
Titane review - love under the bonnet
Julie Ducournau's wild Palme d'Or-winner gives 'only connect' an automotive spin
Metalhead: Agathe Rousselle in 'Titane'
The restrictiveness of conventional gender identities explains the extreme body horror of Titane, in which a pregnant rookie firefighter frequently invoked as Jesus bleeds car oil from her vagina and from the stigmatic splits in her swollen belly. The miracle of Julia Doucournau's luridly beautiful Palme d'Or-winner is that the memory of the violence puncturing the film's first half recedes as loving tenderness takes hold.
Protagonist Alexia (first-time actor Agathe Rousselle magnificently channelling punk snottiness and catwalk hauteur) may be a serial killer who's been impregnated by a car, but she's no different to most of us – angry, hurt, defensive, yearning. Who cares if the bodies pile up as long as she gets some affection, and whether dressed as a woman or a man (as she is for most of the movie)?
The same goes for the fire chief Vincent (Vincent Lindon), self-anointed God to his men, who thinks Alexia is his long-lost son but isn't overly fazed when he sees her breasts and baby bump. As Joe E Brown says at the end of Some Like It Hot, "Well, nobody's perfect".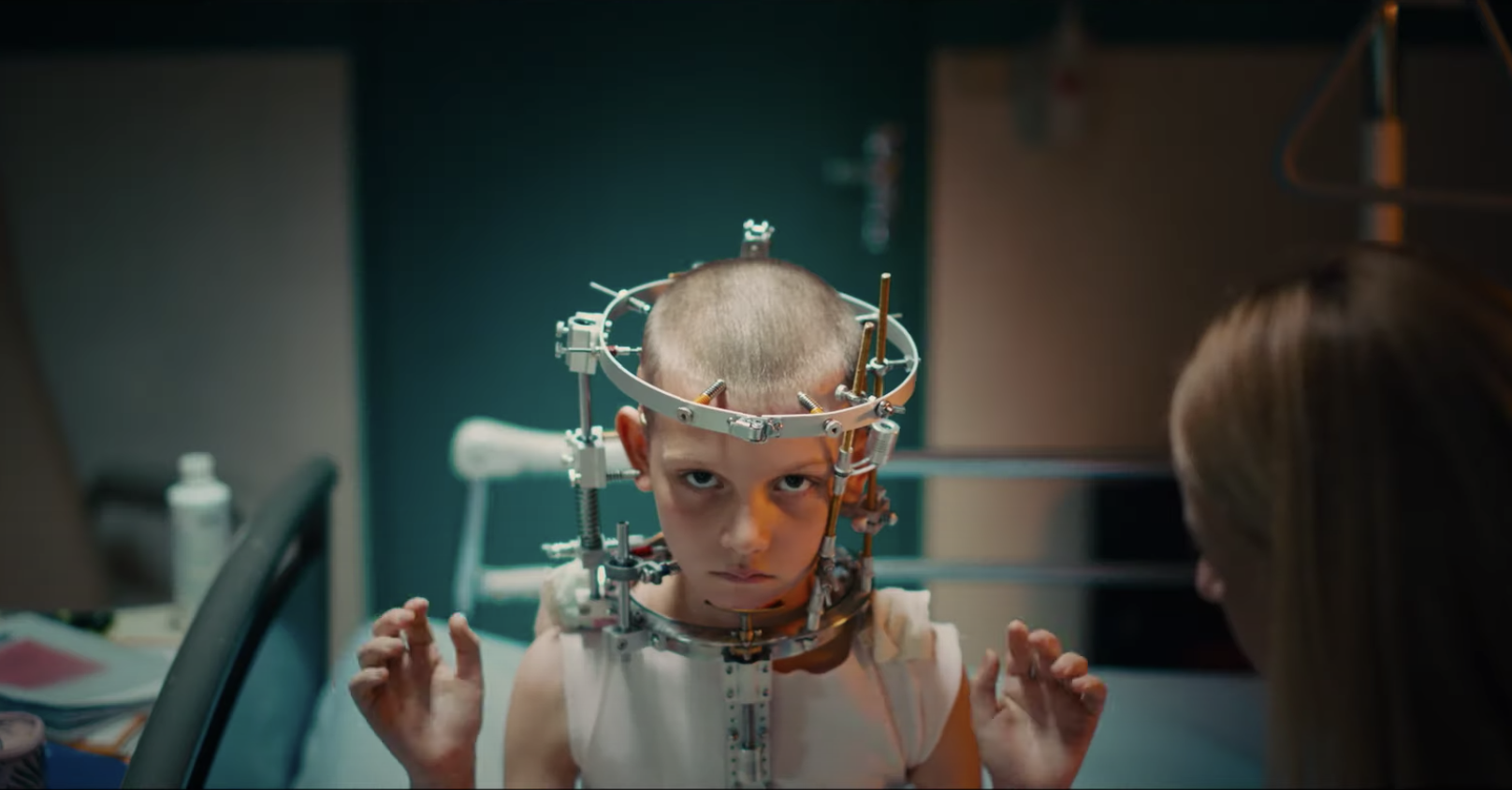 First seen as a gnomic brat (Adèle Guigue) strapped into the back of the car driven by her real dad (filmmaker Bertrand Bonello), a doctor, and kicking his seat to get some attention, Alexia causes an accident that breaks her skull. She's fitted with a titanium plate above her right ear, the steel scaffolding required to hold her head together being her crown of thorns. (Pictured above: Adèle Guigue)
A quarter of a century later, Alexia's still living at home and working as an erotic dancer at Paris auto shows. A stalker, her dancer girlfriend Justine (Garance Marillier), and the latter's roommates trigger Alexia's murderous rage and she goes on the lam. Alexia becomes Adrien when, after seeing the digitally age-progressed face of a youth who disappeared 10 years previously, she chops her hair and binds her chest.
Vincent's refusal to have the new Adrien DNA-tested indicates how sorely he needs to fill the void in his life, a macho charade he sustains by jacking up on steroids. Devoted to fathering Adrien, but resistant to being cared for, Vincent is uncomfortable enlisting him to administer the needle to his behind. The inklings of sexual attraction between them – and this is one of Ducournau's masterstrokes – is scarcely more of a taboo issue for Vincent than the threat to his paternal role.
As well as the Christ story, Ducournau has cited as an influence the Greek myth of the Titans and Titanides, fractious spawn of Gaia (Earth) and her son and husband Uranus (Sky). Titane partakes of the same breezy attitude to polymorphous perversity as the mythmakers.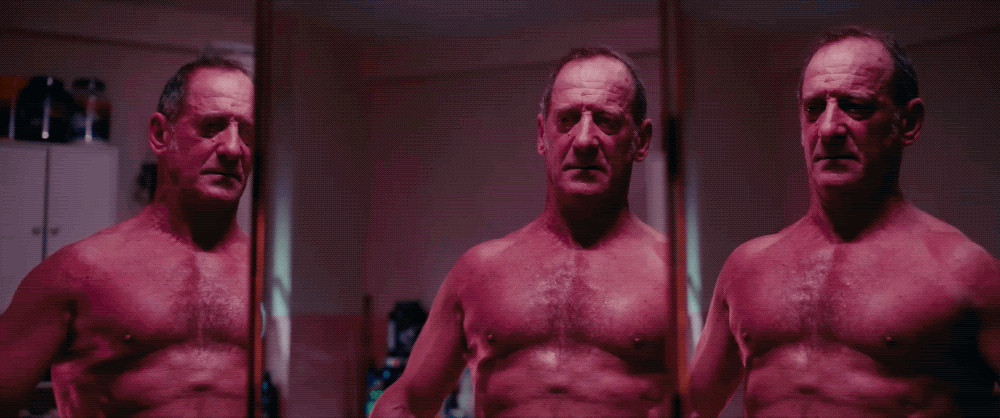 In her 2016 feature debut Raw, a no less Cronenbergian coming of age drama that also has an Adrien, an Alexa, and a Justine, Ducournau used cannibalism as a metaphor for overwheming female sexual desire. Tricked out with flashier sets, Titane superficially recalls the French cinema strand that emerged in the 1980s when Jean-Jacques Beineix and Luc Besson forsook the realism that dominated the previous decade's films for sleek, richly hued (and occasionally meretricious) neo-noir stylisation. But Titane's artifice doesn't cost it viscerality or make it feel derivative. (Pictured above: Vincent Lindon)
Ducournau steers it into heightened realism for eerie sequences depicting Vincent and his men at work – fighting a forest fire, scoping out a misty moor. The prevailing atmosphere, though, is dreamily (if not trivially) camp, as when cinematographer Ruben Impens backlights with disco-ish fuchsia pink Adrien and Vincent dancing to the Zombies' "She's Not There", and then a host of hunky firefighters boogieing fiercely to Future Islands' "Light House". Hoisted high by her mates in the latter scene, Alexia liberates herself by demonstrating her libidinous feminine dance moves – her Sermon on the Mount – before them.
They prove as reactionary in their conditioning as the teenage oiks who had earlier harassed with their porn-fed fantasies a young woman sitting across from Alexia on a bus; she was dressed as Adrien, but the woman saw through her disguise and silently appealed to her empathy as a fellow sufferer of piggishness. That man-drag confines Alexia doesn't mitigate the movie's celebration of genderqueerness. Nothing, in fact, dampens its visual and thematic harmony or the warmth in its message.
Who cares if the bodies pile up as long as Alexia gets some affection, and whether dressed as a woman or a man?
rating
Explore topics
Share this article