Top 10 Films of 2022: Conclusion |

reviews, news & interviews
Top 10 Films of 2022: Conclusion
Top 10 Films of 2022: Conclusion
'The Banshees of Inisherin' won our reviewers' poll
Irish eyes: Brendan Gleeson and Colin Farrell in 'The Banshees of Inershin'
The Arts Desk's movie reviewers voted The Banshees of Inisherin the best film released in the UK in 2022. Here are our choices for the top 10 with the names of their directors:
1. The Banshees of Inisherin (Martin McDonough)
2. Aftersun (Charlotte Wells)
3= Compartment No. 6 (Juho Kuosmanen); and
3= Happening (Audrey Diwan)
5. Nitram (Justin Kurzel)
6. Tori and Lokita (Jean-Pierre and Luc Dardenne)
7= The Duke (Roger Michell); and
7= Three Minutes: A Lengthening (Bianca Stigter)
9. Decision to Leave (Park Chan-wook)
10. Triangle of Sadness (Ruben Östlund)
Each critic's first choice was awarded 10 points, the number two choice nine points, and so on down each list of 10. The points were then tallied for each film.
We arrived at an eclectic list of socially and politically engaged international movies – the directors coming from, respectively, Ireland, Scotland, Finland, France, Australia, Belgium, South Africa (though the late Roger Michell was British-based), the Netherlands, South Korea, and Sweden.
There was little consensus. Eight reviewers voted for 59 different films. Doubtless we didn't all get to see all the films we should've seen, but that didn't alter the fact that, beyond The Banshees of Inisherin and The Duke, there was scant support for films with Hollywood financing. This has less to do with skittishness about loud, extravagant American crowdpleasers – after all this time, nobody does it better – than the dwindling of original stunners made by the studios or Netflix.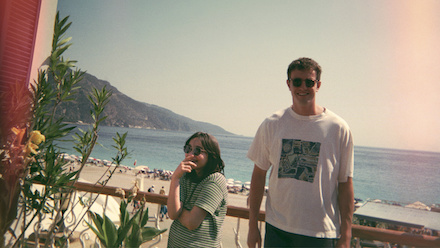 There were single votes only for The Batman, Belfast, Glass Onion: A Knives Out Mystery, Licorice Pizza, Matilda the Musical, Nightmare Alley, Nope, She Said, Top Gun: Maverick, The Woman King, and a few other American studio and streaming films.
Yet widely admired art-house-lite movies such as Benediction, Hit the Road, Parallel Mothers, and The Worst Person in the World fared similarly. There is a worrying echo here of the tendency, recently reported by The New York Times, of moviegoers staying away from the kind of prestige Hollywood films they got used to watching at home at the height of the pandemic.
The likes of Belfast, Nightmare Alley, and The Worst Person in the World, which received their maximum attention during the 2021-22 awards season, conceivably failed to register on the poll because they were superseded by better 2022 films. (Pictured above: Frankie Corio and Paul Mescal in 'Aftersun')
It's also a reality that exciting new discoveries tend to shunt aside not quite so new ones. But it's worth noting an observation by one of our reviewers, Sebastian Scotney, that some of the site's long-archived film reviews were read more than some of those written about the class of '22.
Perhaps in 10 years' time Aftersun and Banshees will inspire more interest than what our successors will be writing about the latest tour de force by the then-seasoned Frankie Corio, Aftersun's astonishing child debutant, and the latest vehicle for greying 56-year-old Colin Farrell.
By 2032, Farrell might be canny enough to step into Brendan Gleeson's sizeable shoes as Colm, opposite Aftersun's Paul Mescal in Farrell's former role of Pádraic, in a Banshees revisitation. Of course, it'd have to feature Gleeson as a ghostly, fingerless, bard-like bodach forever ruminating on real or perceived injustices.
Exciting new discoveries tend to shunt aside not quite so new ones
Explore topics
Share this article