Nitram review - chilling drama based on the Port Arthur gunman |

reviews, news & interviews
Nitram review - chilling drama based on the Port Arthur gunman
Nitram review - chilling drama based on the Port Arthur gunman
Caleb Landry Jones in an extraordinary performance as a man-child without empathy
Not like other people: Caleb Landry Jones as Nitram
Nitram, Australian director Justin Kurzel's deeply disturbing film about the man responsible for the Port Arthur massacre in Tasmania in 1996, seems especially topical after the Uvalde school shootings, one among several other shootings in the US in May.
Martin Bryant, aged 28, killed 35 people and wounded 23 in the historic site of Port Arthur (he's now serving concurrent life sentences without the possibility of parole). At the time, it was the deadliest mass shooting in history. No longer, of course. And at the end the film reveals that although Australia acted fast to change its gun laws, there are more weapons in the country now than in 1996.
Nitram (Caleb Landry Jones, who won Best Actor at Cannes last year for his extraordinary performance) is Martin spelled backwards. He loved firecrackers in spite of being seriously injured as a child – we see him as a blonde little boy in hospital, in what looks like archive footage, saying nothing will stop him playing with them - and was slow at school, where his hated nickname started.
Unsettling though it is, the film contains no scenes of violence: Kurzel and writer Shaun Grant – the two have collaborated before, on Snowtown and True History of the Kelly Gang - scrupulously avoid showing any. Instead, we see the events that lead up to the shootings - and the terrible ease with which he buys the semi-automatic weapons - amidst the details of his life with his parents (Anthony LaPaglia and Judy Davis, pictured below, both outstanding) who are unable to cope with this violent, unpredictable, friendless son who never seems fully adult.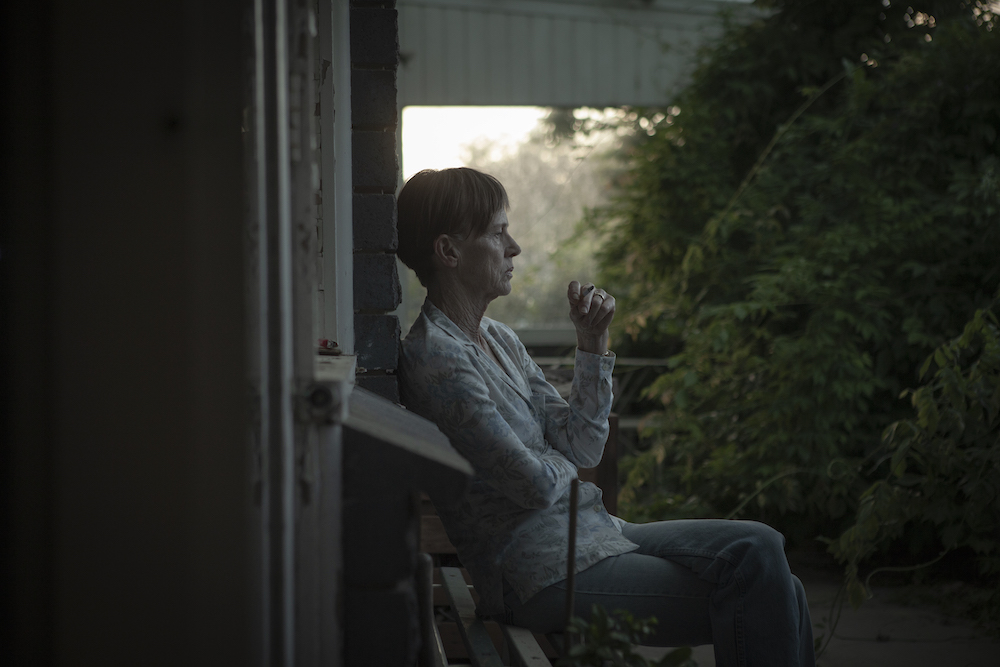 He has no impulse control and can't connect with anyone. His exhausted, hollowed-out mother tells a story about him hiding from her for hours in the town centre when he was a small child and then laughing at her tears and worry. The neighbourhood surfers in their sleek wetsuits treat him as a joke as, out of shape and pale, with unwashed, long, ratty hair, he gazes at them wistfully, standing alone on a rock, desperate for a surfboard though he has no idea how to use it.
The dad is loving, weak, protective, allowing Nitram to do whatever he wants, rescuing him when things get out of hand, while his mother is more realistic but still ineffectual at setting boundaries, partly because his dad always gives in. The GP is useless, prescribing tricyclic anti-depressants but wondering vaguely if he'd be better off without them and blaming his mother for the dysfunctional relationship.
The film is full of background noise – flies buzzing, firecrackers exploding, bangs and crashes that seem to emanate from Nitram's own disturbed brain patterns. He drags the lawn-mower, screechingly, across tarmac, hoping to find someone who'll pay him to mow their lawn so he can buy that surfboard.
It seems a hopeless quest, but then he's in luck, big-time. He knocks at the door of Helen, an eccentric heiress (Essie Davis, pictured below) living in faded grandeur with a pack of dogs. A singer in a past life, she listens to Gilbert and Sullivan; she teaches him Tit Willow from The Mikado and they laugh at the strangely apt words, "Is it weakness of intellect, birdie?" I cried/"Or a rather tough worm in your little inside?" He mows her lawn, walks the dogs. She sees something in him that reflects her own lonely awkwardness. This scenario seems unlikely but it's all based on fact.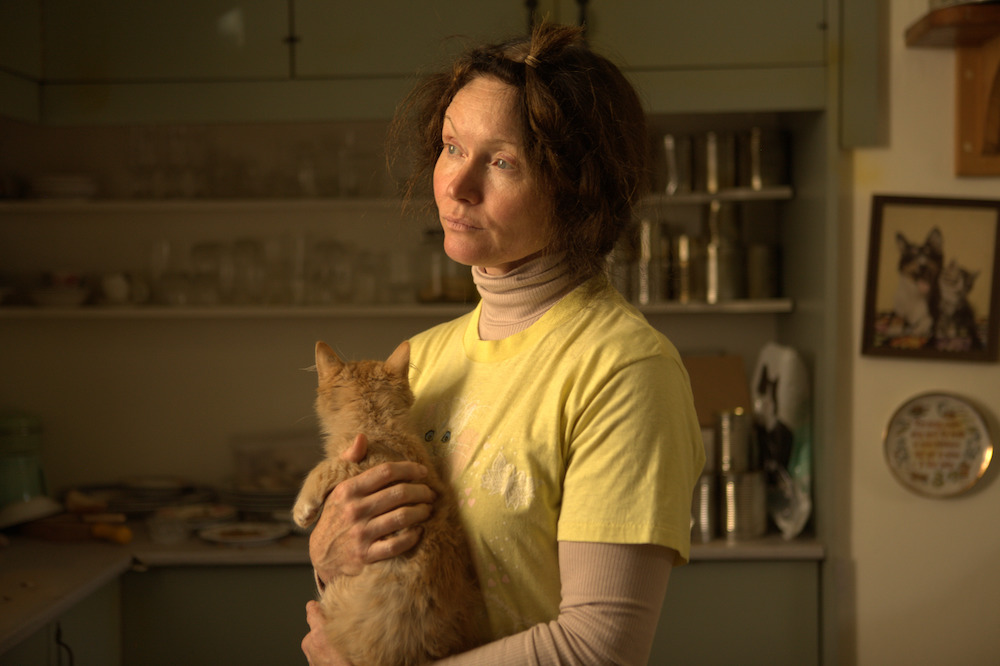 Suddenly she's dressing him up in her father's posh clothes and taking him to buy a car, though he has no license. At the dealership, where she's a frequent customer, she's greeted with open arms. On the test drive he lunges towards the steering wheel, laughing, almost causing her to crash. Undeterred in spite of the salesman's rage, she buys the car and, to Nitram's parents' astonishment, invites him to move in with her. They establish a bubble of something like happiness, watching old movies. He wants to go to Hollywood; she's ready to oblige. The only thing she asks is that he get rid of his air rifle.
It's not clear if he's completely without empathy. When his father's dream of buying a guest-house on the water is scuppered, he reacts with rage, scattering sweets all over the estate agent's floor. He tells his mother that when he looks in the mirror he wishes he could change the person he sees and get him to be like other people. And when he lunges at Helen's steering wheel one time too many, he screams wordlessly from his hospital bed about the tragic result. However, she leaves him everything. He starts carrying stacks of dollar bills around in a duffle bag. Comes in handy when buying a gun without a license. "No dramas," repeats the salesman, throwing in some ammo.
Chillingly, when his father collapses into a depression, he strokes his head, then showers him with blows while his mother just stands there, a TV game show playing in the background. Afterwards, he tells her, "That's what you're supposed to do." Alone with the dogs in Helen's old mansion, now his, he watches news of the Dunblane massacre in March 1996 and seems galvanised. You know the end is near, and the wait is agonising. Beautifully shot by Germain McMicking (True Detective; Top of the Lake), Nitram poses questions, offers no answers and stays in the mind for a very long time.