Snowtown |

reviews, news & interviews
Snowtown
Snowtown
The most painfully realistic serial-killer film yet
Happy families: John Bunting (David Henshell, second right) seduces Snowtown
Snowtown gets as close as a film can to making you feel serial-killing's human cost. It's hard to thank Australian director Justin Kurzel for his extraordinary debut, so grim is the story it tells. But he and writer Shaun Grant have done a selfless, unsensationalist job of memorialising the 12 people murdered by a gang led by John Bunting in an Adelaide suburb, Snowtown, between 1992 and 1999. Kurzel, who grew up nearby, filmed in the area, and cast many non-professional locals.
This authenticity is a sort of homage to the victims.
We've been to Australia's suburban badlands before, in Rowan Woods' The Boys (1998) and David Michod's Animal Kingdom (2010), two of the most queasily uncomfortable films of recent times. Snowtown is queasier. Adelaide's far-northern edge has a reputation among Australians for depravity, and the place Kurzel shows us is socially shattered before John Bunting arrives. Elizabeth's new boyfriend seems a decent bloke, happy to babysit, until he strips and photographs her kids. Afterwards he slopes round her house, nude and bored. Kurzel films the sequence of abuse flatly, as if in an affectless vacuum. Later we see Elizabeth's 16-year-old, Jamie (Lucas Pittaway, pictured below), is being raped by his brother. Elizabeth has morals, but this abandoned world doesn't. She's too weak and alone in it to save her children. When John (Daniel Henshall) roars in on his motorbike and promises to rid Snowtown of its apparent paedophile plague, he's greeted as a conquering hero.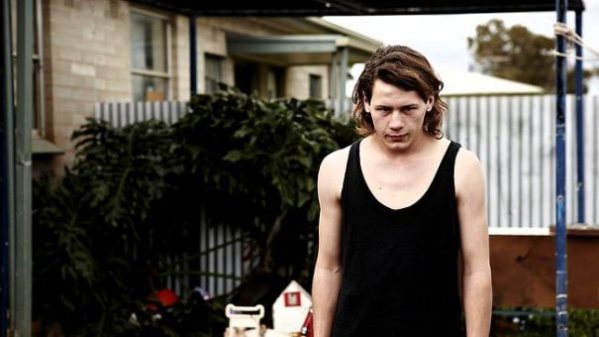 John is short, pudgy, bearded, with bright eyes and a ready smile, more Father Christmas than Hannibal Lecter. But as abused women often recall, the man who battered them was always so charming at the start. Henshall plays John as that sort of charismatic, quick-witted bully, more aggressively intelligent than those around him, but still stuck in Snowtown, with a resentment that visibly simmers when he meets another ex of Elizabeth's, whose family have mild aspirations, and whose head he'd plainly like to tear off. This adrift place is ripe for his one-man fascist regime, as with two accomplices he exterminates a widening list of "sub-human" scapegoats. In this serial-killer's paradise he can dig a deep pit in his backyard and no one stares; tape recordings of terrified victims saying they're leaving town is all it takes for them to disappear.
Only the torture before one murder is shown in the detail necessary for you to understand what John doesInsinuating himself into Elizabeth's family, John becomes a father-figure to Jamie. A regime of cruelty and kindness batters this hulking, vulnerable adolescent, till when John brazenly reveals his secret life, he sees no exit. Soon, as happened with the real Jamie Vlassakis, he joins John's gang. This incremental slide into evil is the film's most fictionalised element, as many of the details of Vlassakis's past have been legally suppressed. Pittaway, like Louise Harris, who plays his fierce but helpless mother, is part of the non-professional cast Kurzel picked up locally. The rowdy kitchen-table summits they conjure about gays and paedophiles, where John pounces on dissent, describe the choices of the film's Jamie; the kind you get on a desert island, with Australian society unreachably far, when you don't know what rescue is.
Only the torture before one murder is shown in the detail necessary for you to understand what John does, and dread it happening again. Warren Zevon once said all war films glamorise war, even supposedly anti-war ones. That seemed true of this genre. Even John McNaughton's nominally realistic Henry: Portrait of a Serial Killer (1986) had a sly wit. In a previous generation, The Boston Strangler's vérité killings were committed by Tony Curtis. Kurzel's film is subtly elegant, not crude. But when each new killing neared I sat punch-drunk, thinking, please not another; surely this is when they were caught? Watching became so gruelling, I questioned the film's right to exist. Isn't cinema supposed to entertain? Later, though, I felt purged by getting so close to humans at their worst and most pitifully helpless, and finding they're still human. Snowtown is a humble film which looks in horror's face.
Snowtown is on UK release from today
Watch the trailer for Snowtown

When each new killing neared I sat punch-drunk, thinking, please not another; surely this is when they were caught?
rating
Share this article