Top Gun: Maverick review - Tom Cruise defies age and gravity |

reviews, news & interviews
Top Gun: Maverick review - Tom Cruise defies age and gravity
Top Gun: Maverick review - Tom Cruise defies age and gravity
Make sure you see it at an IMAX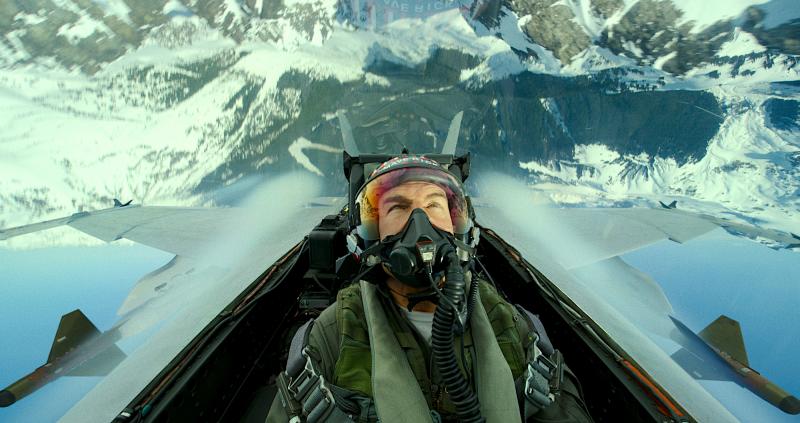 Cruise missile: Maverick pulls the high G's
Only 36 years later, Tom Cruise is back with his eagerly-awaited Top Gun sequel (it was delayed a couple of years by Covid), and there are loyal legions of fans out there desperate to see it. The original, some say, in some way helped to "define" the 1980s, grossing $360m and spinning off a monster multi-platinum soundtrack album, headlined by Berlin's cheesy synthetic megaballad "Take My Breath Away".
Early reviews have been ecstatic, even delirious, but altitude can play strange tricks.
From a ground-level perspective, Maverick, directed by Joseph Kosinski, is a game of two halves. The flying sequences are staggering and spectacular, enveloping the viewer in a zooming, whirling, super-speed aerial ballet in which F18 Hornet fighter jets soar over mountain tops and flip over on their backs to go screaming down the other side at treetop height, maybe threading through the arches of a viaduct along the way. The US Navy wouldn't let gung-ho Cruise pilot an F18 himself (they cost $70m each), but the actors at least got to ride in the back seat. The aerial footage was shot with real aircraft and no CGI, so you get full-spectrum actualité hitting you from all sides. Especially if you see it on an IMAX screen.
There are aerial combat scenes where Cruise's Maverick (aka Captain Pete Mitchell) peels off impossible manoeuvres while pulling enough G-force to crush a rhinoceros, but some of the training sequences are better still. Tasked with auditioning a batch of super-gifted US Navy pilots – all stars of the elite Top Gun flying academy – for a top-secret mission, Maverick blows their "what can this old guy each us?" cockiness to smithereens as he whooshes around the sky, ambushing them from below, behind and above. Veteran viewers might even be reminded of Christopher Plummer's Squadron Leader Harvey doing something rather similar, albeit more slowly, in 1969's Battle of Britain.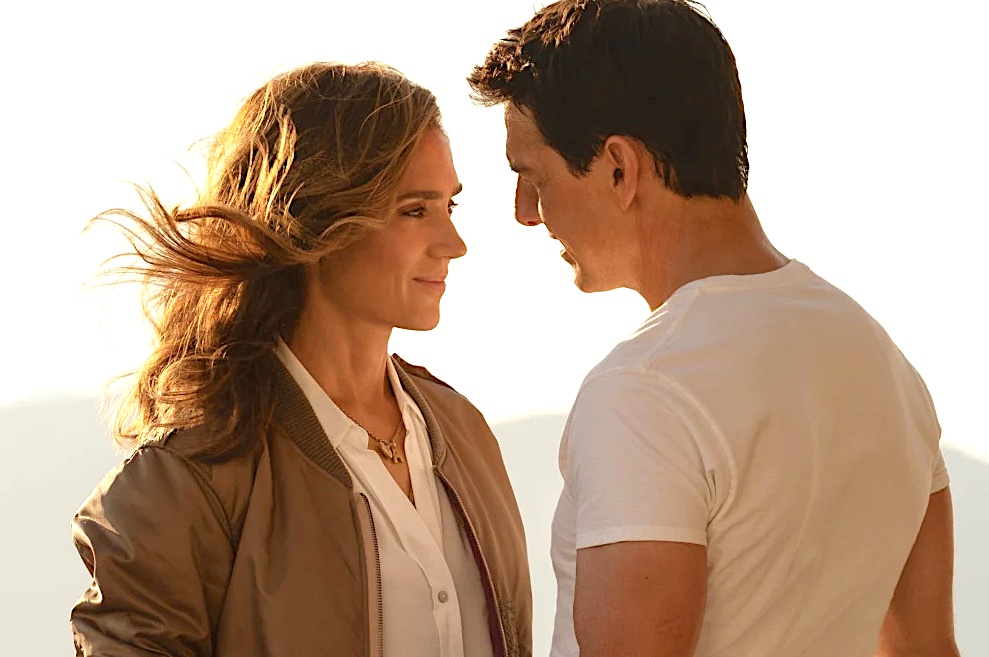 It's lucky that the flying is so plentiful and overwhelming, because the ground-based action is somewhat less dynamic. Kelly McGillis and Meg Ryan, the lead actresses from the original film, aren't aboard this time, so Maverick's love interest is Penny Benjamin (a very airbrushed-looking Jennifer Connelly, pictured above), a single mom who runs the bar frequented by the aviation fraternity. The idea is that she and Maverick had a fling back in the day, and now he's back to pick up where they left off, but it's not much more than a paint-by-numbers relationship.
When the story opens, Maverick is a test pilot flying a revolutionary aircraft that he manages to crank up to Mach 10.2 before it falls to bits, which earns him a bollocking from the gruff, no-nonsense Rear Admiral Cain (Ed Harris). How come, he asks Maverick, that after all this time he's still only a Captain and not an admiral or a Senator? The answer, of course, is that flying is Maverick's first and only love (sorry Penny), and somehow he's still piloting the fastest machinery on earth at age 60. He's saved from being benched permanently by the one-last-mission job, where he's only supposed to be the instructor. But, to the chagrin of mission commander Vice Admiral "Cyclone"(Jon Hamm, pictured below, who could easily have handled a more fully developed role), the mission is so complicated and hazardous that Maverick is the only man who can lead it.
The earlier film is referenced in a variety of ways. A major theme is Maverick's difficult relationship with Bradley "Rooster" Bradshaw (Miles Teller), who's the son of Maverick's former flying partner "Goose" Bradshaw. Goose was killed in a training accident, and Rooster is seething with rage and resentment at the way Maverick blocked his quest to become a jet pilot. There's also a melancholy appearance by Val Kilmer as Maverick's former sparring partner "Iceman" Kazansky. Ice has reached the rank of Admiral but is now battling throat cancer, as is the real-life Kilmer. There's even a cameo by the F14 Tomcat, now considered an antique but the plane Cruise & co flew in the original film.
But splendid as the airborne action is, you can't turn back time. When the original Top Gun came out, America was waving the Stars and Stripes high under Ronald Reagan, doing the "global cop" routine by bombing Libya, supporting Iraq in the Iran-Iraq war and confronting the Russians and their "Evil Empire". A tale of swaggering, fearless US fighter pilots chimed perfectly with the public mood. Today, with the USA looking far less certain of itself under disturbingly dithering leadership, it's a different time and another planet. Here, the flyers' special mission is to bomb a uranium processing plant, but there's no mention of where it is or who's running it (though if you listen carefully, the word "Iran" is vaguely audible at one point). It's just an abstract, neurotically apolitical objective around which a tale of sound-barrier-busting airborne heroics can be staged.
But you have to hand it to Cruise for his single-minded focus and ability to galvanise a huge production like this. He's a movie star like they don't make any more, and Top Gun: Maverick is the kind of grandiose summer blockbuster that the streaming services seem to be in the process of killing off. Just add beer, popcorn and an IMAX screen.