Una review - 'Blackbird' adaptation loses its stage intensity |

reviews, news & interviews
Una review - 'Blackbird' adaptation loses its stage intensity
Una review - 'Blackbird' adaptation loses its stage intensity
Benedict Andrews directs Rooney Mara, Ben Mendelsohn in David Harrower's screen transfer of his stage hit
Friday, 01 September 2017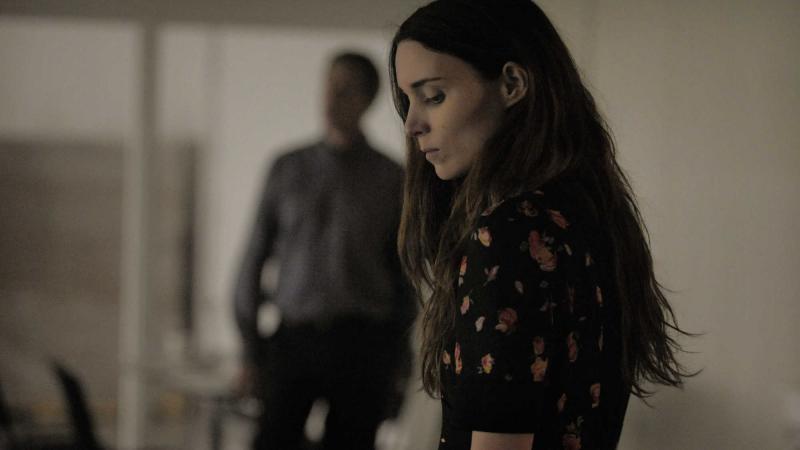 Mating moves: Rooney Mara with Ben Mendelsohn
Add Una to the ever-lengthening list of mediocre films adapted from fine plays. In London and New York, David Harrower's Blackbird was an entirely harrowing two-hander: a symbiotic portrait of the damage wrought by desire that also happened to function as a first-class vehicle for actors as disparate as Roger Allam and Jodhi May (in the West End) and Jeff Daniels and Alison Pill (in New York, where Pill was several years later replaced for a commercial run by Michelle Williams).
But in translating for the screen a play he had directed onstage in Germany in 2005, film neophyte Benedict Andrews shows scant evidence of the sense of space and tension and opposites working in conjunction that has marked out his – divisive, in some quarters – local stage revivals of A Streetcar Named Desire and the West End's current Cat On a Hot Tin Roof.
Vengeance doesn't adequately describe what is afoot
The combustibility that courses through Blackbird isn't a million miles removed from Tennessee Williams's libidinous landscape, at least if Williams had somehow cross-fertilised with Nabokov. But it's as if in changing Blackbird to go by the title of its distaff character, Una (played by Rooney Mara), the result was a flattening across the board. Less once again turns out to be more, which the play knew and the film does not.
What once seemed ambiguous and subject to revision now seems laboured and overexplicit, and the attempt to open out a purposefully claustrophobic encounter does no one any favours. Harrower adapted his own play, so it seems doubly bewildering that he saw any gain in introducing the character of the barely pubescent Una (played as a 13-year-old by Ruby Stokes) to flesh out a back story that in the play is reported but never shown. The past, as Eugene O'Neill once put it in a different context, functions onstage as the present and the future, too.
The crux of the central face-off remains. The adult Una is flicking one day through a trade magazine – quite why is never explained – when she sees a photo of the man, Ray (Ben Mendelsohn, a terrific actor who should be a bigger star than he is), who led her incipiently teenage self into an abusive, not to mention illegal relationship. Interestingly, the preyed-upon Una was 12 in the play, but perhaps adding a year to the character makes a difference in celluloid funding circles. (Rooney Mara, Ben Mendelsohn, pictured below)
In any case, Una arrives at the warehouse where Ray works so as to embark upon the wary mating dance-as-reckoning that constitutes the entire play, the scenario tricked out for the film to include a ropey subplot about office politics and an even ropier Other Man, Scott (Riz Ahmed, pictured below with Mara), who is both a nosy parker and a narrative contrivance in one.
When Andrews and Harrower keep to the confines of the material's essential dynamic, you see vestiges of the nascent power of the piece. Has Ray – who has done time in prison and started life anew with both a wife (Natasha Little) and a new name – put the past behind him? Has Una, and, indeed, can she? The precise reason for Una's intrepid reacquaintance with Ray is itself properly elusive: vengeance per se doesn't adequately describe what is afoot.
It's a shame, then, that the ancillary characters merely amplify holes in the plot in which virtually no one seems to be alert to what is going on around them: gathering ambiguity onstage has been replaced by the merely illogical.
Nor do Mara and Mendelsohn feel particularly dangerous as a couple, watchable though they both are. Mara once again is a fundamentally recessive screen presence who seems always to be watching as opposed to participating: a more active performance might provide the missing juice. Mendelsohn admirably projects a world-weary manchild poised between self-knowledge and self-annihilation, but one can't escape the unfolding awareness that he's working largely in a vacuum. Blackbird, alas, has flown.
Overleaf: watch the trailer for Una
Subscribe to theartsdesk.com
Thank you for continuing to read our work on theartsdesk.com. For unlimited access to every article in its entirety, including our archive of more than 10,000 pieces, we're asking for £3.95 per month or £30 per year. We feel it's a very good deal, and hope you do too.
To take an annual subscription now simply click here.
And if you're looking for that extra gift for a friend or family member, why not treat them to a theartsdesk.com gift subscription?