Public Enemy, Young Vic |

reviews, news & interviews
Public Enemy, Young Vic
Public Enemy, Young Vic
The horrors of local politics still chime in Richard Jones's queasy production of an Ibsen masterpiece
Good liberal friends? Not quite. Bryan Dick, Joel Fry, Beatrice Walker, Adam Best and Charlotte Randle
Everything seems so free and easy, so do-as-you-darn-well-pleasey, in the Stockmanns' fjord-view model home. Cheery friends in bright 1970s clothes drop in to chew the social cud as well as Mrs S's cooking; only her medical-officer husband's mayoral brother jars, and surely he's too daft to be taken seriously. So when the good doctor finds irrefutable proof that the waters of the town's new spa are poisoned, the weight of liberal opinion will surely back him up and all must be well, right?
Wrong. This is the unsettling world not only of Henrik Ibsen but also of director-genius Richard Jones, inhabiting the queasy shifting sands between comedy and tragedy that David Harrower's pithy translation – and assured sequel to his work on Jones's last Young Vic tour de force Government Inspector - also holds in fine balance. It all unwinds with the terrifying speed of Berg's Wozzeck, which as opera director Jones knows well, and in barely more time (one hour and 40 minutes without an interval).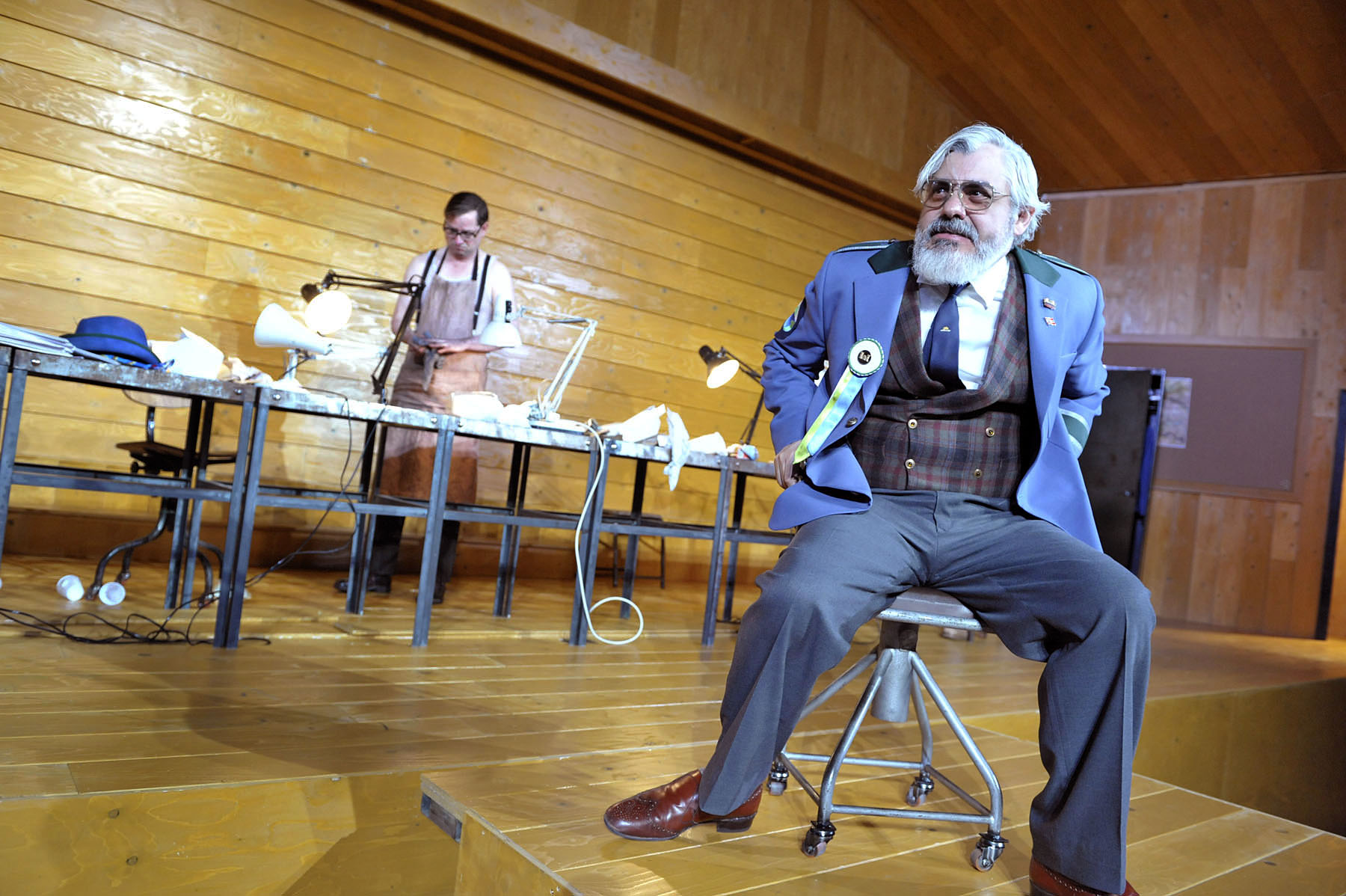 The brilliance of this production, with its stage pictures often blindingly lit by the fabulous Mimi Jordan Sherin, is that even by the end of the first act you can't see how Ibsen's famous trajectory of a well-meaning man outlawed by a community can possibly go from bright to dark, calm to manic; and yet we, as audience, are sometimes heart-thumpingly implicated in the vortex.
Casting is inspired, with several actors almost unrecognizable and Campbell Young's make-up hovering as hauntingly on the line between real and grotesque as Nicky Gillibrand's day-glo costumes. Darrell D'Silva (pictured above right with Niall Ashdown) is transformed as the ridiculous Mayor, sporting the town's proud hill-and-water logo which is also to be found on the back of every seat in the auditorium. But he can be terrible in fulminating for conventional values, a magnificent ranter, as the dynamic between the Stockmann brothers goes quickly awry. Once he mocks the "theatrical" nature of the doctor's report, trying to play down words like "lethal" and "toxic", the gloves are off and the siblings are at one another's throats in a paper-fight that's both absurd and frightening.
David Sawer's score for accordion quickly twists the knife between acts. It's by no means as integrated a component as his work for Government Inspector, nor does it have to be, but it plays its part in this immaculately orchestrated journey to hell. Down in the office of The Reformer, editor Hovstad (Bryan Dick), not-so-cool Billing (Joel Fry) and kowtowing small-businessman typesetter Aslaksen (Niall Ashdown) quickly pull the hot story when it's pointed out that the cost of the clean-up will rebound on the taxpayer.
As protagonist Stockmann, Nick Fletcher is the masterly linchpin of Jones's calibration, hinting already in this third act at the manic demagoguery which will undermine his cause. It explodes in the big town-meeting scene. We, now the townsfolk on whom the lights are slowly turned to generate glare and heat, shift uncomfortably in our half-agreement as Stockmann becomes a slightly muddled, not entirely sympathetic mouthpiece (pictured left) for some of Ibsen's own beliefs: the Beppe Grillo topicality of the call to disengage from corrupt politicians, the tyranny of the majority, the aristocracy of the intellect. Only the strobe lighting at the play's climax strikes a false note.
Though Ibsen presumably intended the fifth act as a slow coda of solitary enlightenment, the discomfort persists. The Stockmanns' fallen status isn't just a matter of smashed windows; the entire order of Miriam Buether's dazzling set – bright orange echoes of Ultz's work for Jones's ENO production of Gerald Barry's The Bitter Tears of Petra von Kant– has been destroyed. Lost in a sea of moral ambiguity from which no-one is exempt, not even the fundamentally sympathetic figures Charlotte Randle and Beatrice Walker make of mother and daughter, the last stand of Fletcher's Stockmann suggests that in the lone path lies only madness. It's the draining final coup of a production which serves Ibsen's polemical topicality in ways that are anything but obvious.
MORE IBSEN ON THEARTSDESK
Ghosts, Duchess Theatre (2010). Iain Glen makes directorial debut with a straightforward take starring Lesley Sharp
The Master Builder, Almeida Theatre (2010). Passions blow hot and cold in this uneven production starring Gemma Arterton and Stephen Dillane
Emperor and Galilean, National Theatre (2011). Power and pace help to exhume Ibsen's Romano-Christian epic starring Andrew Scott
Judgement Day, The Print Room (2011). Ibsen's last play has its issues but emerges strongly in new adaptation with Michael Pennington
The Lady From the Sea, Rose Theatre, Kingston (2012). Joely Richardson takes on the Ibsen heroine her mother and sister made their own
A Doll's House, Young Vic (2012). Period setting yields a contemporary tragedy adapted by Simon Stephens and starring Hattie Morahan
Hedda Gabler, Old Vic (2012). Ibsen's heroine draws new depths from the West End's sweetheart Sheridan Smith (pictured)
Love's Comedy, Orange Tree Theatre (2012). Early Ibsen finds the playwright in his awkward adolescence
A Doll's House, Royal Exchange (2013). Ibsen in the round loses none of its power to cast a spell
Ghosts, Almeida Theatre (2013). Richard Eyre and Lesley Manville shine light into Ibsen's dark thriller of family misfortunes
Peer Gynt, Théâtre National de Nice (2014). Irina Brook's song-and-dance Ibsen entertains, but misses the darker shades
The Wild Duck, Belvoir Sydney (2014). Heartbreaking adaptation mixes naturalism and forensic examination
Little Eyolf, Almeida Theatre (2015). Strong women and one weak man in Ibsen's swift study of isolation and guilt
The Master Builder, Old Vic (2016). Ralph Fiennes stars in Ibsen's unsettling mix of the real and the supernatural
Hedda Gabler, National Theatre (2016). Ivo van Hove makes an uneven Southbank debut
Subscribe to theartsdesk.com
Thank you for continuing to read our work on theartsdesk.com. For unlimited access to every article in its entirety, including our archive of more than 10,000 pieces, we're asking for £3.95 per month or £30 per year. We feel it's a very good deal, and hope you do too.
To take an annual subscription now simply click here.
And if you're looking for that extra gift for a friend or family member, why not treat them to a theartsdesk.com gift subscription?