Under the Fig Trees review - a sensual day in the Tunisian sun |

reviews, news & interviews
Under the Fig Trees review - a sensual day in the Tunisian sun
Under the Fig Trees review - a sensual day in the Tunisian sun
A loving look at vibrant young women flirting, working and fighting constraint
Challenging: Fidé Fdhili as Fidé
Tunisian lives unfold over a working day in Erige Sehiri's debut Under the Fig Trees, with fig-picking the backdrop to furtive, sparking collisions between men and women. Love, liberation and oppression all take their turn under the sun as community is strengthened or challenged, and a society is subtly implied.
Sehiri has a documentary background, and cast non-professionals from her Kesra setting. The naturalistic, improvised performances seem effortlessly real, but this isn't prosaic non-fiction. The play of changing light and shade marking the day, the loving framing of beautiful faces under glinting sun, a girl's finger absently rolling a fragment of earth onto a boy's hand, the secret touch intimately erotic, all intensify Under the Fig Trees' warm, hazy sensuality, helped by cinematographer Frida Marzouk's painterly use of natural light.
We begin at daybreak as workers are selected by foreman Gaith (Gaith Mendassi), packed into a pickup truck and taken to the fig orchard. Fidé (Fidé Fdhili) sits up front as Gaith's favourite, but is too fierily free-spirited to stay put. Meeting Fhdili inspired Sehiri to make a film around her, and with her impatient body and challenging eyes she's a magnetic figure of possibility. She debates the romantic status of men and women, and bares her hair after a row, irritably testing convention. Lambasting arrogant local men as "sissies", she's berated in turn by an elder male, whose defence of masculine honour harks back to France's overthrow. Fidé pats him on the back to make peace, the community holding. For all her lashing out, invisible limits remain.
Meanwhile beautiful young Abdou (Abdelhak Mrabti, pictured below) has returned after years away, breaking the heart of Fidé's younger sister Melek (Feten Fdhili) all over again; Abdou is orphaned, and Mrabti has some of Timothée Chalamet's wounded youthfulness. Firas (Firas Amri) and his girlfriend Sana (Ameni Fdhili) steal figs, while elder Leila (Leila Ouhebi) spies for the boss, representing Tunisian surveillance and denouncement. The actual fig-picking is an almost incidental undercurrent, a delicate rhythmic beat.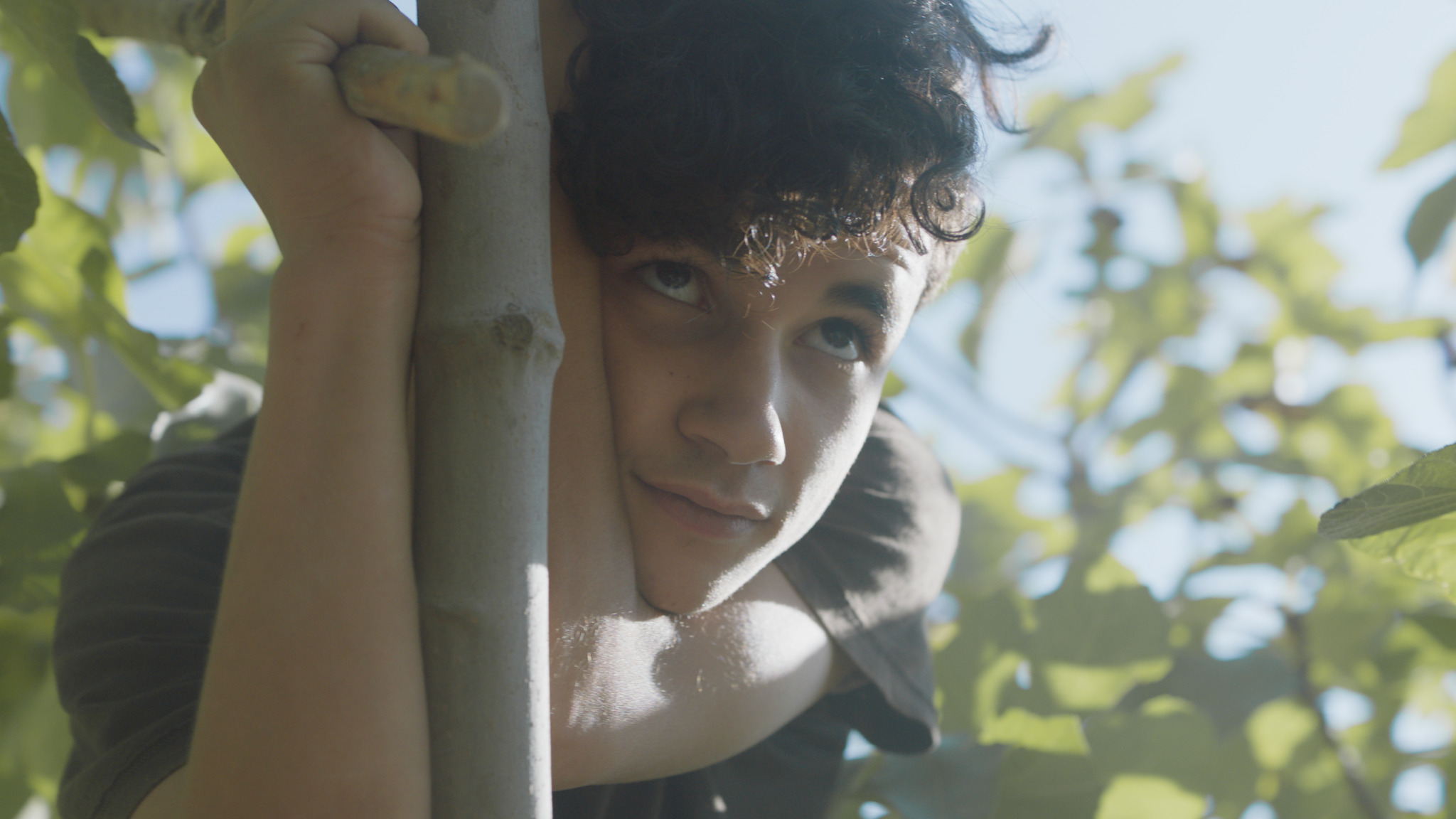 When Gaith catches petite Melek alone, he sexually intimidates and almost assaults her, making her wander away like a shamed, wounded animal. This male oppression is a gloomy corrective to the spirited female talk in the orchard's enclosed escape from village constraints. Gaith too is wronged later, Sehiri not wanting to demonise men also subject to a stifling system. Fidé anyway rips into him, demanding her own workplace justice.
Sehiri's film is powered by love for her characters, especially the young women, lingering on them as they defiantly apply makeup while humming a Lebanese pop song, shucking off the working day and laughing and singing a raunchy folk song as they go home together. Solidarity and individuality both endure.
Behind the Tunisian headlines lamenting the Arab Spring's last failure, a collapsing economy and dictatorial retrenchment, Sehiri tells a rich everyday story, as love, friendship and work go on anyway, and power and pride are fought for life by life, fig by fig.
Warm, hazy sensuality is helped by painterly use of natural light
rating
Explore topics
Share this article