X-Men: Apocalypse |

reviews, news & interviews
X-Men: Apocalypse
X-Men: Apocalypse
Are we suffering from a surfeit of superheroes?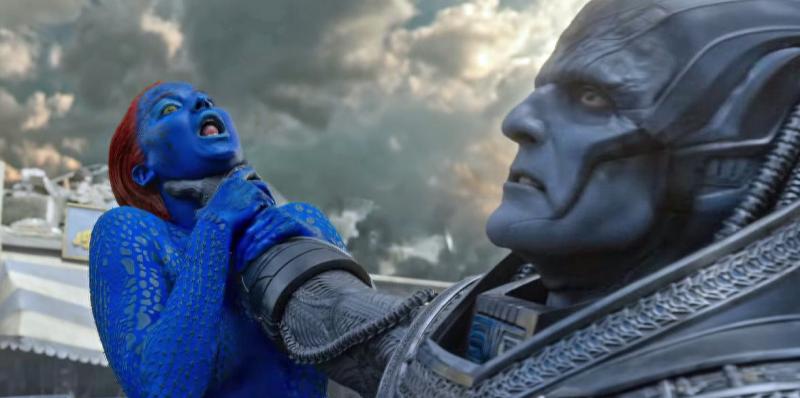 Apocalypse (Oscar Isaac) gets to grips with Mystique (Jennifer Lawrence)
It's getting mighty crowded in the superhero lounge. After the underwhelming Batman v Superman and the overwhelming Captain America: Civil War, here's the X-Men posse back on the warpath, once again under the bombastic helmsmanship of Bryan Singer.
The extended opening sequence is a mesmerising standalone episode. It sets up the action by whisking us back to ancient Egypt and introducing the infinitely ancient Apocalypse, a self-styled god who has spent aeons gathering ever-increasing powers by transplanting the gifts of assorted mutants into himself. As pyramids tumble, Singer zooms us back to the near-present – the main action is set in the 1980s, the era of Reaganomics and Boy George – via a dazzling ride down a time-tunnel stretching from Christ to the Cold War.
It's a stunning exhibition of hi-tech filmmaking, and even makes you wonder if Singer and screenwriter Simon Kinberg have already given us their best shot, but its Stargate-meets-Indiana Jones vibe doesn't sit quite right with the X-Men universe. And while the rest of the film is lit up by a string of spectacular set-pieces, after two and a half hours, the concluding clash of the titans feels more like an obligation than a delight. Along the way most of the possible boxes have been ticked – conflict, pain, fear, doubt, redemption, pride, becoming the best you can be etc. – but while the flick's catchline might be "Don't Stop Believing", as we get to the final furlongs it becomes quite difficult to believe the thing is ever going to end. (James McAvoy as Charles Xavier pictured above)
But let's accentuate the positive. There are deliciously extravagant interludes featuring the heatwave-vision of Cyclops (Tye Sheridan) and the time-stopping abilities of Quicksilver (Evan Peters), who can do a week's work in a split second. There's plenty of space for Jennifer Lawrence's Raven (she's more Raven than Mystique in this one, but still does that turning-blue thing very fetchingly), flashing her kick-ass chops as she – for instance – rescues Angel (a lavishly be-winged Ben Hardy) and the exotically bizarre Nightcrawler (Kodi Smit-McPhee) from the squalid purgatory of a cage-fighting den in East Berlin. Mystique's exploits in the previous X-Men outing, Days of Future Past, included preventing the assassination of the US president, and seeing her exploits on TV has inspired a new generation of young mutants, like seeing The Beatles on The Ed Sullivan Show was a flashbulb moment for countless wannabe rock'n'rollers. Meanwhile, she's still coming to terms with finding her place as a mutant in a suspicious world. (Below, Sophie Turner as Jean Grey, Kodi Smit-Mcphee as Nightcrawler and Tye Sheridan as Cyclops)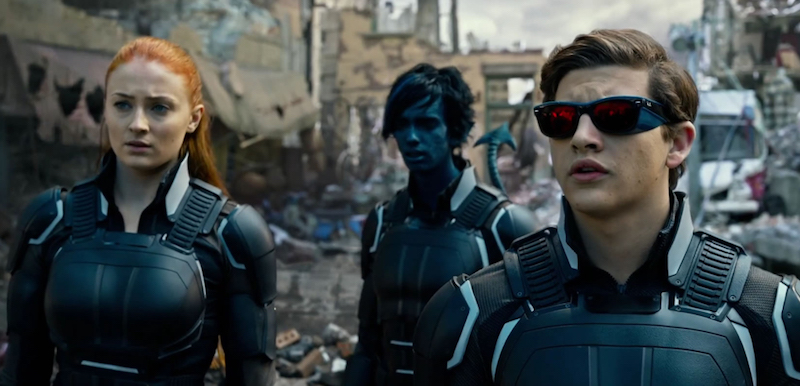 James McAvoy is back as telepathic mastermind Charles Xavier, and, wise and infinitely understanding though he is, he still has his work cut out to keep Magneto (Michael Fassbender) on side. Again it's Fassbender who steals most of the acting plaudits, though he's helped by getting the meatiest bits of the script. Trying to live a normal civilian life as a factory worker in Poland, he betrays himself by committing an ill-judged good deed. These, as we know, never go unpunished, and it triggers a chain reaction of accusation and retribution which leads him to the dark side as one of Apocalypse's co-workers (this bunch are in fact the Four Horsemen of that very Apocalypse). Fassbender portrays Magneto as a complicated mixture of emotional anguish, righteous fury and gargantuan vanity, and Apocalypse (an unrecognisable Oscar Isaac) cunningly exploits his back catalogue of hurt by encouraging him to destroy Auschwitz. Later, Magneto is halfway to destroying the entire planet when the X-Men decide it may be time to intervene.
The film has spectacle, masses of destruction and oodles of 3D wizardry. What it doesn't have is the zinging wit and nimble ensemble cohesion of the new Captain America, nor the latter's sense of being anchored to plausible real-world concerns, no matter how outlandish the digitised mayhem becomes. Perhaps a slightly delayed release date might have been in order.