Logan |

reviews, news & interviews
Logan
Logan
Heroic swansong for the battered but unbowed Wolverine
Logan's run: Hugh Jackman does it for the last time
The X-Men films have frequently managed to bring a shot of ethical awareness and emotional engagement to the superhero party, but even so this swansong for Hugh Jackman's Logan (aka Wolverine) is likely to take your breath away. With James Mangold at the helm as director and co-writer, this is a haunting elegy for times past, battles fought and comrades lost, as Logan finds himself grudgingly dragged out of a drink-sodden semi-retirement as a limo driver.
Elsewhere in the Marvel and DC universes, they're permanently upping the ante in terms of firepower, cities destroyed, and the number of superheroes you can cram into a shot alongside an arsenal of CGI. However, Logan keeps its scale human and intimate, and at its core is a subtle and heartfelt two-hander between Jackman and Patrick Stewart's Charles Xavier, both delivering some of the best work of their careers (Stewart and Jackman pictured below).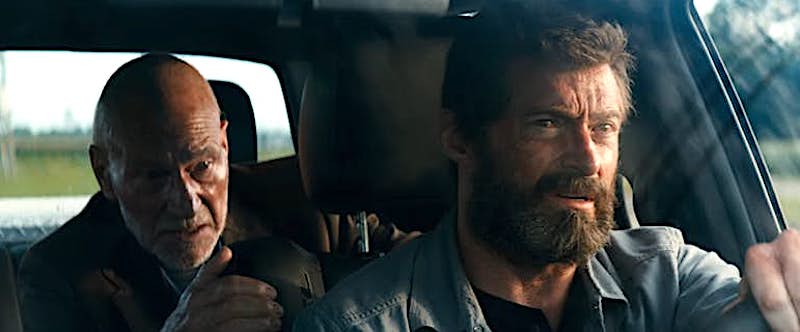 But the year is 2029, and they're not as we've known them. The mutants have been bred out of the human bloodline and are remembered only as a historical curiosity. "We thought we were all part of God's plan, but maybe we were God's mistake," broods Logan. He has become a limping, depressive loner contemplating suicide, while Xavier is an old man suffering from dementia, prone to seizures which can unleash devastating psychic waves from his still-formidable (though erratic) brain. Xavier is living in a wrecked water tower somewhere on the Mexican border, looked after by Logan with help from the light-sensitive mutant, Caliban (Stephen Merchant).
Via some sixth sense, Xavier has foreseen the arrival of Laura, a "special" girl who's escaped from a secret research project run by the Transigen corporation, supervised by the unscrupulous Dr Zander Rice (a smooth but reprehensible Richard E Grant). Rice has been breeding warrior-mutants who are untroubled by conscience or emotion. Laura is trying to join some fellow child-escapees who are making for a hideaway in North Dakota called Eden, and thence to Canada, but she's being pursued by Zander and his smirking hit-man Pierce (Boyd Holbrook). She needs help.
The story evolves into a road movie-cum-Western which carries the X-Men story both forward into legend and back to its roots. There's a nice meta-textual joke when Logan protests that the Eden refuge is just a myth that only exists in the pages of an Uncanny X-Men comic that Laura has been reading, but the road trip north through the heart of America becomes a kind of long goodbye for everything that Xavier and Logan have been through. An explicit nod to the 1953 Western Shane, where Alan Ladd's stoic loner battles to save homesteaders from a murderous cattle baron, tells you plenty about where Jackman and Mangold were at, as does the choice of rugged Johnny Cash songs for the soundtrack (Mangold directed the Cash biopic Walk the Line as well as the remake of 3.10 to Yuma).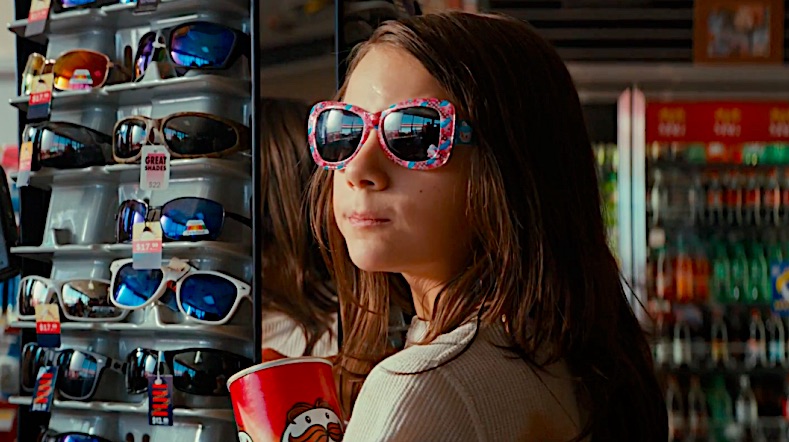 With the frail Xavier now entirely dependent on Logan for everything, including taking a pee, the father-son dimension of their relationship becomes touchingly clear. When they end up spending the night with a family who they've helped out after a road accident, their evening meal becomes a belated glimpse of the "normal" life the X-Men crew have never been able to lead, as Logan introduces Xavier as "my dad, Chuck". And since Laura (Dafne Keen, pictured above) has been partly created from Logan's DNA and has Wolverine-style scissor-hands, suddenly it's very much a family affair.
While you don't get exploding planets or futuristic flying machines, Mangold has built in some stunning action sequences. Especially memorable is an episode at a hotel in Oklahoma, where Xavier's stuttering brain is threatening to vibrate the entire building to pieces while Logan, in agonising slow-motion, must tackle a Transigen death squad. The flick opens with Logan's graphic demolition of a Chicano gang who are trying to smash up his car, and ends with a heroic last stand as Laura and her fellow runaways make a dash for the Canadian border. The last of Logan is also the best of Logan.