Lunana: A Yak in the Classroom review - life lessons for a Bhutanese teacher |

reviews, news & interviews
Lunana: A Yak in the Classroom review - life lessons for a Bhutanese teacher
Lunana: A Yak in the Classroom review - life lessons for a Bhutanese teacher
A reluctant urban educator is sent to the remotest school on earth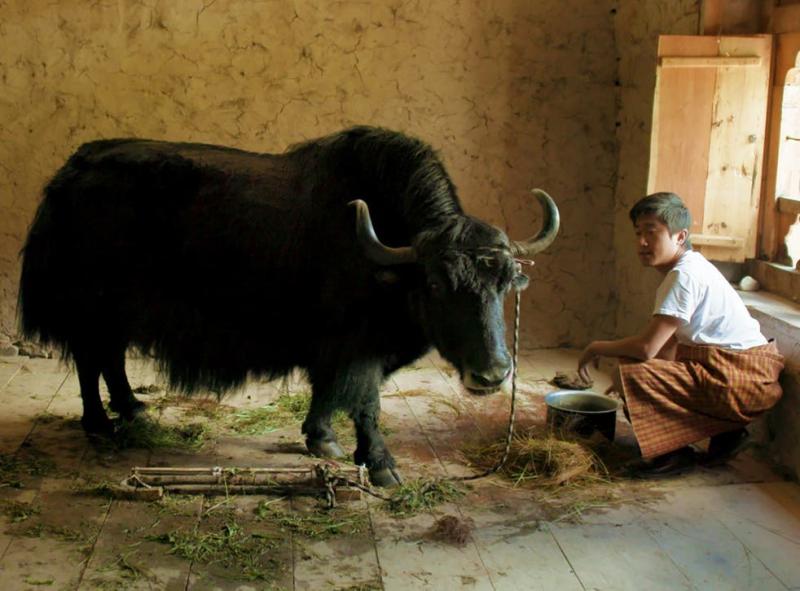 Sherab Dorji as teacher Uygen tending to Norbu the yak
If you're in search of an escape from grim world news, you could do worse than find a cinema showing Lunana: A Yak in the Classroom and spend a couple of hours in the highlands of Bhutan. This is a beautiful if slow-moving film that follows a young city dweller who finds himself working in the remotest school on earth.
The classic fish-out-of water story is done with such grace, charm, and good humour it seems entirely fresh.
Uygen (Sherab Dorji) lives with his grandmother in the capital city of Thimpu. He's got one year left on his government contract as a schoolteacher and is bored with the work. He prefers playing guitar and singing in a nightclub and hanging out with his sophisticated friends. Uygen is hoping to get a visa so he can pursue a music career in Australia, but instead he's sent to Lunana, a remote village high in the mountains with a population of 56 people.
To get to his new job, he has to trek uphill for eight days and be guided by two yak herders from the village. Uygen's fancy hiking boots are no match for their galoshes on the wet vertigionous paths, and the headphones he uses to block out his surroundings soon run out of power. He's graceless and exasperated throughout the long journey.
When they finally arrive at Lunana, all the locals come out to greet the new teacher. (The previous one didn't last the winter.) The village elder tells Uygen they hope he'll enable their children to be more than yak herders and cordyceps gatherers when they grow up. With no internet and the only electricity intermittently suppied by a few solar panels, Ugyen must learn to accept the primitivism of his new surroundiings.
There have been plenty of films about teachers dealing with difficult classrooms. Uygen shares his musical ambition with Jack Black's character in School of Rock, but Lunana is closer in style to Nicholas Philbert's delightful documentary Etre et avoir.
Uygen is dismayed by the toilet (wooden planks over an open pit inside a roofless shack). The yak herders who guided him to Lunana have brought toilet rolls from the city just for him; they make do with leaves. The one-room school is nothing but bare walls, empty shelves, and dusty tables. But Ugyen warms to his eager pupils and learns to adapt to village life. Before too long he works out how to keep a fire burning with dried yak dung and learns a traditional song from the lovely Saldon (Kelden Lhamo Gurung), whom he first encounts singing alone on a cliff top.
Working with first-time actors and local people, novice writer-director Pawo Choyning Dorjii has crafted a beautiful tale that will doubtless inspire westerners with a desire to travel to Bhutan. Lush green landscapes, mountains wreathed in clouds, and kindly villagers dressed in colourful clothes – it's not hard to see why the country is often said to have some of the happiest people in the world.
It's impossible not to be charmed by the cast, including seven-year-old Pem Zam (above), the class captain who wakes up reluctant Uygen on his first day of school. Like him, she's being raised by her grandmother and wants to be a singer. She tells Uygen that teachers are special because they can help students "touch the sky". He still dreams of performing in a club in Bondi, but acquires a deeper appreciation of the part he can play as an educator in his homeland.
Bhutan has a small but burgeoning film industry that is apparently breaking away from a tendency to make imitation Bollywood movies and explore its own culture instead, but this has mainly happened in documentaries. People living in the most remote regions of the country have to wait for the rare visit of a travelling cinema if they want to see a film.
The government put funding into Lunana: A Yak in the Classroom in 2018 and it's very proud of the fact that this is the first Bhutanese feature film to be accepted into the Best International Film Oscar category (though it wasn't nominated).
Working in such a hard-to-access, high-altitude location, Pawo Choyning Dorjii and his crew had to shoot their movie using solar energy alone; it would be fascinating to watch a behind-the-scenes doc on the film's production. In the meantime, it's a calming pleasure to spend time in the company of the villagers of Lunana.
The classic fish-out-of-water story done with grace, charm, and good humour
rating
Share this article