Album: Larkin Poe - Blood Harmony |

reviews, news & interviews
Album: Larkin Poe - Blood Harmony
Album: Larkin Poe - Blood Harmony
Sisters keep doing it for themselves: Megan and Rebecca Lovell are on song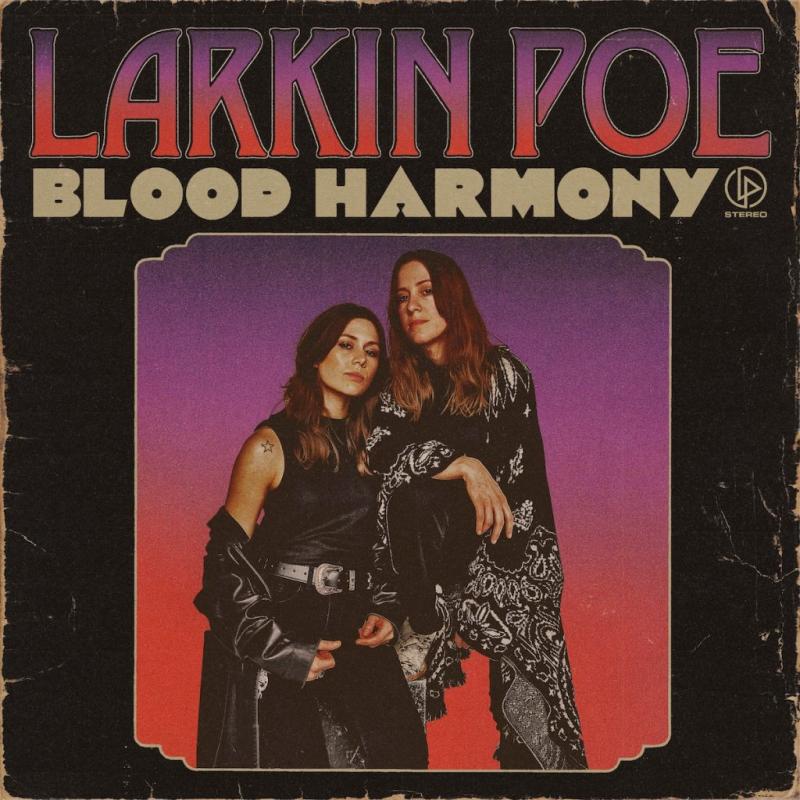 The Larkin Poe story goes back to 2010, when they released four beautiful and distinctive seasons-related EPs, displaying the Lovell sisters Rebecca and Megan's rich, absorbing vocal harmonies, slippery slide guitar work and a winning with with crunchy blues-rock riffs. They've released five albums since then, and Blood Harmony is, for the Georgia-born siblings, a musical homecoming to the sultry humidity of the American South of their musical and familial roots.
The cover art looks like a Seventies vintage that's been hauled around in a crate ever since, and that decade spreads its own aura through the music too.
Album opener "Deep Stays Down" sees the sisters set their stall with a lean, seductive and irresistible guitar riff set to an ominous bass drum rhythm and their own subtle harmonies, with heavy rock guitars and hard rock vocals bursting out of their trousers out at the 2.30 mark, and the rock-out feel extends to the heavy Southern blues-rock of "Bad Spell".
Their 2018 set, Venom & Faith was a Grammy Award nominee for Best Contemporary Blues Album, and on the strength of its best tracks, Blood Harmony could well be in the running for another nomination at least. Recorded at Rebecca and her husband Tyler Bryant's home studio, with Megan's husband on keys, and with longtime stage band members Kevin McGowan on drums and Tarka Layman on bass, the album is truly a family affair.
The title song is all about ties that bind – specifically, the memory of the sisters singing with their mother at the family piano – set to a twin guitar riff so slinky and tight it could shed itself like a snake's skin and slip off into the underworld. The twin harmonies and twin guitars seem to cross-talk with each other, McGowan's drums and Layman's bass spreading some ground from which the Lovell sisters take flight through an amalgam of rock, blues, gospel and soul, with lyrics that seem to have been sweated out of the music, as on the crunchy blues riffing of "Kick the Blues" or "Summertime Sunset", sporting a vicious hard-rock guitar line that would make Malcolm Young proud. They close with the more ethereal, hazy and reflective "Lips as Cold as a Diamond" which takes a fairly sombre look at death, as each of us must do, since death is an intimate member of everybody's bloodline.
A guitar riff so slinky and tight it could shed itself like a snake's skin and slip off into the underworld
rating
Share this article