Barbara Dickson, Cecil Sharp House review - intimate and beautifully paced |

reviews, news & interviews
Barbara Dickson, Cecil Sharp House review - intimate and beautifully paced
Barbara Dickson, Cecil Sharp House review - intimate and beautifully paced
Folk legend retraces the long and winding road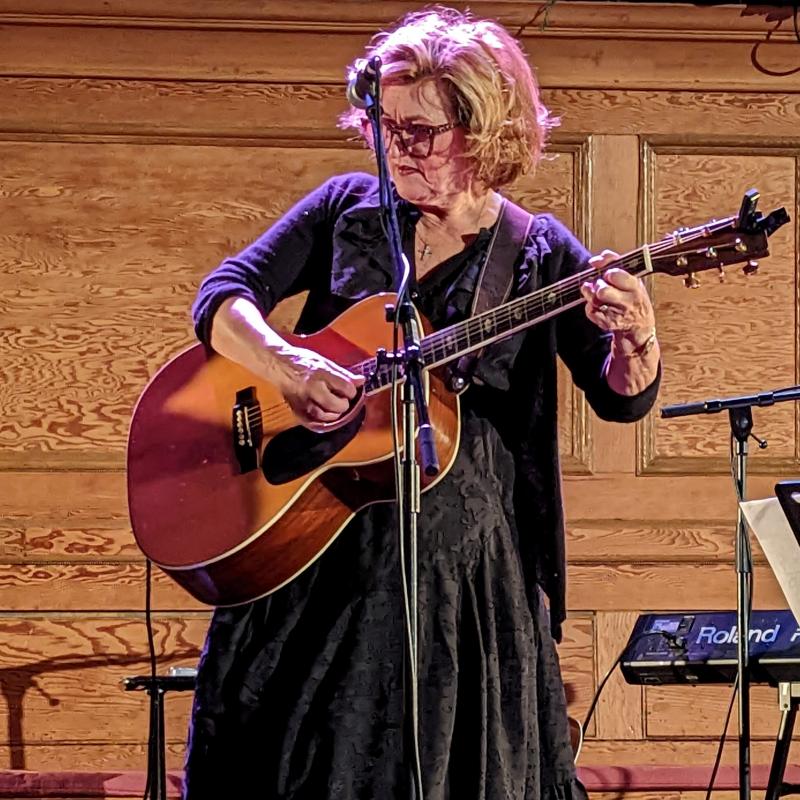 Routes music
Cecil Sharp House, citadel of folk music, finally resounded last night to the mellifluous tones of Barbara Dickson whose distinguished career began at the Howff Folk Club, Dunfermline, in the heady days of the 1960s folk revival.
The choice of venue perhaps suggested an all-folk programme but while Dickson dug deep into her song bag the performance drew on numbers from across her remarkably varied career. While anyone hoping to hear her number one hit – "I Know Him So Well" – would have left disappointed, Ewan MacColl, whose favourite haunt it was, would have thought it all most inauthentic. Even though he himself was something of a construct!
Dickson, with Nick Holland on keyboards and backing vocals, offered a beautifully paced and intimate evening much enhanced by reminiscence and informed chat about each of the songs and their writers, several of whom – Gerry Rafferty, Willy Russell for example – have had deep connections to her. When Russell first heard Dickson in a Liverpool folk club, he recognised "a thoroughbred voice" and how right he was. She got her break in Russell's own breakthrough musical, John, Paul, George, Ringo… and Bert, which arrived in the West End from the Liverpool Everyman in 1974, which was when I first heard her – a sixth form outing with an inspirational music teacher. Two years later, a residency on The Two Ronnies on Saturday evening prime time made her a household name. She's not stopped since.
If her voice then was a light Beaujolais, it's now a deep rich Rioja and at 75 it shows little sign of ageing – indeed, it has perhaps benefited from the downtime of Covid. It's exquisitely controlled, notes perfectly placed, portamento always tasteful. It's not simply that Dickson has a good voice – she's also a good musician. The two don't necessarily go together.
The 75 minute set included a selection of Dickson's own songs, including "Where Shadows Meet the Light" about love and loss and letting go, and old chestnuts such as "Another Suitcase in Another Hall", "Going Back" and "Tell Me It's Not True", the powerful closing number from Russell's Blood Brothers, another musical forever associated with Dickson. Rafferty's beautiful "Mary Skeffington" and "Family Tree" were sung with reverence, a reminder of how much more there was to him than "Baker Street". Introducing "The Times They Are a-Changin'", Dickson spoke of Bob Dylan as "the greatest living American", noting that he's still touring at 80. Of course, MacColl famously dismissed him as "a youth of mediocre talent"!
The more traditional elements of the evening couldn't fail to impress: a setting of the 13th century Icelandic hymn "Heyr, Himna Smiður" made famous by Árstíðir Lífsins on YouTube, and "Willie Drowned in Yarrow", one of a number of folk lyrics that Dickson has reworked. "MacCrimmon's Lament", Holland's drone-like keyboard accompaniment suggesting the pipes, was a real standout. To hear her perform an all-traditional programme would be a real treat.
The evening's opening act was Northern Irish singer-songwriter Anthony Toner, who joined Dickson for the final encore. His own short set included "The Road to Fivemiletown", "Sailortown" and "An Alphabet". His writing, the poignancy of which at times recalled the late Harry Chapin, made me want to explore further.
All in all, a very satisfying evening that drew a near-capacity crowd despite the Tube strike. And the veil of the folk temple wasn't rent in two!
It's not simply that Dickson has a good voice – she's also a good musician. The two don't necessarily go together
rating
Explore topics
Share this article