The Big Reunion, Metro Radio Arena, Newcastle
The Big Reunion, Metro Radio Arena, Newcastle
Reality TV and washed-up '90s pop creates a harmonious match. No, seriously
Spot the pop star: members of B*Witched, 5ive, 911, Honeyz, Liberty X and Atomic Kitten on ITV2's The Big Reunion
With a full-on commercial break in the middle of the programme and teary clips from the television show interspersed throughout, The Big Reunion live show really does play out like an extended episode of ITV2's unlikely reality hit. Thankfully this means carrying over many of the things that made the TV show great, as well as giving late '90s/early '00s revivalists ample opportunity to purchase a £50 hoodie.
It stands to reason that the performances were a bit of a mixed bag: while Cumbrian trio 911, who have reunited at the drop of a hat at various points since their 2000 split, genuinely appeared to be having fun, there were moments when soul trio Honeyz could barely even look at each other. Regardless, they still sounded incredible, belting out "End of the Line" in shiny black PVC and technicolour dreamcoats while an audience now old enough to understand returned the favour on "Won't Take It Lying Down".
The night belonged to Atomic Kitten, back together in their 'classic' lineup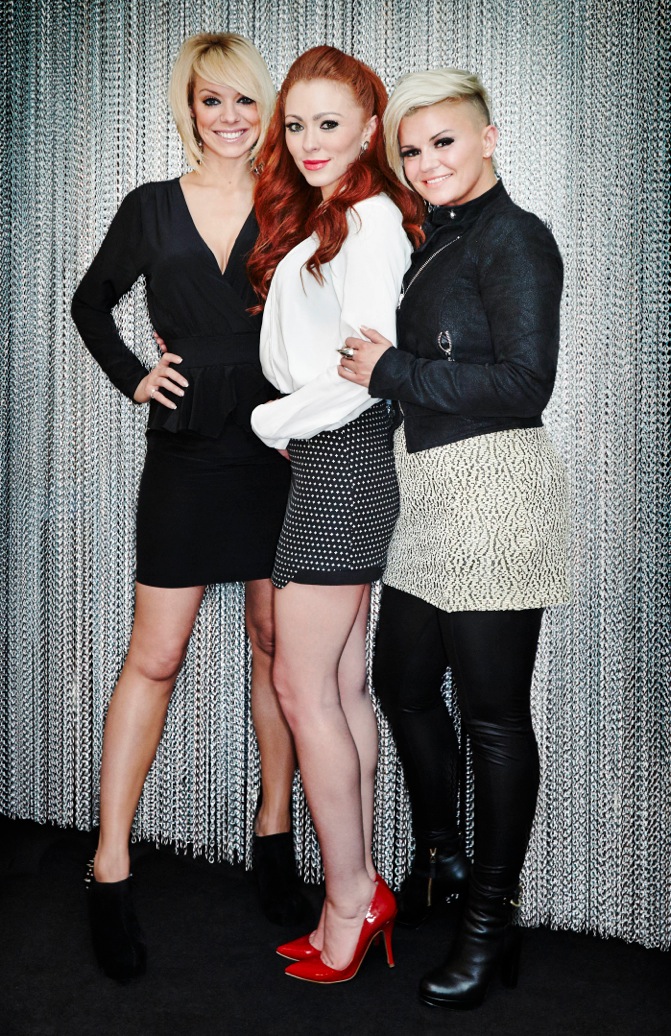 Boy band Blue got the biggest reaction from the audience, unsurprising given that of all of the performers, they were the ones who had most grown into the looks that led a girl near the front to wave a banner reading "I'M LEGAL NOW". Blue are also the ones with a new album and proper comeback tour of their own to promote, although they wisely eschewed new material in favour of barely distinguishable hits "All Rise" and "One Love". Given the number of tears and mobile-phones-in-lieu-of-lighters in the air, I'm sure they'll do alright.
Atomic Kitten, B*Witched, Blue, 5ive, Honeyz, Liberty X and 911 stand testament to the fact that eccentric spellings and co-opted punctuation were never purely a modern-day indie phenomenon. It's a lineup that's likely to strike a cold sliver of fear into the hearts of most but there are those of us in a certain age bracket - say, mid-20s to early-30s - that haven't heard these bands' hits in just long enough that their choruses burst with as many memories as they do bad rhymes. It's about the same for the bands too, the members of some of whom hadn't spoken in years until ITV2's production team brought them back together. In a few cases it shows: these days 5ive are 4our, but they plodded on gamely anyway.
If there was one act the night belonged to though it was Atomic Kitten (pictured right), back together in their "classic" lineup for the first time since Kerry Katona's departure in 2001. Fittingly, given her later career starring in both reality television and the pages of trashy magazines, her appearances were the most entertaining; more surprising was how great her singing voice sounded. There were certainly no dry eyes in my section when the trio hugged, and their big hit "Whole Again" made a fantastic finale both to the night itself, and as a message to take away from the entire series.
Predictably, with the rest of the shows on this run sold out, a second reunion tour is already in the works for Christmas - assuming the nostalgic warmth hasn't faded by then, and the acts haven't remembered why it was they split up in the first place. It's the end of the road though for Popstars also-rans Liberty X, which wasn't that surprising an announcement given the double mastectomy which singer Michelle Heaton endured during filming for the TV show. Liberty X were a band whose sex appeal was so exaggerated to distinguish them from series winners Hear'Say that my 18-year-old self was terrified of them: they still camped it up with PVC and bullwhips, although the fact that Tony Lunden would look more at home in a Morrisons' butcher's overall than a jumpsuit these days made their act a little less scary.
Relive Atomic Kitten's post-Kerry "Whole Again" below
It's a lineup that's likely to strike a cold sliver of fear into the hearts of most
rating
Share this article