CD: Marianne Faithfull - Negative Capability |

reviews, news & interviews
CD: Marianne Faithfull - Negative Capability
CD: Marianne Faithfull - Negative Capability
Searing songs of poetry and experience from the great rock chanteuse
Saturday, 03 November 2018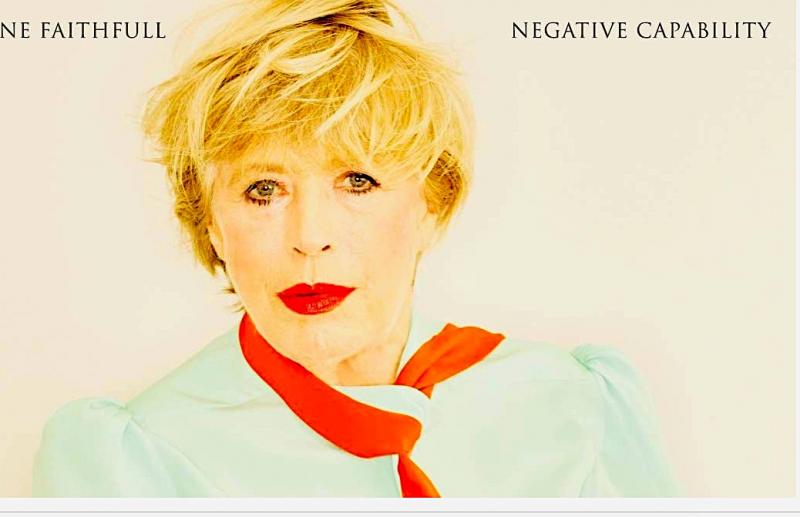 Marianne Faithfull: as powerful as ever
The title is drawn from Keats, his formula for great
poetry
as opposed to instructive morality, and it's towards a poetry of experience rather than the fixed wheel of morality that Faithfull bends her muse, just as she has always done.
The album's inside artwork features pictures of, among others, William Burroughs and a young Faithfull with a young Bob Dylan before his manual typewriter – totems of negative capability in storm-force creative conditions – and the album itself also features some musical blasts from the past – including Mick and Keith's "As Tears Go By", which was her first pop hit, the hit that led her into a world of darker, heavier hits, as well as "Witch's Song" from 1979's Broken English and a coruscating account of Dylan's "It's All Over Now, Baby Blue".
They all feature as standouts on a set that also includes dark and compelling new songs co-written by Faithfull with a loyal retinue of musical familiars – the likes of Nick Cave (the majestic, lovely, slightly crazed "The Gypsy Faerie Queen"), Mark Lanegan and Warren Ellis. The two that stick in the mind and heart like a stiletto are "They Come By Night", about the horrors of the Islamist massacre at the Bataclan, and "Don't Go", a from-the-gut howl against the dying of the light and for dear departed friends including Anita Pallenberg, her fellow karmic traveller across six decades of decadence and exploration.
There are no regrets here, just emotionally powerful, rich and complex experiences and reflections, some that coalesce into impossible knots, others opening up into wide internal vistas of knowing and acceptance. Her sprechgesang style of vocalising carries the weight of her journey with a sense of pained ease – richly woven, following its own pattern in the carpet, and with its own pelt dragging behind it. It's a medium in itself, a haunted house of a voice, a mansion with many floors, and like the great blasts from her past – the likes of Broken English, Strange Weather and Before the Poison – Negative Capability is a rich and unflinching journey to and from places that few of us have visited under our own steam. Faithfull, as a woman and an artist of experience and insight, takes us beyond ourselves.
There are no regrets here, just emotionally powerful, rich and complex experiences
rating
Share this article