CD: Naomi Bedford & Paul Simmonds - Singing It All Back Home: Appalachian Ballads of English and Scottish Origin |

reviews, news & interviews
CD: Naomi Bedford & Paul Simmonds - Singing It All Back Home: Appalachian Ballads of English and Scottish Origin
CD: Naomi Bedford & Paul Simmonds - Singing It All Back Home: Appalachian Ballads of English and Scottish Origin
First-rate folk music that defines that special relationship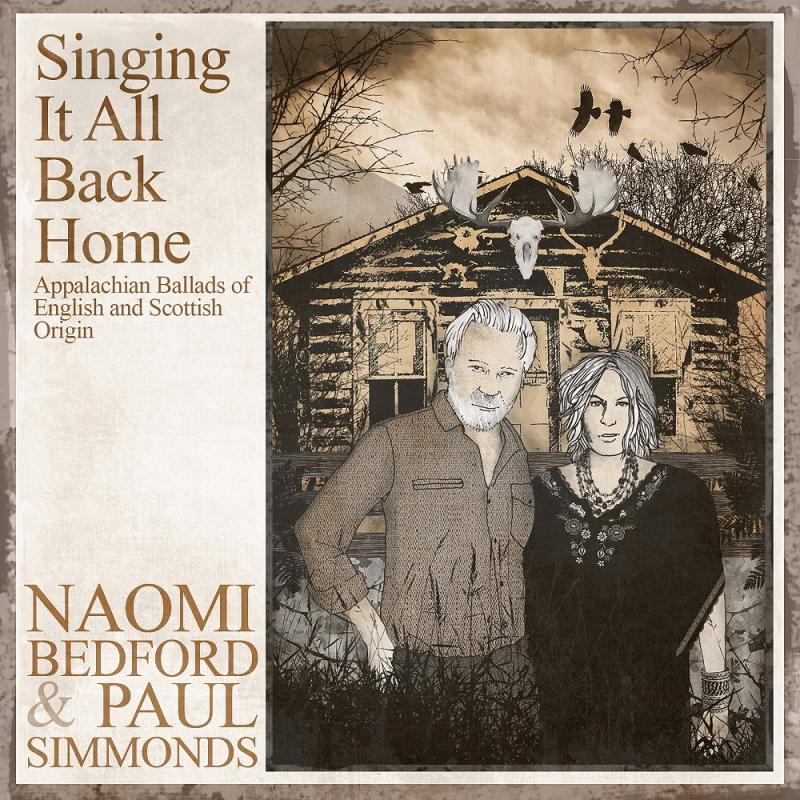 An album celebrating the transatlantic ties that bind
Outside the Palladium a couple of months back for Joan Baez's farewell, I was given a flyer for this album – by Naomi Bedford herself it turns out. We had a brief chat which left me with a good feeling about the project and I was disappointed to see I'd be away for the London concert marking the launch of Singing It All Back Home: Appalachian Ballads of English and Scottish Origin.
My intuition was correct for this, the fourth outing from Bedford and Simmonds and a talented group of confrères, among them Ben Walker on banjo, Rhys Lovell on bass and Ben Paley (son of the late and legendary Tom Paley, who worked with Woody Guthrie and various Seeger family members) on fiddle is a keeper and it's sent me back to the three CDs I missed: in order, Dark They Were and Golden-Eyed, Tales of the Weeping Willow, and Songs My Ruiner Gave to Me, the latter featuring ballads of "Madness, Love and Obsession".
Each is beautifully curated and Bedford's work has quite deservedly caught the attention of Jools Holland and the legendary Shirley Collins "who generously donated her time, encouragement and research materials" to this new album. Bedford has also been a BBC Folk Award 2015 nominee – and let's hope soon a winner.
To be sure, Bedford sounds English but her voice and style could easily have come straight from Appalachia, or further south – there were moments when I was reminded of Dolly Parton's silvery-rain voice, so it's no surprise to discover that Bedford had recorded "Jolene", which suits her well.
The "special relationship" that binds these islands with America is folk music: the songs that left England with the Pilgrim Fathers, Scotland with the Highland clearances, and Ireland with the famine, and which travelled across the States, appearing in different versions that were identified and collected by such figures as Cecil Sharp, Alan Lomax and Shirley Collins, and Jean Ritchie, and then traced back to the British Isles. On both sides of the Atlantic, the folk revival brought them to a general audience – and of course in the 1960s, folk went electric, folk-rock sent "home" from the US to Britain.
Socially and musically, that history matters – and it clearly matters to Bedford and Simmonds as they "sing it back home" on an album that features some quite exquisite arrangements of songs including the great "Matty Groves" (familiar in outline from Baez and Fairport Convention), "I Must and Will Be Married" and "The Foggy Dew", on which Bedford's magnificent voice is unaccompanied. "Hands on the Plough", on which Rory McLeod blows a mean harmonica, bowls along nicely in a manner reminiscent of Cash and Carter. A version of it became a staple of civil rights marches: "Eyes on the Prize".
Singing It All Back Home is a splendid album that deserves to be recognised by all who bestow awards in this arena. This is living folk at its beautiful best.
Bedford sounds English but her voice and style could easily have come straight from Appalachia
rating
Explore topics
Share this article