Reissue CDs Weekly: Fairport Convention |

reviews, news & interviews
Reissue CDs Weekly: Fairport Convention
Reissue CDs Weekly: Fairport Convention
The British musical institution's first decade is celebrated by a shape-shifting box set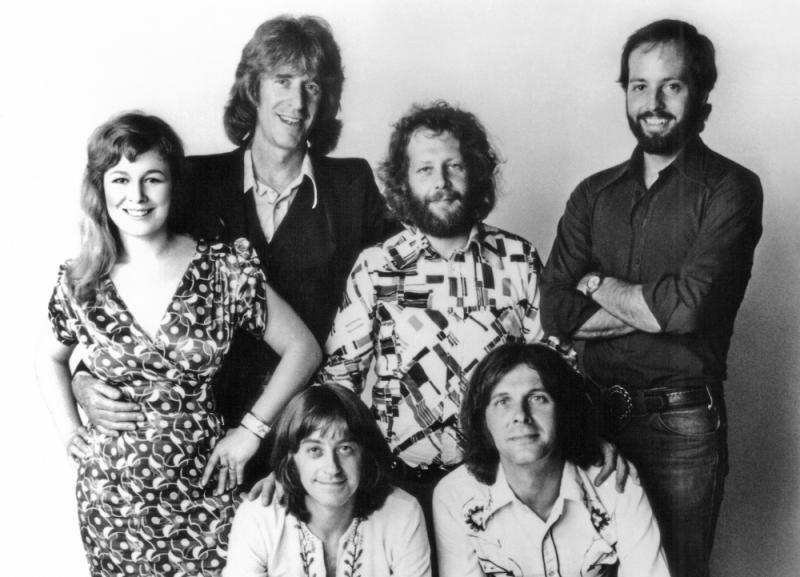 Fairport Convention #13, which lasted from February 1975 to January 1976. Front, from left: Dave Pegg, Dave Swarbrick. Back, from left: Sandy Denny, Trevor Lucas, Bruce Rowland, Jerry Donahue
According to Pete Frame's book Rock Family Trees, Fairport Convention had 15 different line-ups between 1968 and 1978, the period covered by the new box set Come All Ye – The First 10 Years. Fairport Convention #7, extant from November 1971 to February 1972, featured no one from the first three iterations of the band, which had taken them up to June 1969. Evidently, the actuality of Fairport Convention is fluid.
Despite this, there is an established and (relatively) clearly defined arc. One traced by Come All Ye. Their first album, made with Judy Dyble as their singer, was a response to American folk-rock archetypes and, specifically, Jefferson Airplane. Then, when Sandy Denny replaced Dyble, they found their feet over another two albums and issued a fourth, 1969's Liege & Leif (fittingly, made by Fairport Convention #4), which defined a British folk-rock.
After that came a string of albums of varying degrees of persuasiveness which refined this approach while sporadically dancing back and forth with the music of America. As Patrick Humphries puts it in his liner notes, "Fairport Convention always meant more than the sum of their parts. As well as re-writing the rock & roll rulebook, the band acted as an umbrella." Indeed, Denny left in November 1969, re-joined in March 1974 but once again left in January 1976.
This messy tale is hard to tell with the music alone and, correspondingly, Come All Ye is not a straightforward soundtrack to the story. The first five of the mostly chronologically sequenced seven discs feature one to four tracks from each of the 12 studio albums from the period. These are set-off against alternate versions, outtakes, radio sessions and live cuts (from shows or TV appearances). Discs six and seven showcase a live show apiece, each recorded for the October 1974 Live Convention album: one from Croydon's Fairfield Halls (16 December 1973) which has never previously been issued, and a second from LA's Troubadour (1 February 1974), which will be familiar to deep-digging devotees as it has been out before.
Compiling such a set to offer a fresh perspective is further complicated by the stack of album reissues featuring archive bonuses appended to original running orders. Stand-alone albums of BBC sessions have hit the shops too. Then, there was also the 2010 19-disc Sandy Denny box set which featured masses of previously unheard Fairport Convention material. There can only be so much left in the vaults. Nonetheless, of Come All Ye's 121 tracks, 55 are previously unreleased. However it is packaged – the poster of the dreary cover image which is included is hardly going to inspire a dip into the pocket – this is not a best-of or entry point, and most certainly is for pre-existing fans.
Ultimately, the key questions are whether Come All Ye says anything new and whether the archive discoveries are worth hearing? Unsurprisingly, the answer is yes and no.
The pre-'Liege & Leif' unreleased material shines hardest
The starkest illustration of this dichotomy is heard on Disc Four, which keen Fairport observers will doubtless head to first. Tracks four to 13 are drawn from the sessions for an entire unreleased Fairport #9 album, a configuration briefly doing business in June and July 1972. Just before this, the Daves Pegg and Swarbrick reacted to another round of departures by bringing Canadian singer-songwriter David Rea into the band. At Richard Branson's Manor Studio, they set to making a prospective album. Some tracks ("Country Judy Jane", "Maverick Child", "Matthew, Mark, Luke & John", "Me With You", "My Girl" and "To Althea From Prison") were later re-recorded without Rea, and others ("Rattle Trap", "Sad Song" and "Sheep in the Meadow") were set aside.
Mixed and issued legally for the first time, the album reveals a previously unrecognised Fairport Convention: the Americana Fairport Convention, one clearly underpinned by the style of The Band though "Matthew, Mark, Luke & John" is on more-than nodding terms with The Rolling Stones' "Sympathy For the Devil". Rea was soon gone. So was this uncomfortable experiment in sonic recasting. The next album-as-such, Rosie (with Trevor Lucas and Jerry Donahue from Sandy Denny's 1970–1971 band Fotheringay) more snugly incorporated nods to rock and also stuck with familiar styles.
Of the complete live shows, Disc Six's Croydon set is the one to go for
Elsewhere, the pre-Liege & Leif unreleased material shines hardest. Disc One's alternate take of Denny's "Autopsy" is a standout and her vocal turn on "Mr Lacey" is a surprise. Also from the sessions for What we Did on Our Holidays, a vocal-only "Nottamun Town" stuns with its precision and power (the instrumental track was recorded separately and overdubbed). A different take of Unhalfbricking's "Who Knows Where The Time Goes" is less essential while a version of "A Sailor's Life", on Disc One and without Dave Swarbrick's violin, is a curiosity as despite being structurally sound it lacks the power of the issued take.
When it comes to Disc Two's Liege & Leif overview, a version of "Come All Ye" (first heard on the Sandy Denny box) isn't fully formed. It is easy to hear why the over-sung early rehearsal run-through of "The Deserter" resulted in a rethink and the more measured, consequently more impactful, released take.
Of the complete live shows, Disc Six's Croydon set is the one to go for. Featuring the band as they were for 18 months after saying goodbye to David Rea, this is Fairport Convention before Denny's return, and at their most balanced too. When John Prine's "Far From me (Old Broken Bottle)" is covered, it does not jar with the ensuing bluegrass/traditional-English flavoured "Brilliancy Medley". Fairport Convention were melding music from both sides of the Atlantic more convincingly than they had since 1969's Unhalfbricking album.
Fairport Convention fans know all-too well that embracing the pre-Cropredy Festival band is to grapple with a shape-shifting entity: one which sometimes frustrates, sometimes dismays but also, after its first flush, seemingly randomly comes up with the goods. And while it adds to the story, the conscientiously compiled Come All Ye – The First 10 Years doesn't alter that assessment.
Next week: Noise Reduction System, an extraordinary four-disc set dedicated to "Formative European Electronica 1974-1984"

Does 'Come All Ye' say anything new? The answer is yes and no
Explore topics
Share this article