Reissue CDs Weekly: Trees - 50th Anniversary box set |

reviews, news & interviews
Reissue CDs Weekly: Trees - 50th Anniversary box set
Reissue CDs Weekly: Trees - 50th Anniversary box set
Four-disc fantasia dedicated to the mind-blowing British folk-rockers
Trees: far out
Fifty years after their first album The Garden Of Jane Delawney was issued in April 1970, Trees seem to be better known than when they were active. Despite Françoise Hardy's cover version of the title track a couple of years after it hit shops, the UK band's debut album was a poor seller. Original pressings fetch upwards of £200. It's the same with its follow-up, January 1971's On The Shore.
This one sells for at least £250.
The band formed in London in 1969, split in 1972 and even though they recorded seven BBC radio sessions as well as the two albums, it took a while for their reputation to develop. A burgeoning interest was acknowledged in the early 1980s when bootleg repros of both albums began circulating. Each was legally reissued for the first time in 1987. Significant repackages with bonus tracks and in-depth liner notes followed in 2007 and 2008. Now, both albums appear as Discs One and Two of Trees – 50th Anniversary Edition, a smart, casebound four-disc box set (also issued on vinyl: this review is of the CD configuration).
Why the fuss? In his newly written introduction to the box set's book, Trees's Dave Costa underplays it, saying "the folk music which fascinated and drew us together was tempered by the inevitable turning of all amps up to eleven, howling feedback and ringing ears. We were a curate's egg, good in parts, but a bit of a curio nevertheless." Maybe not the ingredients for belatedly becoming an object of fascination?
However, just before this he notes "we had to beat a trail through the middle, the dark heart of Albion on one side, mystic and brooding, and the new West Coast electric psychedelia on the other, candy coloured and loud."
There it is, boiled down to one sentence, the essence of Trees. The Garden Of Jane Delawney is great and if heard on its own, and if it were all that Trees had done, the album would probably be seen as, indeed, a curio: a brave, mostly successful fusion of British folk-rock and guitar-driven US-style ballroom psychedelia. As much Fairport Convention as Quicksilver Messenger Service, it would be a lauded collector's item but not necessarily seen as totemic. Celia Humphris's vocals wander a little, her voice isn't full-bodied. Although the playing is confident, there's a brittleness. When heard immediately before On The Shore, it's revealed as formative.
What followed was mind-blowing. On The Shore is and was muscular, mysterious and full on. A tap was opened between the two albums and Trees found themselves in full flow. Excepting the twee "Little Sadie" (of which Humphris has said "God that was awful"), the band opened out the wildest aspects of Fairport Convention's version of "A Sailor's Life" – from July 1969's Unhalfbricking – to dive into and out of inner and outer space at the same time. It's no surprise that much of On The Shore's taut instrumental interplay and guitar playing suggests Television, as "A Sailor's Life" undoubtedly informed the New Yorker's "Marquee Moon".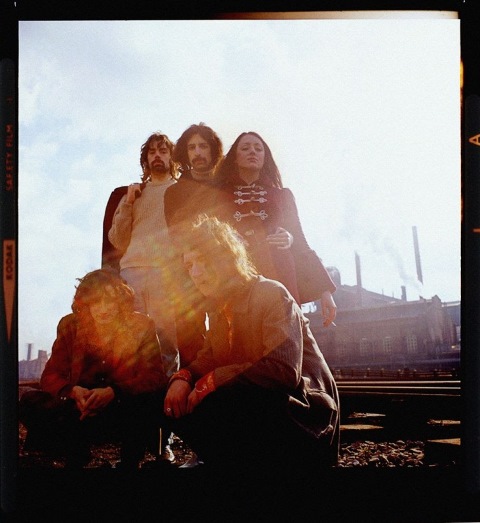 Unsurprisingly then, Trees had implied and indirect connections with Fairport Convention. "Soldiers Three", On The Shore's opener, was learned from a pre-Fairport Dave Swarbrick. They recorded at Chelsea's Sound Techniques studio, a set-up favoured by Fairport manager/producer Joe Boyd. Trees recorded versions of "Polly on the Shore" and "She Moved Thro' the Fair" which, at various times, were in Fairport's repertoire.
Nonetheless when On The Shore was recorded in October 1970, Trees were like no other British band. Their inclinations towards rock took them further out than any of their folk-rock contemporaries. Costa says "both albums are snapshots in the grand scheme of things, brief timepieces, a modest body of work. We'd backed our horse, clung on to its back for dear life and galloped along with it down the road, acid-folk, freak folk, folk-rock, psychedelic, Trees, The Trees, whatever."
As it's got four discs, Trees – 50th Anniversary Edition includes a fair wodge of supplementary material on Discs Three and Four. The On The Shore remixes, first heard on 2007 reissue are reprised. The 1969 demos of "She Moved Thro' the Fair" and "Pretty Polly" were first heard in 2008, as were "Black Widow" and "Little Black Cloud Suite" (credited in 2008 as being recorded in July 2008, but now listed as 2007 recordings).
What's new are live recordings from 2018 where a couple of original band members are joined by a cast of thousands. They're OK. There are also three BBC radio session tracks, of which "Forest Fire" was first issued in 2007. The newly issued, previously bootlegged versions of "The Great Silkie" and "Soldiers Three" are blinders (these are credited as 1970 but in 2007 the "Forest Fire" was given as recorded on 8 February 1971). The freshly disinterred demos are "Polly on the Shore", "Pretty Polly", "She Moved Thro' the Fair" and "Streets of Derry" all of which are given as from 1969 and 1970, and all of which intrigue as they point to Trees being a constant work in progress. A demo of "Little Black Cloud" was first heard in 2007 (then it was from 1970, now it's from 1969).
Two niggles about this package. The main essay in the book is by Stewart Lee. It's what he wrote for the 2007 reissue of On The Shore, but topped-and-tailed with brief new text. As it was written for a specific album reissue rather than as an overview of the band – as this box set is – The Garden Of Jane Delawney is dealt with in two paragraphs. It's baffling that a new, overarching essay wasn't commissioned. On Discs Three and Four, the vintage material is mixed with the after-the-fact tracks (the live recordings and the remixes) on both discs. Keeping the then and the subsequent to discrete discs would have made for a more coherent listen. Also, it's hard not to wonder whether all their BBC sessions are out there somewhere, waiting to be issued.
Trees – 50th Anniversary Edition though is an excellent one-stop tribute to this extraordinary band. Listen to The Garden Of Jane Delawney first, and then be bowled over by the majestic On The Shore. After that, dig into the demos and radio sessions. As the dust settles, ponder what might have happened if Trees had clicked with record buyers in 1971 and been given license to take it even further.
Next week: Edinburgh post-punks Scars

Trees dived into and out of inner and outer space at the same time
Explore topics
Share this article