Reissue CDs Weekly: Gathered From Coincidence |

reviews, news & interviews
Reissue CDs Weekly: Gathered From Coincidence
Reissue CDs Weekly: Gathered From Coincidence
Terrific three-disc celebration of 'The British Folk-Pop Sound of 1965-66'
The Seekers, whose '"The Carnival is Over" is given a new power by being set in the context of 'Gathered From Coincidence'
It might have begun with The Beatles espousal of Bob Dylan in 1964. There was also The Animals whose first two singles, issued the same year, repurposed tracks from Bob Dylan's 1962 debut album. Before The Byrds hit big with their version of his "Mr.
Tambourine Man" in summer
1965
, Britain's
pop
groups were already hip to
Dylan
and incorporating elements of his approach into their sound.
Some acolytes like Donovan, who emerged in early 1965, even attempted to clone the Dylan look. Other were more subtle. The Searchers' late 1964 single "What Have They Done to the Rain?" was an adaptation of a 1962 Malvina Reynolds song which clearly nodded Dylan-wards. Donovan and the Byrds-influencing Searchers were not alone and the new clamshell box set Gathered From Coincidence: The British Folk-Pop Sound of 1965–66 tracks what happened over 79 tracks, when all, sundry and more in British beat-land were going crazy for the folk sound.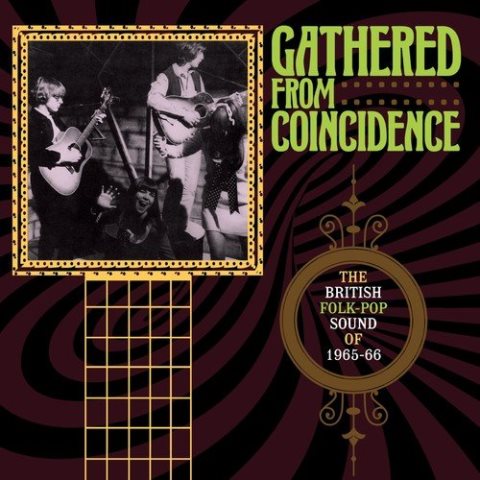 Gathered From Coincidence takes its title from a line in Dylan's "It's All Over Now, Baby Blue". "Take what you have gathered from coincidence," he sang. Elsewhere in the song, he declared "take what you need, you think will last / But whatever you wish to keep, you better grab it fast." The lyrics may not have been an exhortation – instructions for following – but everyone heard may as well have taken them as that. They were not paying heed to the line "Leave your stepping stones behind."
The version of "It's All Over Now, Baby Blue" heard on Gathered From Coincidence is by Hertfordshire's Cops 'n Robbers, an Animals-esque group with the same management as Donovan. It's, as the liner notes put it, "lumbering" but it is nonetheless fantastic and recasts the song without subtlety and grace. Aggressive and snot-nosed, Cops 'n Robbers had no truck with prissiness and purism.
This recognition that it was open season on folk stylings makes Gathered From Coincidence a winner. Extraordinary and still funny piss-takes of Barry McGuire's po-faced protest songs – Alan Klein's "Age of Corruption" is as-such hilarious – sit alongside beat groups integrating the raw edginess of folk music. The Poets' sulky "I Love Her Still" is a prime example of this.
Then there's Barbara Ruskin's engaging "Well, How Does it Feel?" a repost to and re-write of "Like a Rolling Stone". And the pre-Moody Blues Justin Hayward with the moody "Day Must Come". The compilation's oddest track is Dana Gillespie's stop-start, multi-tempo "Thank You Boy" which features Jimmy Page on lacerating fuzz guitar. Pye Records cannot really have seen it as a potential hit. Just as arresting but more linear is The Caravelles' vaporous "Hey Mama You've Been on my Mind", which conjures the sound of angels. The Beatmen sound exactly like The Hollies, whose Graham Nash crops up singing on The Mirage's demo of the Hollies-composed "Go Away".
Big names like The Hollies, The Kinks, Pretty Things and The Searchers feature on Gathered From Coincidence but The Beatles and The Rolling Stones do not. The Seekers' "The Carnival is Over" is given a new power by being set in this context, while obscure bands like The Epics, First Gear and The Greenbeats sound as good as their successful contemporaries.
A few tracks – by Marianne Faithfull, Manfred Mann and The Overlanders – are represented in stereo rather than mono which jars, but in terms of quality Gathered From Coincidence: The British Folk-Pop Sound of 1965–66 is a consistent, enlightening and hugely enjoyable listen.
Ultimately, its remit does not matter as it's a top-drawer collection of mid-Sixties British pop. It's a great talking point too. The introductory essay begins by saying "Prior to around 1964, folk and pop musicians inhabited largely different worlds…in essence there was little or no common ground in terms of instrumentation or ideologies." What about the British skiffle boom? And America's hootenanny-folk-pop hitmakers of 1958 to 1964?
Next Week: Gary McFarland's Soft Samba and The In Sound – two of the best albums from the jazz individualist
Ultimately, 'Gathered From Coincidence's' remit does not matter as it's a top-drawer collection of mid-Sixties British pop
Share this article