The Divine Comedy, Barbican review - a triumphant retrospective |

reviews, news & interviews
The Divine Comedy, Barbican review - a triumphant retrospective
The Divine Comedy, Barbican review - a triumphant retrospective
Ten albums in five nights showcase Neil Hannon's endless invention - and stamina
Tuesday, 06 September 2022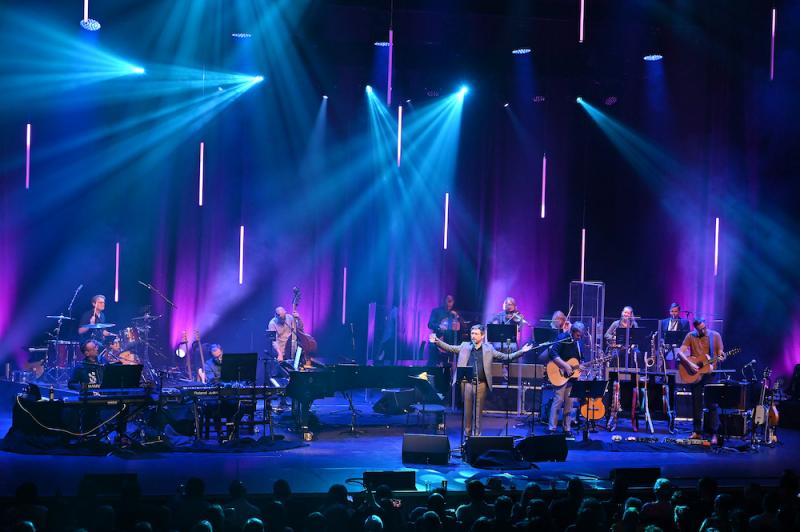 Neil Hannon and The Divine Comedy at the Barbican
"We love you, Neil!" came the shout from the back of the circle. "Well, you'd have to," he replied. Five nights, ten albums, 113 songs and 30-plus years of releases: The Divine Comedy's residency at the Barbican was an opportunity to savour the artistry of Neil Hannon, as his creative life unfolded in fast forward for our pleasure.
He began the first concert saying – and acting like – he was worried it was all a grand folly and he was about to fall flat on his face. In fact, the opposite was the case. First – and no mean achievement – Hannon filled the Barbican for all five nights, both with diehards like me there for the whole run and those dipping in for their favourites. Second, the albums really repay being revisited: they stand up to scrutiny, from the opening bars of the first one (1994's Liberation) to the end of Foreverland from 2016, showing a lyrical acuity and musical inventiveness that almost never flags.
The first two albums, on the tiny Setanta label, both disappeared without a trace in the early 1990s, but judging by the amount of singing along have remained beloved. They were well worth hearing here, if only as so few tracks are still part of The Divine Comedy's regular stage set. "Bernice Bobs Her Hair" is an extraordinary re-writing of an F Scott Fitzgerald short story and presages the narrative style of so many later songs. "Europe by Train" is the first of his great instrumentals and "Timewatching", the first of his long list of "instant standards", is like Cole Porter reincarnated. "I was a weird little thing," says Hannon of this album and that's true, but far from the whole story.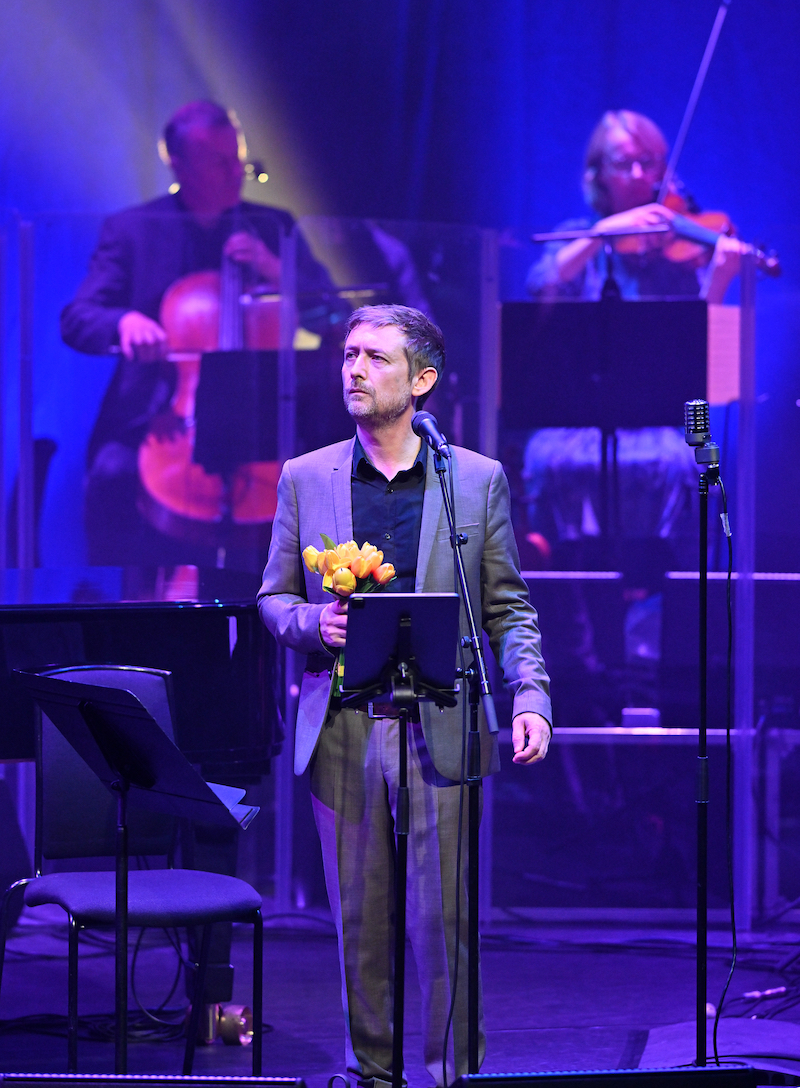 Promenade has a kind of story arc, following a romantic couple through the course of a day, and Hannon was increasingly relaxed as he talked us through it – and its absurdities. "Geronimo" is a miniature gem, over before you know it, "Don't Look Down" has a beautifully-paced build – but the finale (which also featured as a last encore on the other nights) was the clincher: the radiant "Tonight We Fly".
On the second night we heard the breakthrough album Casanova. It is in some respects dated – the sexual politics don't really stand up to scrutiny, although even at the time it was delivered with a sly wink. Now there is an extra level of irony as the 51-year-old Hannon sings some lines he would clearly rather not. But for all the juvenile, Carry On rudery of "In and Out in Paris and London" and "Charge" I had slightly forgotten how the deeply felt final songs rescue it tonally. "Through a Long and Sleepless Night" is a mighty piece of work and hugely demanding for both singer and band: it was brilliant.
I have a real soft spot for A Short Album About Love, which is the romantic yang to Casanova's lusty yin. "In Pursuit of Happiness" was a highlight of the whole week, as was the second go at "Timewatching". In "Pursuit" a terrific arrangement compensated for the lack of the record's full orchestra, while Hannon's delivery was mesmeric. All of which was brought down to earth by an encore of "My Lovely Horse", written as a joke for the sitcom Father Ted but now given a full-scale arrangement. Fin de Siècle (1998) is full of end-of-the-century angst. Hannon claimed that he was intending a parody of this millennial disquiet, but "Here Comes the Flood" sounds terrified as well as terrifying, and – as he pointed out – is also pretty prescient. "Thrillseeker", like "A Desperate Man" from Sunday night, is Bond theme material, "Sunrise" a rare (and touching) venture into politics, and "National Express" a singalong classic.
Regeneration is the odd man out of The Divine Comedy albums, produced by Nigel Godrich in his Radiohead pomp, a bit of a marmite album perhaps, but well-supported in the Friday show. It is sonically adventurous (making it hard to recreate live) but also the home of some excellent songs. "Bad Ambassador" and "Perfect Lovesong" raised the roof and "Lost Property" grows from idle musing on everyday life to open out into mystical revelation. But these are grouped near the beginning of the album and there is a run on Side 2 of similarly-tempoed, similarly-glum songs that made this one of the few times I glanced at my watch.
Back to producing himself, and back to letting in light and wit to the songs, Absent Friends was a complete delight on Saturday. "Our Mutual Friend" and "Charmed Life" are genuinely moving, the first a tale of unrequited love set to a circling, hypnotic chord sequence and the second addressed to Hannon's then baby daughter – now starting at university, he told us.
Victory for the Comic Muse (2006) is undoubtedly patchy and in places peculiar, but has "A Lady of a Certain Age", a social satire set to an irresistible tune, propelled by superb upright bass playing by Simon Little and fingerpicking guitar work by John Evans, that mingles sadness and regret with defiance.
By the final night Hannon was pleading "I've run out of banter" but he was still in good voice. Bang Goes the Knighthood is his 2010 response to the Crash, but for me the pops at bankers and politicians pale beside the stomping pop-rock of "At the Indie Disco", the witty verbal dexterity of "The Lost Art of Conversation" and the finale, "I Like", a cute love song for his partner Cathy Davey that had Hannon pogoing energetically, despite his complaints about his dodgy knees. Davey was herself on stage to sing the duets from Foreverland, notably the slightly saccharine "Funny Peculiar" – their relationship has provided him with plenty of material in the last 15 years.
Hannon's stage manner is sometimes a little nervy and staccato, but he warmed up nicely as the nights wore on. The shouts of adulation clearly made him uncomfortable – at one point he gave the audience 20 seconds to get it all out of their systems and then leave it – but adulation there was from a crowd that was predominantly those who have followed Hannon since the 1990s and included lots of middle-aged couples. This was a surefire date night for the married-with-teenage-kids squadron.
But as a performer it's all about the singing. His voice is not as gymnastic as it once was – during Casanova he admitted he can't now do all the things he could when he was 25 – but if the top-end has diminished a bit there is added depth to the interpretation of songs like "Timewatching" and "The Wreck of the Beautiful", both stunning. He has always used his facility for singing unfeasibly long notes to good effect. "Our Mutual Friend" is the finest example, although the longest is the punchline to the novelty song "Can You Stand Upon One Leg". This is the kind of thing the Divine Comedy haterz would really hate, and even I find it a bit annoying.
The band were exceptional. I understand they rehearsed for two weeks, which I reckon averages just half an hour per song. Kudos must go to onstage pianist and bandleader Andrew Skeet, who assembled all the arrangements. For the early albums, from which the hand-written music has long dispersed, this will have involved recreating the arrangements by ear, and I can only imagine it must have taken him a minimum of six months' work. For the most part the arrangements followed the originals quite closely, even having a good go at faking the full orchestra and massed choir on Fin de Siècle, although a lot of the atmospheric effects of the Regeneration were piped in.
Tim Weller on drums rarely settled for a simple groove, but instead there were lots of skittering snare patterns, or impressions of timpani ("Sweden") or lounge jazz (the wonderful "Have You Ever Been in Love"). Bassist Simon Little plays not only electric bass but also double bass, often bowed (and he's very good with the bow) and there are distinctive Divine Comedy colours from Ian Watson's accordion and the banjos played by Tosh Flood and John Evans in addition to their multitude of guitars. The three-strong string section featured the mighty Chris Worsey, the longest-serving member of the band going back to 1994, who was rewarded with a solo at the beginning of "My Lovely Horse". I must also mention the splendid trumpet and flugelhorn solos by Sarah Field.
Which album was the best? I was left in mind of Leonard Bernstein's comment about Stravinsky: the best Stravinsky is whatever you happen to be listening to at that moment. I loved each of these albums as they came round, and this phenomenally ambitious project – technically, musically, vocally – rewarded the Divine Comedy's loyal audience with a triumphant five nights that will live in the memory. Which was the best? They all were.