EFG London Jazz Festival 2023 round-up review - vital sparks crossing and uniting generations |

reviews, news & interviews
EFG London Jazz Festival 2023 round-up review - vital sparks crossing and uniting generations
EFG London Jazz Festival 2023 round-up review - vital sparks crossing and uniting generations
From Sultan Stevenson, 22, to Elaine Delmar, 84, great small-venue shows around the festival
Tuesday, 21 November 2023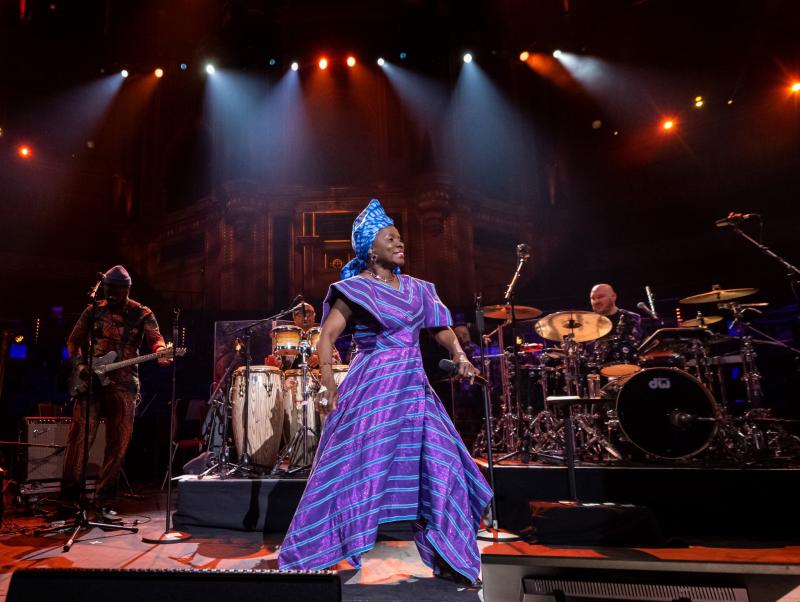 Powerful - Angélique Kidjo at the Royal Albert Hall
Start with the biggest gig of this year's EFG London Jazz Festival: Angélique Kidjo's Royal Albert Hall show definitely stays in the mind. Part of the story is the earth-shaking power and resonance of the voice of the "Queen of African music" which transforms the Royal Albert Hall magically into an intimate space.
But there is more. Kidjo's power is also in her advocacy, her activism, her optimism, her message of compassion and of inclusion. She had involved a host of guests (Youssou N'Dour, Ibrahim Maalouf, Laura Mvula) and also Chi-Chi Nwanoku's Chineke Orchestra. The energy level started high and remained there until the whole audience was dancing. There was nothing bland or tired about this expression of idealism.
London's year-round venues also put on a huge array of different concerts
The Kidjo concert also served as a reminder of what a global and diverse city London is, and that theme is one which is well reflected in the huge range of concerts which are put on during the festival. The headline figure has been that over 2000 musicians are involved, with the organisers, Serious, directly producing part of the programme, mainly the larger events. Among the other large-hall concerts, I went to the opening gala Jazz Voice on the opening night. Guy Barker is a superb composer/arranger/orchestrator and he gets better, but the subtlety of his work could really only be heard on the radio (where there was a far better balance than from my seat in the hall). Among the vocal acts I would single out Brendan Reilly, whom I haven't heard of late. He has grown amazingly in authority and vocal presence. I also went to an irrepressibly energetic Barbican show from pianist Hiromi. She played first with a quartet of four top-flight London string players, then with her Sonicwonder group with star bassist Hadrien Féraud (covered for TAD by Rachel Halliburton).
Away from the main halls, London's year-round venues also put on a huge array of different concerts, and risk being put in the shadow because the festival's highly effective marketing effort will always and inevitably put the main effort into the larger events. For example, the three Pizza Express venues between them put on over 50 events. They raise their game for the festival and include some rarely heard jazz legends, offering the opportunity to hear them in ideally intimate surroundings.
I was pleased to catch one genuinely rare visit by a personal hero. To my knowledge, Baltimore-born bassist/raconteur Jay Leonhart has not been in the UK for decades, and to hear him launch into his unaccompanied signature song (with bass) "It's Impossible to Sing and Play the Bass" was to reconnect with his very personal brand of Ogden Nash-style absurdity. Leonhart's pianist, NYC-born Ray Gallon is also a gem. He reminded me of the much-missed Tommy Flanagan in his constantly fertile and flawless melodic imagination.
Another Pizza Express venue, the jazz club in Dean Street, was proud to have lured a master saxophonist and festival stalwart, David Murray. He was playing in a quartet of much younger musicians, notably the Spanish-born pianist Marta Sánchez, who had an impressive ability and real ease when stepping from tight harmonic forms out into situations of complete freedom, and back again.
The range of musicians across the smaller clubs was very enticing indeed. The Vortex in Dalston is a "listening club" with an audience which always includes a good number of young musicians. I have never seen it quite as full – and yet, as ever, pin-drop quiet – as it was for rising star pianist, 22-year old Sultan Stevenson (pictured above by George Nelson) and his quartet. Hugh Masekela once said of a tiny club in Cape Town that everyone would be welcome to come and hear him there, but that they would need turn themselves into cockroaches to get in. Yes, the Vortex was that full. Stevenson has only just graduated this summer, but his debut album Faithful One (Whirlwind Recordings) is superb (declaration of interest, I wrote the sleeve note), and is bound to be on many year-end lists. His playing and command of his group is deepening and becoming more impressive by the month.
Another highlight for me was at the opposite range of the age spectrum. Elaine Delmar and Jim Mullen were in the series at Piano Smithfield devised by John Billett. Elaine Delmar is about to celebrate seven decades (sic!) on stage and the experience she has makes her concert a complete masterclass, and the brilliantly subtle pianist Barry Green ensures that every trick, twist, turn, verbal insight she wants to share can be properly appreciated.
Another British pianist who is finally being appreciated properly is Nikki Iles (pictured above with Percy Pursglove, by Tatiana Gorilovsky). In her role as composer in residence for the Hamburg-based NDR Big Band she did a magnificent show at Cadogan Hall which was also a celebration of her 60th birthday earlier this year. This level of recognition is long overdue. Ostensibly it was the album launch for Face to Face (Edition), but the majority of the concert was of material written in the past few months. The NDR Big Band has one British full-time member, trumpeter Percy Pursglove, but the current project (which has also been performed at the Elbphilharmonie and recorded on video) welcomed a handful of other exceptional British musicians: Ian Thomas on drums, Phil Robson on guitar, and Julian Siegel (alto saxophone). The NDR has a normal rehearsal time of four days on a new project, and the levels of ensemble and textural clarity which can be achieved by players at this level is extraordinary.
Another British composer of music for jazz orchestra who is writing fascinating music with a real flow and textural subtlety is Josephine Davies, whose Ensō Ensemble played an extended sequence, "The Celtic Wheel of the Year Suite", at Milton Court as part of the Guildhall Festival, a mini-festival running concurrently with, and as a part of the EFG London Jazz Festival. Definitely a name to watch.
The EFG London Jazz Festival, then, has the character of a main festival and several mini-festivals rolled into one. Even it that can be a source of tension – and it certainly makes the choice as to what to go and see on any evening well-nigh impossible – it is also a strength because of the sheer breadth of the programme. This 31st festival was a success.
Sebastian Scotney is editor of Londonjazznews.com, which provides the most in-depth coverage of the Festival HERE
It has the charcter of a main festival and several mini-festivals rolled into one
rating
Explore topics
Share this article