Glastonbury Festival: Live at Worthy Farm livestream review - glitched access upstages beautifully shot live footage |

reviews, news & interviews
Glastonbury Festival: Live at Worthy Farm livestream review - glitched access upstages beautifully shot live footage
Glastonbury Festival: Live at Worthy Farm livestream review - glitched access upstages beautifully shot live footage
Calamitous technical upset overshadows Coldplay, HAIM, Damon Albarn, Kano, IDLES and the rest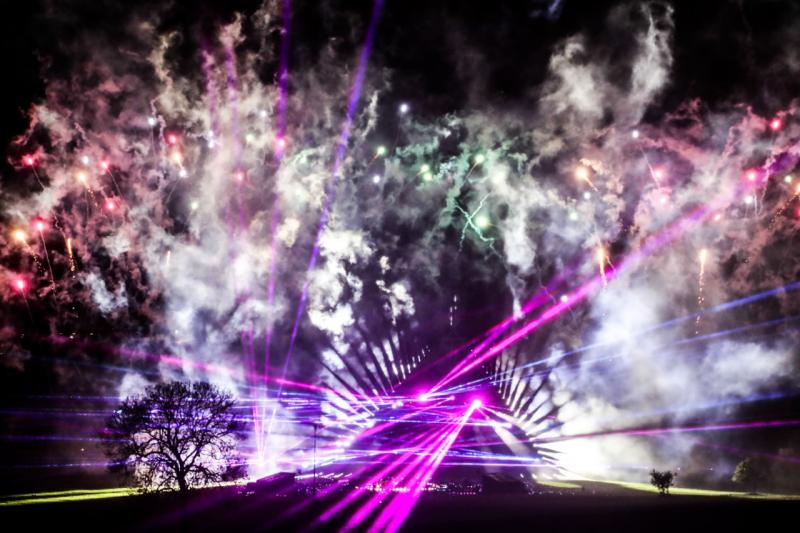 The Pyramid, alight with it all
INTERLUDE 1: INVALID CODE-AGEDDON
6.45 PM on Saturday 22nd May and all is well. Like tens of thousands of others across the UK (or maybe even more?) my wall flatscreen is tuned to Glastonbury's livestream. Prior to the event itself promos for Water Aid and the like roll by, the kind usually on the huge screens beside the Pyramid Stage at the festival.
One of my usual Glastonbury compadres, Finetime, is round, the fridge is loaded with beers, posh bottles of Bordeaux breathe by the radiator. Finetime has made his patent fiery quesadillas, timed for the 7.00 PM start. We're going to make a right old evening of it. Then the stream suddenly dies. It'll be back in a moment, though, right?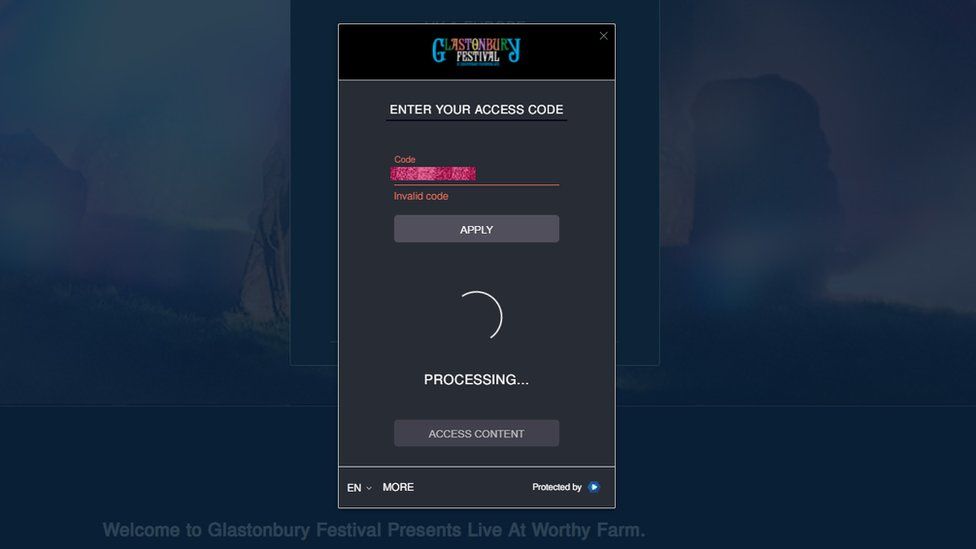 8.30 PM on Saturday 22nd May and all is very much not well. My quesadillas are wilting, uneaten, their fresh-cooked heat fading. Finetime has gone for a walk to calm down. We've been losing our marbles laboriously entering and re-entering our access codes, only to be repeatedly greeted with "Invalid Code". We don't realise this is happening all over. I rage and swear to no purpose. I throw my phone across the room to even less purpose. I ring regular Glasto pals Don Carlton and GB, and they're happily watching on a laptop ("Wolf Alice is enjoyably noisy; lovely to see the Stone Circle").
I become convinced the TV is at fault, that the stream provision tech perceives our "ticket" as already in use. I buy a new ticket to bypass the issue. The same thing happens. "Invalid Code". I try it on my laptop. Same thing happens. I am being swirled into the foulest of moods. What do we do now? My beer sits half-drink, luke-warm. I fall into a flunk.
9.30 PM on Saturday 22nd May and all is dull. We have just finished two episodes of the American Office. It's a funny show, but we're lacklustre, pure FOMO'ed. We'd been mightily looking forward to an evening of vicarious Glastonbury-obsessed celebration. At least we now know it's not the TV. The "Invalid Code" glitch is everywhere. Twitter is freaking out. A Tory MP has piped up and called the whole debacle "a shambles". Yeah, right. His party is a shambles. But we're not happy, all the same.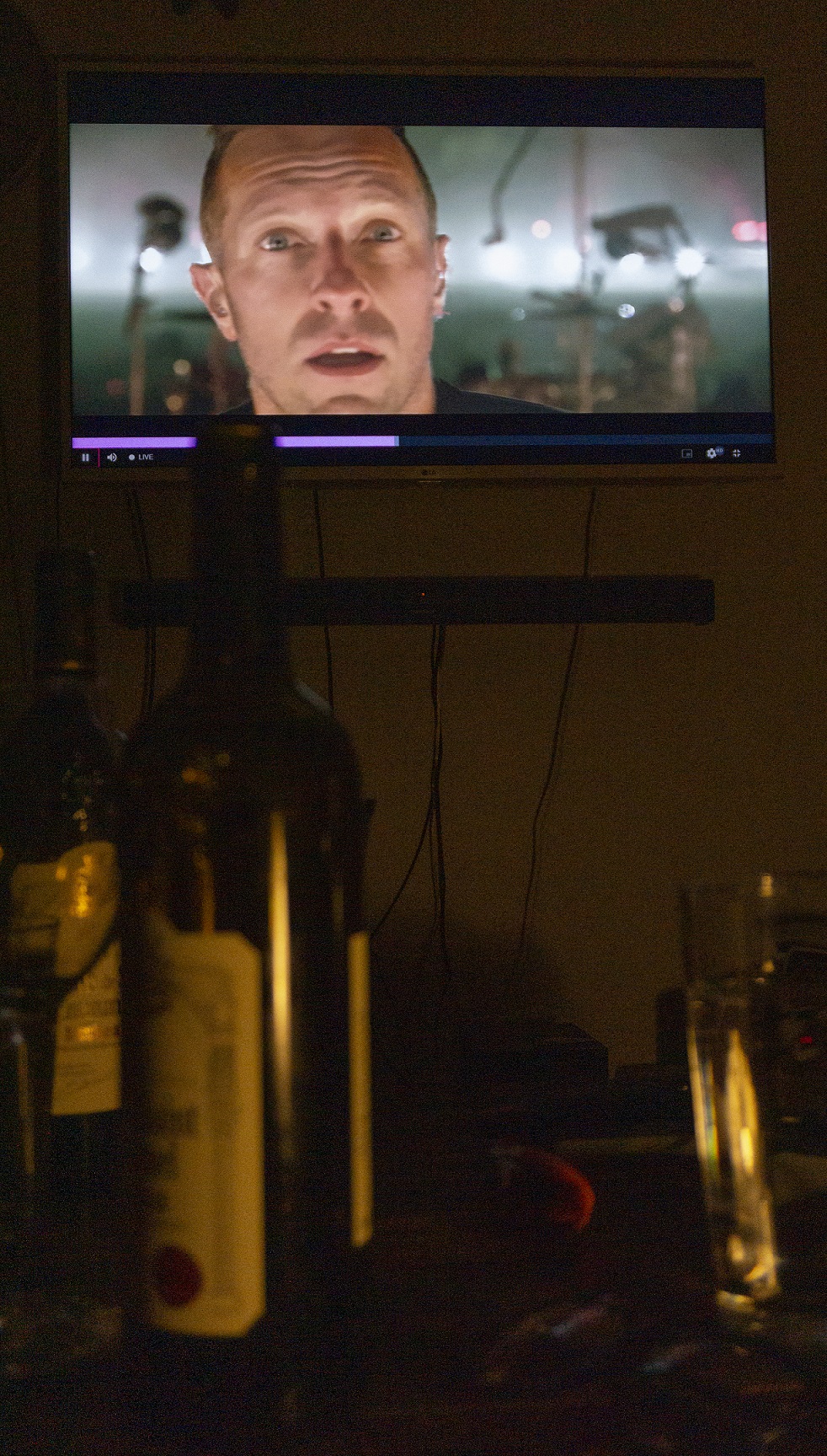 An email arrives. Free access. No codes. In we go and, unfortunately, the first thing I see is Chris Martin's grinning mug. I hit rewind and the stream goes back as far as Idles' set. We miss what came before (we, like everyone else, are later given an opportunity to catch up but my Sunday doesn't allow for more than a peek; a poem from Michael Eavis in shorts to start, then indie success story Wolf Alice, their frontwoman, Ellie Rowsell, visibly nervous. They hard-rock out like the mutant offspring of Royal Blood, Sonic Youth and U2, but with added female rapping. I don't catch Michael Kiwanuka or George Ezra. For the latter, this is a lucky break).
REVIEW PROPER: PART ONE
IDLES' rhythm section has a hectic job. The band's punk-polemic songs ride the duo's raging Gang of Four attack, the sweating human machine at the heart of the beast, most noticeably visual in the pummelling that drummer Jon Beavis gives his skins. But the camera, of course, loves bearded frontman Joe Talbot (pictured below left).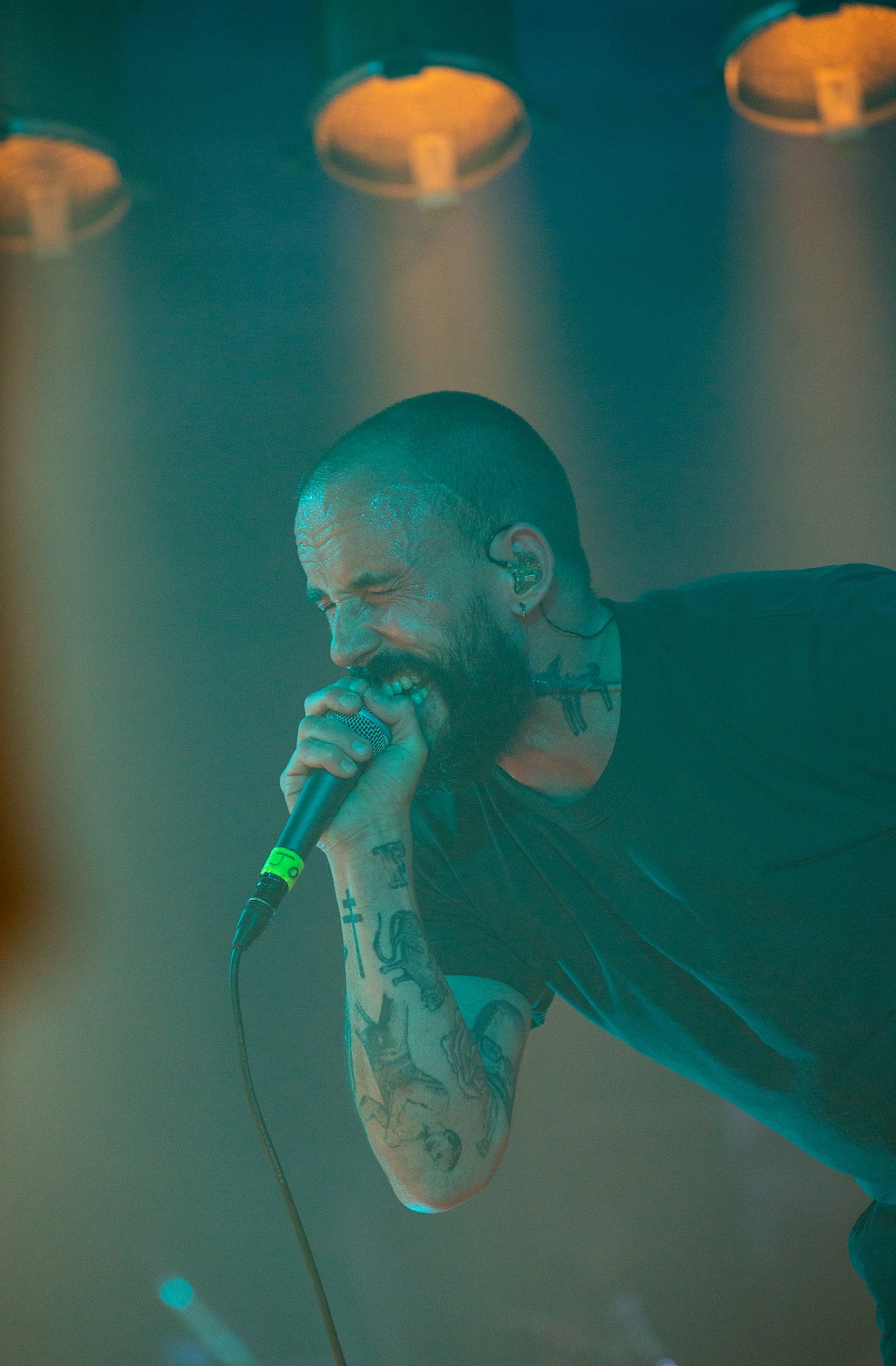 They play in the round in a dingey, atmospheric warehouse space (which turns out to be one of Worthy Farm's barns), surrounded by piled old cars. Resident Glastonbury artist Joe Rush has clearly had a hand in this, his Mutoid Waste sensibilities informing the décor. A steel robot dragon-bird chomps at the camera, and the band are lit by flashes of light and, upon occasion, streams of sparks from an angle-grinder. It's purposefully disorientating and suits IDLES' music, a livid, queasy wake-up call that proclaims, "Our government hate the poor" and that "the best way to scare a Tory is to read and get rich".
Next up is Little Amal who is not an Orange County hip hop star but a three-and-a-half metre high puppet created by the Handspring Puppet Company, of War Horse fame. She has been walking across Europe to draw attention to the plight of young refugees and now wanders Worthy Farm's vales, surrounded by galloping, laughing children, thoughtful spoken word in the background. It's an apt interlude, closer to the spirit of the festival than a couple of the bands.
Then we cut to the Stone Circle, Glastonbury's "sacred space", created in 1992 (watch out for theartsdesk's definitive oral history of Glastonbury 1992 at the end of June). It's dusk and Los Angeles muso sisters HAIM are playing. Clad in matching black leather coat-jackets, they start with the likeably Lou Reed-ish recent single "Summer Girl", which suits the setting.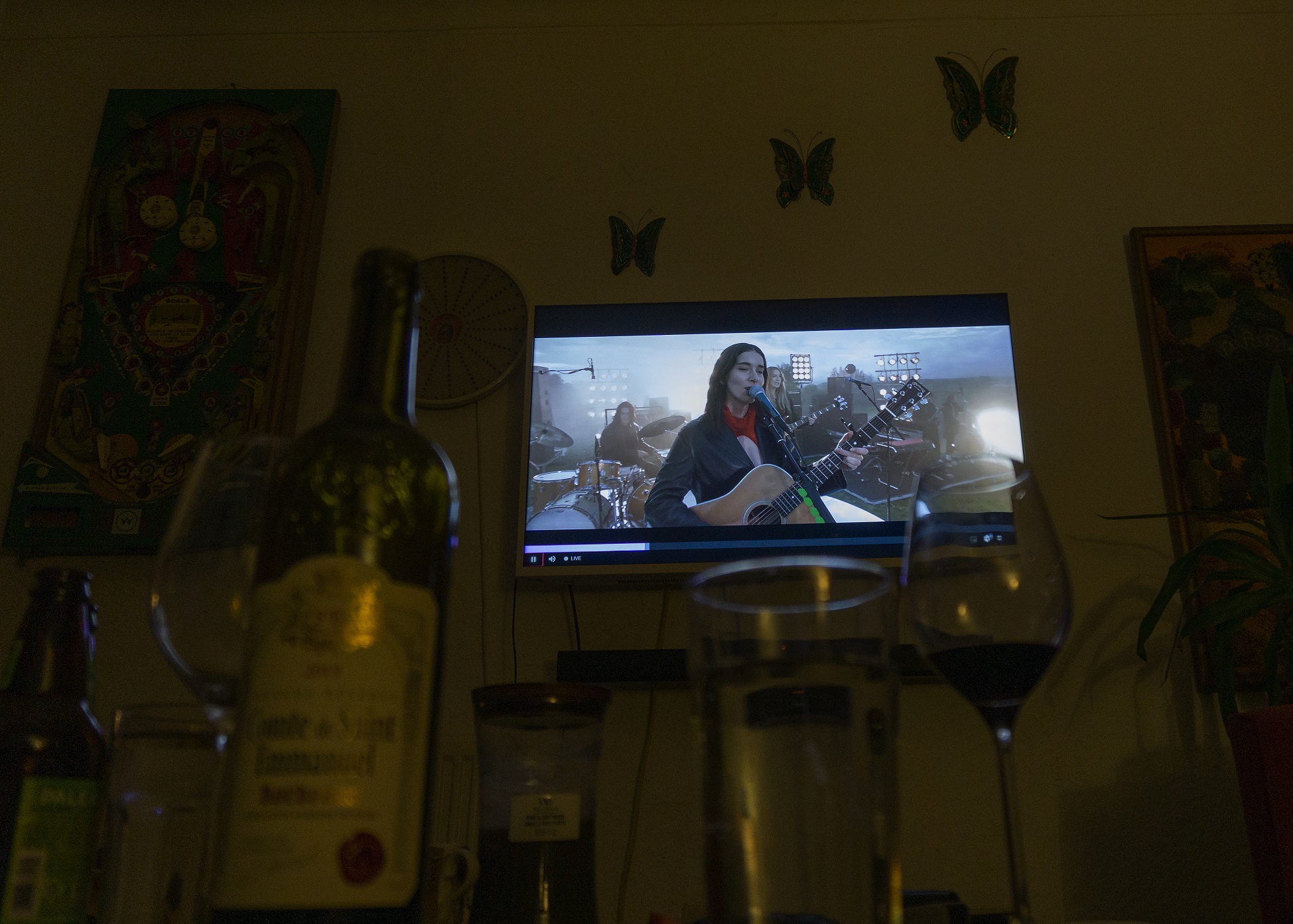 Whatever the music, the filming is always a treat. Director/coordinator Paul Dugdale has made concert films for everyone from Adele to The Rolling Stones to Taylor Swift (though it's likely his long association with Glasto-mates Coldplay pulled him into this project). At socially distanced band performances during the previous weeks, his team used a combination of dolly shots, roving cameras and drone footage to startling effect, revelling in the scale of Somerset nature, the performers often rendered tiny dots amid the countryside.
HAIM are a case in point (pictured, "in-room", above right). They look great but, rather perversely, only play songs from their most recent album, Women in Music Pt. III from last year, with not even one fan-favourite oldie. I'm not swung. It's all very west coast M.O.R., redolent of Sheryl Crow and, at a generous push, The Bangles, rather than anything raunchier. They are very watchable, though; bassist Este Haim juts her jaw out like Silvio from The Sopranos and singing drummer Danielle sometimes does a great face when singing that recalls Fozzy Bear. For Glasto geeks, it's also lovely for see the Stone Circle so gorgeously iconized.
Coldplay perform in front of the Pyramid Stage's metal skeleton, after dark, possibly in the rain (pictured below left). I think it's raining but Finetime insists it's an effect. Chris Martin makes a remark about their rain effects which Finetime claims backs up his argument but I take as a joke.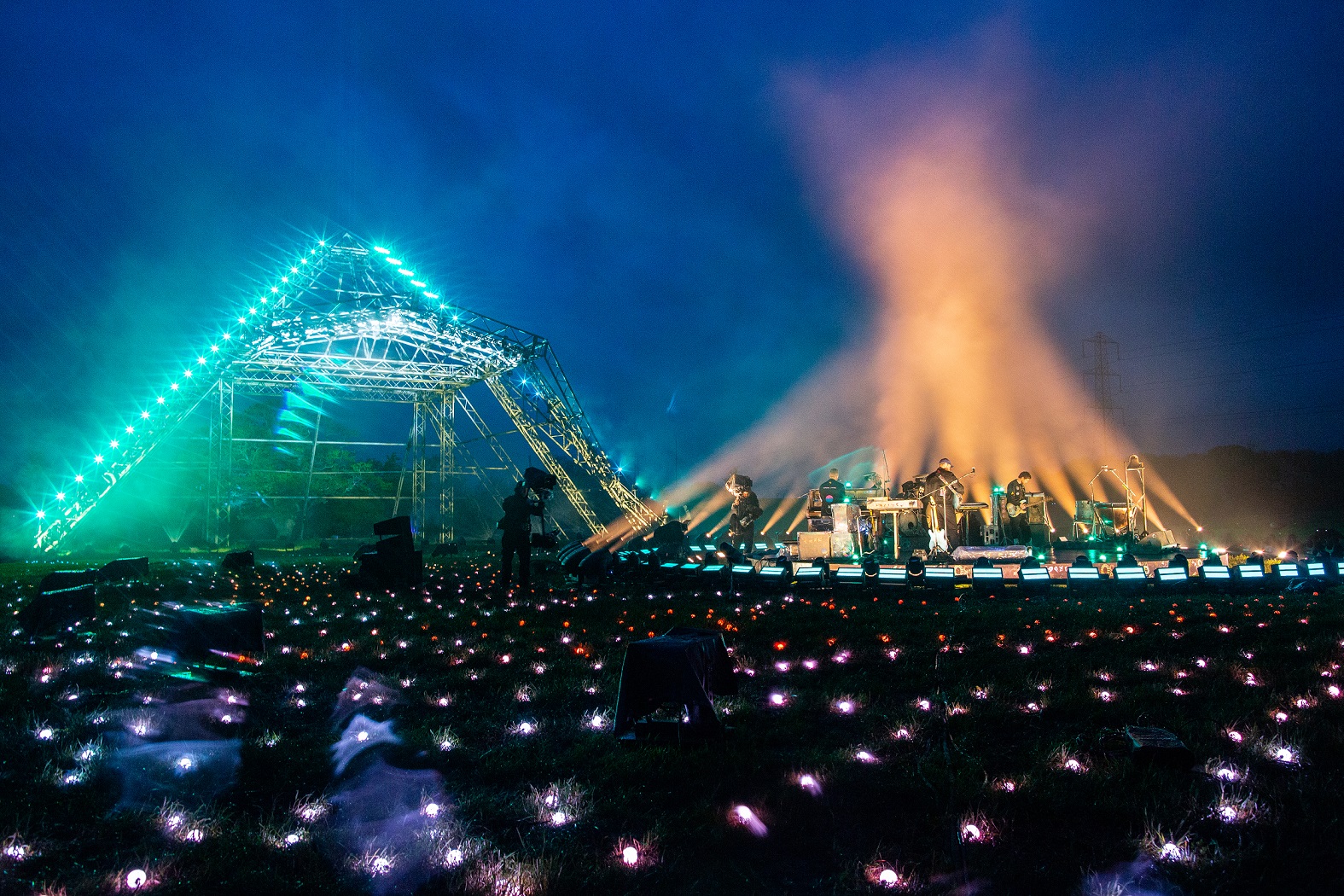 Director Dugdale's work reaches a peak with this set. The band are on a circular stage while all around them, far into the grassland, are thousands of white LEDs, the Pyramid behind lit multiple colours, fireworks and other pyrotechnics exploding into the sky all the time, lasers slashing through the smoke. As the drones swoop amongst it all, the eye becomes lost, the TV screen a smeared liquid scrawl of abstracted art colour, Coldplay mere shadows amongst it.
The music, of course, is not for me. It's Coldplay. Clad in their usual rainbow military attire, they start and close with EDM-styled candy-horrors "Higher Power" and "A Sky Full of Stars". In between are biggies "Viva la Vida", Clocks", "Fix You" and "The Scientist" with Martin commenting at one point, "This is the first time we've played to thousands and thousands of cows". This begs a bitchy remark I'm not going to make.
There's also an interlude shot in a separate, more intimate space, where a new song, "Human Heart" is debuted, an acapella-centric number which Martin performs with Californian R&B outfit KING. At the close of the set he says, "I Hope we get to see you here before we're 90." That I can agree with. Then it's time for a quick poem from PJ Harvey.
INTERLUDE 2: COUNTERCULTURE RUMINATIONS
The evening's Invalidcode-gate, which reached the headlines of news sites, has peculiar historical resonance. Until 2002, while the festival was ticketed, Glastonbury-goers could easily get in without paying, over the fence, or under it, or sometimes simply just wandering in. Michael Eavis turned a blind eye and the freebie attendees only added to the wild vibe. No-one who'd paid cared about it. Glastonbury was an escape from such tedious consumerist attitudes.
In 2002 the impenetrable fence(s) went up. Now it was all-but-impossible to "break in" (one guy famously did but said it was ridiculously difficult). Weirdly, as Finetime and I battled with a TV remote, a phone and a laptop, and failed to make our way into this event, it was a little like reaching the impenetrable fence, although a great deal less exciting.
The other psychic ripple from the past was the eventual decision to simply offer a no-ticket link to the livestream. Back in the Sixties and Seventies, it was a not irregular occurrence for ticketed festivals to eventually declare themselves free, usually due to weight of numbers. It most famously happened at Woodstock and the third Isle of Wight Festival (1970), but also Phun City (also 1970) and others. When this occurred, it was a messy mingling of pragmatism and "Who cares, man!" countercultural zeitgeist. The decision to make the 2021 Glasto livestream free access was equally pragmatic, a Gordian knot-chop, but proved contentious with some ticket-holders who, presumably, were enjoying the trophy value of their tickets as much as the experiential value. As for countercultural zeitgeist, well, no-one talks about that much anymore.
REVIEW PROPER: PART TWO
Back at the Stone Circle it's time for Damon Albarn, beneath a giant glowing prop moon (pictured right and, "in-room", below left). With a newly shorn mullet and clad in a cheap-looking leather, a black sweater and gold chain, he looks a little like a street level coke dealer. Except that a coke dealer might be encouraging you to have a good time whereas, sat forlornly at his keyboard, Albarn is flatly serious.
The first half of the set comprises recent and older solo fare, such as the single "Lonely Press Play" and material from his Dr Dee opera. He's a supremely talented songwriter, but the tone is what one might expect for an uber-fan event rather than a global livestream of this kind. He does a couple of Blur ones, 2003's "Out of Time" and, notably, a closing version of Glasto favourite "This is a Low". The overall impression, however, is somewhat glum, a kind of Robert Wyatt-feeling-blue vibe.
London's George the Poet then gives us verse from in front of a red-lit Pyramid. "I don't believe being unemployed makes you null and void," he declaims, among much else. These breaks for poetry – and others, such as a surreal one later on with a Wicker Man-ish fox-person hiding sinisterly in a woodland glade – add something of the actual festival's multi-faceted unreality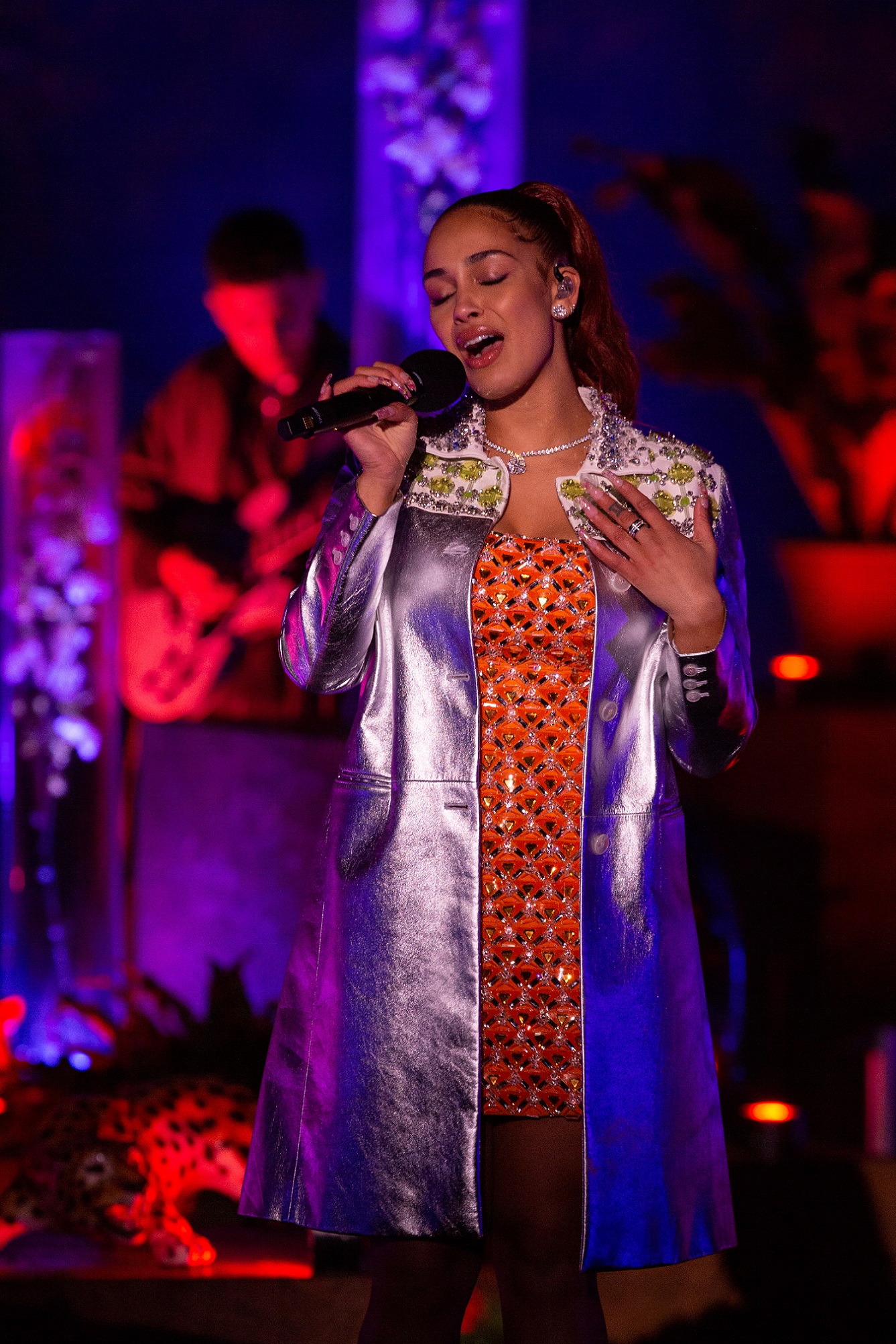 Jorja Smith (pictured right) sings her songs in front of an ancient, gnarled oak, in the Green Kids Field. It's arguably the most mystic of Worthy Farm's storied locations and is lit in a suitably uncanny, otherworldly manner. Smith, looking great in a silver coat with an orange-red diamante dress underneath, delivers a set loaded with her most famous tunes, opening with debut single "Blue Lights", and closing with her "Be Honest" smash (originally with Burna Boy), and touching along the way on cuts from her recent Be Right Back mini-album.
It's pleasant enough but, by the time Finetime and I get to it in the wee hours, the tasteful R&B trip hop chug isn't really raising the temperature. The exception is a number called "Peng Black Girls", originally a single by female London MC Enny, which featured Smith. This number is sassy, the rapping deadpan, with the two women's interaction injecting much-needed zip.
The next set is a "special" one, announced at the last minute. Emily Eavis and Radiohead are close and Thom Yorke and Jonny Greenwood debut their new project The Smile, also featuring drummer Tom Skinner and overseen by regular Radiohead producer Nigel Godrich (not visibly present). Initially, Finetime and I are most excited by the fact they're performing in the centre of the larch timber stockade-cum-labyrinth known as BEAM, a permanent fixture on Worthy Farm created by artist Wolfgang Buttress. When we were there last in 2019, it was humming with drones and part of a project about protecting bees. Will The Smile be as buzzy? (Sorry)
A ponytailed Yorke tells us at the start that The Smile are named after "the guy who lies to you every day" (they're also named after a Ted Hughes poem). Their snappy eight song guitar/bass/synth set is intriguing, drummer Skinner's solid background in jazz adding pep and groove as the trio veer between bassy alt-rock, driving motoric pop-rock and numbers touched with Tim Buckley-ish funk. Once again, however, there's a query as to whether this livestream is best-served by unknown songs whose core appeal lies with Q reader-ish music nerds.
Happily, UK hip hop/grime MC Kano (pictured left) is here to save the day. His set is the absolute highlight of the event. Performing on a square of white-lit tiles, he exudes utter confidence as he machine-guns verse after verse. He is accompanied much of the time by an equally white-clad gospel choir and brass section and one great bit is a song where they all wander around him, a joyous chaos of music and movement with his vocal delivery at its heart.
Ghetts pops in to help out on "Class of Deja" but this is Kano's show, bringing grime's social commentary and braggadocio to the fields. The centrepiece is as "Free Years Later" winds down, a giant slain human body appears filmically on the tiles, underneath the performers. As blood spreads from it until all is glowing red, they ebulliently hit "Trouble" and "Can't Hold We Down". It's energized and invigorating.
From hereon, we're off to New York/Chicago DJ Honey Dijon's yellow party bus, covered in stickers saying "Honey", "NYC", "Jack", and the like. She holds court at the decks in a serving hatch-style side window (pictured right), clad in a red leather-effect bra top and hot pants. This final segment of the livestream seems, in spirit, to be tribute to NYC Downlow, Glastonbury South-East corner's all-night underground club, rich in the black, Latin and gay Seventies and Eighties roots of dance music culture.
Dijon plays disco-house and a small coterie of cartoon ravers strut their stuff as the music demands, "Ladies bring me poses! Strike it! Strike it!" and similar. At one point, Róisín Murphy (pictured below left) appears onto a stage at the back of the bus to sing a couple of numbers. I don't know their titles but the second one, redolent of '90s breakbeat rave, was a bumper, Murphy holding it together in a outrageous green dress that makes her look like a floaty underwater anemone.
At some point Finetime goes off to bed and a little later at 3.00 AM the TV simply goes blank. I don't watch the last 25 minutes. After the problems earlier and now sloshing about in red wine, I simply can't face the rigmarole of attempting to get back into the livestream, even if it might now be working. The rave bus is fun but not vital enough to propel me.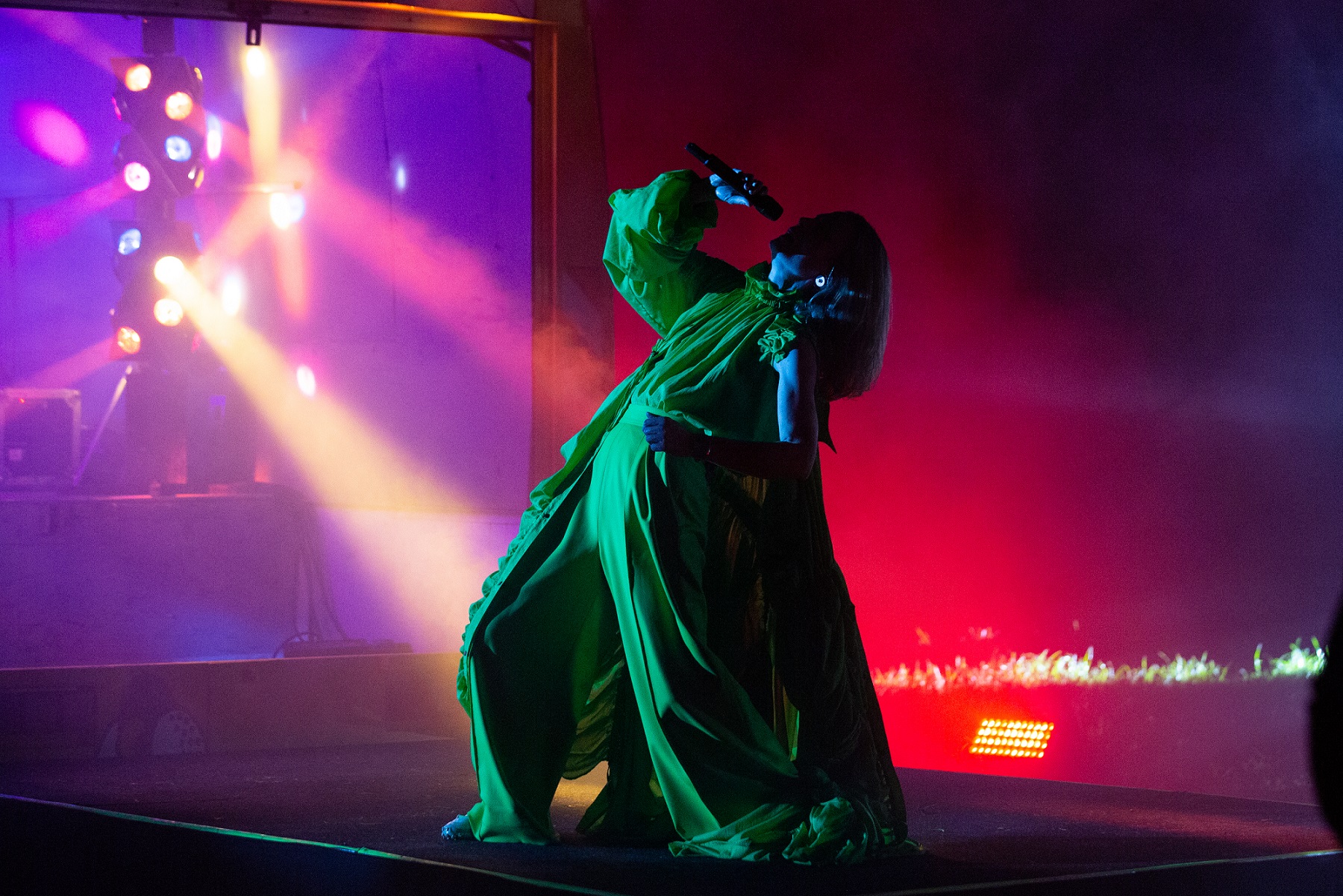 Glitches aside, what the night makes clear is that there are now two Glastonburys. One is as perceived by people who watch it on the BBC and/or who went years/decades ago and have not been back. This Glastonbury is, by necessity, more mainstream. The other is actual Glastonbury Festival with its 70+ stages, ley line thaumaturgy, countercultural history, and myriad of experiential madness.
Given tonight is a fundraiser for Oxfam, Greenpeace, Water Aid and the festival's return, also raising additional monies for crew who have "fallen through the gaps" during COVID, it makes sense it should be aimed at the former audience, the BBC's global Glasto viewership, even though this encourages cynics to suggest, as a friend texted me while watching Eurovision on this same evening, "Glastonbury on TV just makes me think of posh people eating falafels and listening to Coldplay."
So, yes, as a fervent, hedonic subscriber to the second and real version of Glastonbury, tonight's entertainments often didn't muster what I and like-minded kin are after, the big Pyramid "event" bands but alongside so much else - twisted electronica, salsa extravaganzas, extreme metal, veteran blues artists, the Gentleman's Dub Club, and so on and on and ever on. In the face of the pandemic, available options are clearly limited but more of these flavours would have been welcome. Instead, this was an elegantly crafted affair, sometimes musically cerebral, sometimes contemplative, always beautifully shot, eventually, perhaps, a deliberately soothing salve in the face of COVID's ravages.
INTERLUDE 3: PO-FACED POSTSCRIPT
Emily Eavis and the Glastonbury team apologised profusely for the failed stream debacle, offering extra possible over the next day or so. Of course, this was little consolation to those who'd set up Saturday evening parties to watch from 7.00, but those keen on requesting ticket money back might first consider where that money is going.
The festival's streaming partner, Driift, meanwhile, announced on their website that the failures were "unacceptable", adding that "Driift is not a tech business or a media platform, and we rely on a third party company for certain aspects of broadcasting the stream. This provider has now identified the cause of [the] problems, and, although we are awaiting a full technical report, there were no subsequent issues for ticket buyers accessing later streams for North America or Australia." They also stated that they were "making no financial gain" from the event and had got involved in the hope of generating "much needed revenue for the festival and its charity partners."
Below: Watch Coldplay perform "Higher Power" live at Worthy Farm 2021
Next up is Little Amal who is not an Orange County hip hop star but a three-and-a-half metre high puppet
Explore topics
Share this article