Green Man Festival 2010, Glanusk Castle |

reviews, news & interviews
Green Man Festival 2010, Glanusk Castle
Green Man Festival 2010, Glanusk Castle
Post-folk festival in its eighth moist year
Wednesday, 25 August 2010
If there's one festival in Britain where people are ready for the rain, it's the Green Man. After all, nobody goes to the Brecon Beacons to sunbathe, right? The weekend, which began the spate of boutique and specialist festivals that dominate the summer season now, remains one of the most spirited in the UK, and its crowd seems to be one of the hardiest even when, as this year, the deluge is near-continuous.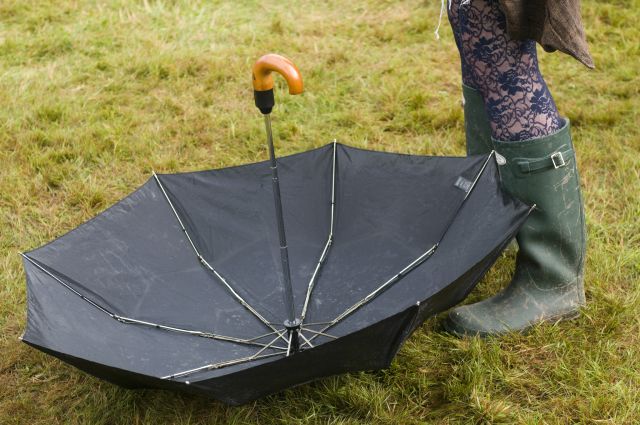 It helps that the site is both beautiful and sloping, so it wasn't able to turn into a grim waist-deep mudbath; the real saviour of the festival, though, is that attention to detail in the provision of both entertainment and sustenance is such that you never have to stumble more than a few yards through the wet before you find something else distracting, exciting or intoxicating. The Guinevere single-apple artisan cider in particular helped a very great deal.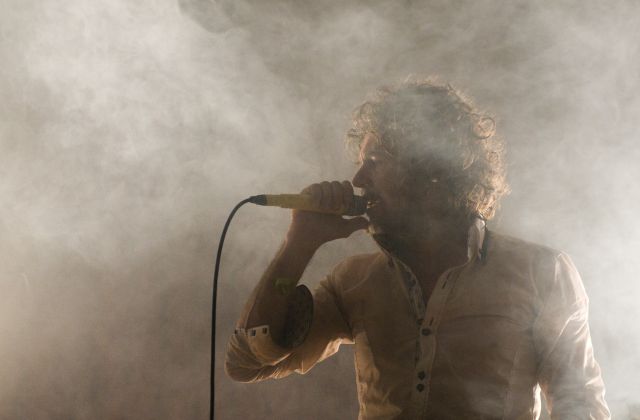 The musical policy has expanded over the festival's eight years, from being dominated by what you could loosely call the "folk diaspora", to a point now where the sounds you hear from the largest stages tend towards a kind of intelligent indie-rock and modern psychedelia. Thus the main stage headliners on Friday were Mancunian survivors Doves (actually a little boring bar their three or four brilliant songs), and on Saturday were festival perennial neo-hippies
The Flaming Lips
(an audio-visual feast, if slightly sugary – like a rock version of Disney's
Fantasia
).
(Singer Wayne Coyne pictured above.)
But folk/ acoustic music is still a vital part of the festival's identity, hence harp-plucking warbler
Joanna Newsom
headlining Sunday (I've tried, honestly I've tried, but my
God
she's annoying), preceded on the main stage by current darlings of the bearded set
Laura Marling
(charming despite her bashfulness) and
Mumford & Sons
(actually very rousing, although they still sound to me like The Levellers after a good bath, hair cut and stern talking-to from their dads).
There was plenty more folky doings besides this during the day on smaller stages, including some real highlights which showed the full range from traditionalism to modernism, often all in one go.
Mountain Man
– in fact an all-female
a capella
trio from Vermont – mixed hip banter with the most shiveringly lovely and ancient-feeling harmonies. Their charismatic but cryptic New England fellow countryman
Sam Amidon
had none of the electronic/ classical trappings of his collaborations with
Nico Muhly and co
, allowing his powerful voice to shine on a series of traditional songs.
The ginger-moustachioed
John Smith
demonstrated an equally manly larynx not only on a set of English folk songs, but on covers of "Singin' in the Rain" and Terence Trent D'Arby's 1980s soul hit "Sign Your Name", both delivered dead straight and both delighting a mid-afternoon audience. Later at night the Balearic Folk Orchestra, convened by Stephen Cracknell of the
Memory Band
, had an audience dancing to equally non-ironic acoustic cover versions of dance hits, including spectacular takes on "Where Love Lives" by Alison Limerick and Grace Jones's "La vie en rose".
So it continued: the swooning English pastoral mini chamber-orchestra
Message To Bears
stole hearts at lunchtime, while the massed arrangements of Danish multi-instrumentalists
Efterklang
and the constantly-evolving mutant dubstep of
James Blake
sent ravers into raptures late at night. The delightfully named Cock Diesel soundsystem played rare and astounding psychedelic rock singles while showing a montage of motorcycle movies, while poetic indie band
Wild Beasts
showed real power and clearly won a fair few new fans. An extensive programme of science and literary talks, too, was far more than mere tacking on of worthy culture but was frequently packed with fully engaged audiences.
If by 4am Sunday night there was a looming sense of weariness and dread about the packing, trudging and driving that was to follow the next day, again the distractions kept it at bay. To be surrounded by a knowledgeable and energetic crowd who were ready to have their eyes opened to such a variety of culture – not in a hip, chasing-the-latest-thing way, either – was a pleasure and a privilege, and even the mud couldn't spoil that.
Share this article