Interview: 10 Questions for Natasha Khan |

reviews, news & interviews
Interview: 10 Questions for Natasha Khan
Interview: 10 Questions for Natasha Khan
Dreamy art-popper discusses literature, nudity, and working with Beck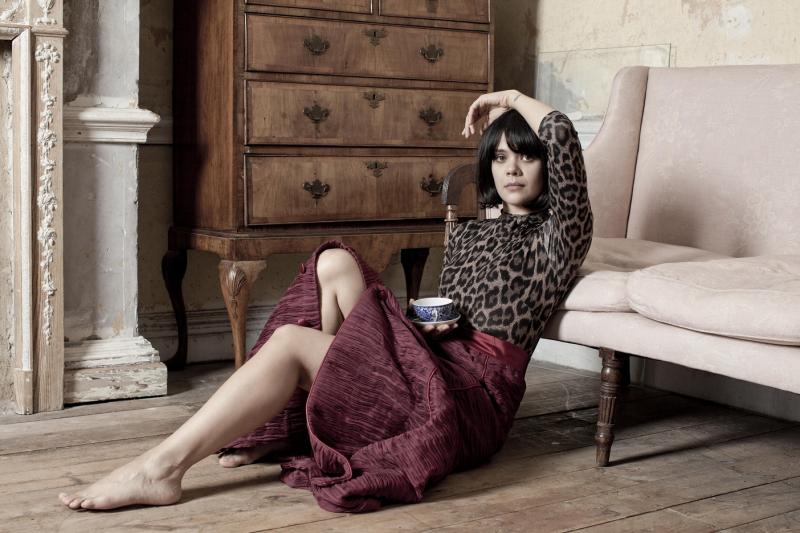 Natasha Khan: 'I think my brain is equally musical and visual'
Natasha "Bat for Lashes" Khan is a 32-year-old indie singer-songwriter who, mysteriously, often gets compared to Florence Welch. But unlike Welch's sledgehammer Eighties-pop Khan makes subtle and rather magical albums with connoisseur appeal. Today she releases her third album in six years. Her previous Fur and Gold (2006) and Two Suns (2009) have also drawn comparisons with PJ Harvey, Björk and Siouxie Sioux, and that's still a stretch (if less so than Florence). Khan's is music that eludes categories: in places it may be danceable but, for the most part, it's dreamy art-pop.
I am meeting Khan in a conference room at the record company. As I walk in past the tea trolley she is sitting on a sofa by the window. Dressed in a prim black dress over a white blouse, she looks not unlike the primary school teacher she once was. And with a broad, generous smile she invites me to sit down next to her. Her manners are impeccable and her voice cultivated. In both her look and demeanour suggests Lily Allen's more grown-up, sophisticated cousin.
Our conversation is conducted at a thoughtful pace. Khan frequently stops me to ask what I think, as if every opinion really matters to her. She comes across like one unlikely pop star. After the interview she chit-chats about her domestic routines, her cat and whether it would be sensible to go back to university. But even a nice girl like her, it seems, is not safe from the rigors of life on the road.
I wanted to not just be another person with lip gloss and photo shop and lots of retouching
RUSS COFFEY: The YouTube clips from Bestival looked great (see video on final page). How have you enjoyed the summer festival season?
NATASHA KHAN: Well, the first month was the European festivals which were pretty gruelling. We had two buses break down in Spain which meant we missed one festival. When the first bus broke down we had to spend 24 hours in a lay-by with no food, and then another bus came to pick us up at three o'clock in the morning and at six that bus broke down. It was a nightmare. We also got our stuff held in customs and someone got food poisoning. Everything that could have gone wrong did; the stage was even hit by lightning on one show. That was quite a mad month! But finishing in England and doing things like the Electric Picnic festival, Bestival and Latitude was great
When did you start writing The Haunted Man and were you frightened by having to come up with a third artistic statement?
It took about two and a half years to write. As soon as I came off touring Two Suns I made a commitment to staying in Brighton and being at home there and not really travelling any more. Initially I did an awful lot of domestic healing rituals which really helped to ground me: signing up at drawing classes, cooking, going for walks in nature; I bought a kitten and I read a lot. I read Patti Smith's Just Kids book, a book called The Re-Enchantment of Art which my old art tutor recommended to me, and I re-read The BFG which I really enjoyed. I took my time to get re-inspired again. But when I realised I had to make an album at some point I was daunted and terrified.
The new album's fantastic but it does demand quite careful listening. Were you ever tempted to take it in a more poppy direction?
Sorry do you think it's more poppy or not...?
No I don't think it's more poppy than the last…
…that's interesting. I think it is. I feel, for me there are more upbeat songs with choruses. I decided that I would like to do a more varied range of songs on this album so from the very stark "Laura"-style quiet ballads, to "All Your Gold" and "A Wall" and "Marilyn". They're a bit more beaty, a bit more "up", for me, personally. Obviously the record company would always like me to do more poppy stuff but I have to do battle with them to be able to sit comfortably within what I see as being poppy for me. Obviously I didn't want to compromise. The pop songs on here are quite at my limit but maybe for other people it doesn't come across that way
Being the cousin of former world champion squash player [Jahangir Khan] do you think that you share some of those competitive genes? Do you always strive to be the very best you can be?
I think I learned that kind of purpose and focus and ambition from my dad. I think when you're a sportsman or musician or anything like that, in order to obtain your goal you have to focus very intensely on your purpose. So I definitely think there is some kind of ambition from his side and I definitely experienced that as a child watching him training. I don't play squash though. I'm terrible.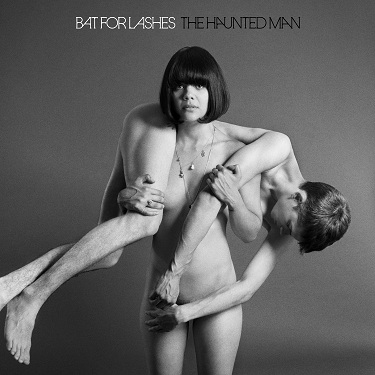 Two Suns was clearly influenced by your experiences in America. Were there any geographical influences on the new album?
Yeah I decided I wanted to stay in England. Obviously I'd been very international, going to America and living there before Two Suns. When I came back I decided that this would be an album about England; specifically Brighton and Hertfordshire where I grew up and where I lived for a long time. There are British landscapes, the Sussex Downs, the sea. I spend a lot of time walking around the places I went when I was little and around Sussex. Songs like "Winter Fields" talk quite specifically about childhood winters spent driving down country lanes and the snow-filled fields. Thematically there are quite a lot of visual symbols about the sea. I live a five-minute walk from the seafront. I also love a lot of villages surrounding Brighton like Glynde and Rye and Alfriston. Those beautiful old villages, the country lanes, those old cottages…
The cover art (pictured above left) is highly iconic. What does that image of you holding a naked man mean to you?
What does it mean to me? Well, there are a lot of meanings to me in the image, although I'd like to leave some space and interpretation of other people to decide what it means for them. My intention, generally, was to present quite a raw, natural, arresting image of the female body different from the way it is portrayed in the media at the moment.
I was looking back to Seventies artists like Patti Smith or John and Yoko or even more recently PJ Harvey. I wanted to present an honest, real, and quite intimate nakedness. When I look at the figure of me holding that man, I think I could be holding a soldier that's come back from war, or it could be a nurturing thing, or a powerful woman, or a lover I want to get rid of or emotional baggage that's heavy. [She pauses] Or it could be a sexual thing or it could be a sensual thing or a vulnerable thing or a frightened thing or tired thing. The feminine projection can come across in lots of different interpretations and the "haunted man" around my shoulders features heavily as a theme throughout the album. I wanted to not just be another person with lip gloss and photo shop and lots of retouching.
I think the overall sound on the album pushes the electronic element further than before. Do you agree and if so who did you work with on the album and how did that soundscape develop?
I would agree that it's more electronic. That was a very early decision. I've got a studio in my house and when I start writing songs I take them to quite a solid production level myself. So I started with songs like "Oh Yeah" and "Marilyn." I would start to start to make noises with the sampler and drum machine like this. [She starts to vocalise synth sounds.] "Marilyn" I think was an old Juno, an old synth. [Again she impersonates the instruments.]
We took something extremely slick and electronic and very modern and pushed it through something really oldSo early on at home I had these electronic sounding hip-hoppy samples and beats on there. I wrote "Lilies" just with voice and auto harp and then added a really massive bassline into the choruses. Early on I decided, production wise, I'd like to take it into a really sparse place and marry up some of those more archaic old instruments with quite a lot of synthesised sound. When I went into the proper production within David Kosten and, later on, Don Carey we did a lot of programming beats on old hip-hop drum machines. We pushed modern electronics through old Fifties and Sixties amplifiers, synthetic sounds through analogue filters to give it a lot more depth. We took something extremely slick and electronic and very modern and pushed it through something really old. It made a lot of sense to me as a lot of the themes of the album are about my family history; the patterns that trickle down the generations.
But I was also pushed a bit by the record company to try writing some pop songs with people. I found that very unnatural and quite stifling. In the end I said I would write one song ["Laura"] with someone. But what I wanted to get out of it was not a radio hit single. I wanted to work with someone who could teach mean a little bit about traditional song-writing structure. I'm not really trained in that sort of thing. My piano, especially, is very instinctive. I listened back to songs I love from the Seventies, like the Carpenters, Elton John, Roy Orbison and Neil Diamond, those kind of classic Seventies ballads. And I spoke to Justin [Parker] about it and we decided to try and create that kind of traditional ballad. It was really enjoyable. He put me in directions I wouldn't normally go with the music and then I went away and wrote the melody and the lyrics and later arranged the strings for it and then I felt it really became my thing.
In "Lilies" you sing the lyric "Thank God I'm alive". Was that inspired by a particular moment?
I don't think it was inspired by an exterior moment. It was more of an internal epiphany about feeling creatively blocked. I'd really not been able to get anywhere. And then, funnily enough, I found myself able to manage to write a song about that feeling. The song is really all about waiting for some inspiration to come, for that thunderstorm to strike. But the song doesn't have to be about creative repression; it could be about wanting to be pregnant with a child or an idea or whatever. But there was the moment of raw celebration about being alive and it felt like a really personal moment.
The song "Marilyn" features Beck. What was he like and what did you make of his Scientology?
He was lovely and really creatively encouraging and quite playful. We had loads of amazing instruments like orchestral celestas and vibraphones and original dulcimers. He brought out a whole load of instruments and we really just jammed things out. It was like oiling the engine for me. He didn't mention his Scientology background once and I didn't notice anything.
I'm not really religious myself but I definitely have my own spiritual practices. As a child I had a close experience with being Muslim and praying five times a day and going to the mosque. That was until I was 11. Then my dad left the family never really to return. It was interesting to go from being so intimately connected with religion and the morals that were brought up and then that changing very quickly. I also went to the Christian Church of England school so we had hymns every morning. So I had a very varied religious input as a young child and I quite enjoyed it. The moral background of the things I would learn provided me with a nice grounded structure but I don't identify with any religion really.
When you are writing songs do you visualise them do you use that as your part of your imagination to create music?
There was the moment of raw celebration about being alive and it felt like a really personal moment
I think my brain is equally musical and visual. When I was young it was drawing and painting I was known to be good at, not music. So I was encouraged from a young age to draw and if I ever feel blocked musically I turn to drawing. I've got lots of sketchbooks and books. It really helps my creative process to get things out on the page that way.
So have you worked out the visual aspects to your tour yet and what are you going to do after?
Well, I've got some quite exciting costumes made. This summer it's been quite demure and understated. I was missing a bit of the theatricality so I will definitely bring it back. But it won't be in the same way as it has been in the past. I will be taking inspiration from modernist ballet and monochrome black-and-white surrealist films. There are some costumes I had made that up on a black-and-white theme which I'm quite excited about.
The tour starts on 18 October. Hopefully if things go well I will be promoting this for at least a couple of years. But I do think that something with this album is reaching a pinnacle. I'm not sure what's going come out of it but next I would like to explore some more filmic avenues, writing a score or something like that. I think after the album I might sit down and think about the amazing people I've met and been inspired by and with whom I might like to discuss doing a collaborative project...
Have you ever brought that up with them?
No I think that's unladylike. I think they should ask me!
The Haunted Man is released today. Bat for Lashes are on tour in the UK until 3 December

Bat for Lashes performs 'Laura' at Bestival
I took my time to get re-inspired again. But when I realised I had to make an album at some point I was daunted and terrified
Share this article