Jambinai & Leenalchi, Southbank Centre review - contrasting faces of contemporary Korean music |

reviews, news & interviews
Jambinai & Leenalchi, Southbank Centre review - contrasting faces of contemporary Korean music
Jambinai & Leenalchi, Southbank Centre review - contrasting faces of contemporary Korean music
Post-rock thrash metal meets Pansori K-Pop for the final weekend of the K-Music Festival
Leenalchi on stage at the Queen Elizabeth Hall on Friday night
Friday's double-header at the Queen Elizabeth Hall on the Southbank was not only one of the final gigs in this year's K-Music Festival – entering its tenth year with an eclectic range of Korean artists and bands performing across London and beyond – but also one of the launch gigs for this year's EFG London Jazz Festival, now entering its 31st year.
Not that the word "jazz" fits all that well into either band's soundscaping, whichevef way you stretch it. Jambinai's sheet metal racket was paired with the angular, Pansori-inspired alt-K-Pop, (the narrative folk art of Pansori stands among Unesco's Intangible Cultural Heritage of Humanity), brought to the stage by the singular entity that is Leenalchi.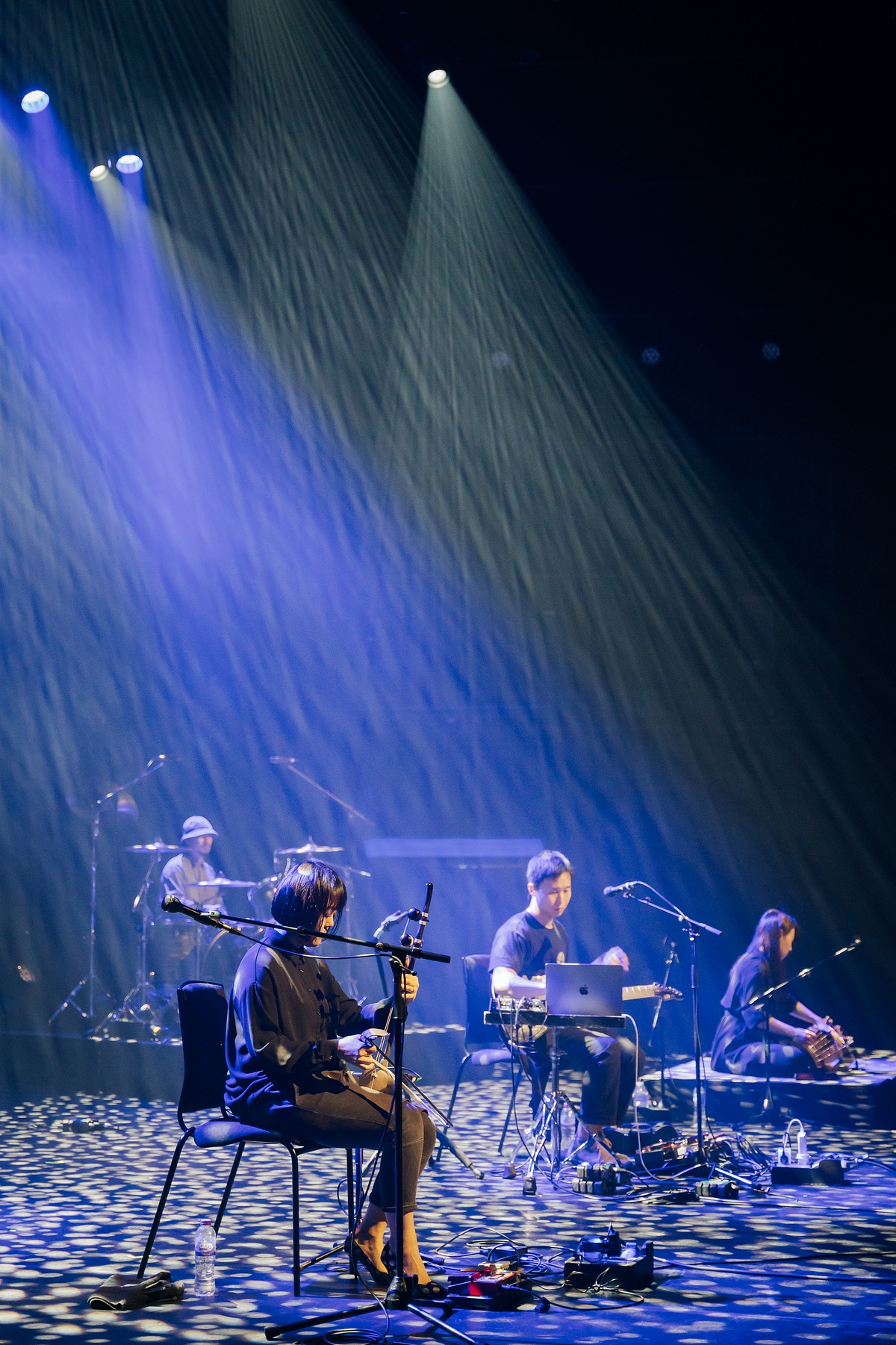 I last saw Jambinai (pictured left) in 2019, at the smaller Purcell Room. Then, staff were handing out ear plugs. This time, none were deemed necessary. This year's audience has a much larger Korean contingent, too, with home fans crying out excitedly as Jambinai filed the stage. They comprise guitarist and piri (oboe) player Ilwoo Lee, haegeum fiddle player Bomi Kim, Eunyong Sim, who kneels before the huge, trunk-like geomungo zither, and drummer Jaehyuk Choi and bassist B K Yu.
Six songs fill their opening set, beginning with "Grace Kelly" from their 2012 debut, which enjoys a very short take-off before raising up one hell of a wall of sound that soon collapses into a cacophony that feels like giant-sized boulders of sound crashing around you. "Sun Tears Red", from their excellent 2019 album Onda, has the same subdued opening that transmogrifies into what sounds like a Boeing 7647 engine struck by a flock of geese during take-off.
This time around, however, their sound has more of the stop-start-stop judder of thrash metal, with plenty of screamo vocalising sprayed over the top. Highlight of the set was penultimate song "Candlelight in Colossal Darkness" from their latest album, Apparition. It's quiet opening, featuring piri oboe and geomungo zither, extends its feel throughout the song without disappearing under that overly-familiar wall of sound. It works because it's not so weighed down by thrash dynamics – think more a funeral march blues, and a piri tune so simple and clear it feels as if it comes to us from the first syllables of recorded time.
Leenalchi are big stars in Korea – they front the country's latest ad campaign to attract tourism, with their song "Tiger is Coming" clocking up millions of views online. They take their name from a famed 19th century Pansori artist who made his name by singing while walking a tightrope, and their line-up is as singular as their sound – featuring two bassists, drums, keys, no guitar, and three singers. Bassist Noddy Woo plays lead, her fingers adeptly knotting round some dynamic, jaggedly funky riffs, while fellow bassist, and the band's producer, Jang Young Gyu is also behind a rash of Korean horror movie soundtracks. The singers are alumni of Seoul National University's traditional music department, with An Yi-ho and Jeon Hyo-jeong both cavorting up stage front – without tightropes, alas – while Kwon Song-hee combines vocals and a wide range of electronic keys, powering songs such as "You Know Who I Am", the much-streamed "Tiger is Coming" and the deliciously named "Crying Softshell Turtle", the new-wave, punky-pop electro running on a powerful two-bass engine, and inspiring a bit of a stage rush during the encore, as audience members broke out their dance moves at the foot of the stage for new song "Heeheehaha" – a first, I think, in the 10-year history of the K-Music Festival.
Jambinai's sheet metal racket was paired with Leenalchi angular, Pansori-inspired alt-K-Pop
rating
Share this article