Jim Dolan, the Singing Tycoon |

reviews, news & interviews
Jim Dolan, the Singing Tycoon
Jim Dolan, the Singing Tycoon
From boardroom to bandleader with JD & the Straight Shot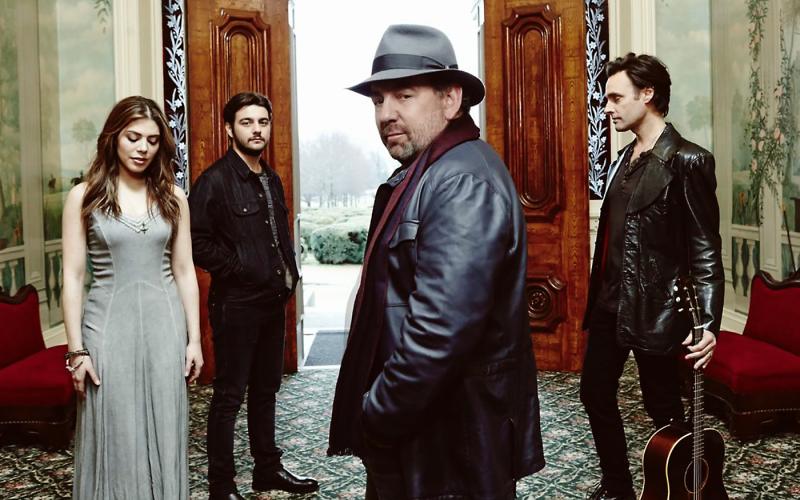 Jim Dolan (foreground) with the Straight Shot: Erin Slaver, Aidan Dolan and Marc Copely
We're packed into the basement of Madrid's Costello Nite Club, a kind of narrow brick-lined tunnel off the Calle Gran Via. It's the kind of place where you could imagine finding groups of earnest jazzniks nodding along to atonal pandemonium in 11/7 time.
Not tonight though. Onstage, we find a stocky, bearded gentleman in a burgundy-coloured jacket and fedora hat. He's leading his all-American band through a selection of country-rock, bluegrass, hoedowns and swamp blues, played with a downhome country twang and a topping of scorching country fiddle by Erin Slaver. From the look of him, you might expect Jim Dolan (for it is he) to feel more at home crooning "Moon River" in a Holiday Inn lounge in Poughkeepsie, but he's obviously completely wrapped up in his task. You can't help thinking "karaoke night" when you hear his lead vocals, but he fits in smoothly to the band's ringing four-part harmonies, and even helps himself to a guitar solo in their version of Bruce Springsteen's "Pink Cadillac".
Jim doesn't regard the corporate business world as a popularity contest
Among highlights of the show are their stomping rave-along treatment of "Ballyhoo!" (the title song from their forthcoming album), the wistful "Violet's Song" (which was used in the movie August: Osage County), and a version of Spirit's 1970 song "Nature's Way", decked out with a skilful vocal arrangement reminiscent of The Mamas & the Papas. "Here He Comes'', which sounds like one of Marty Robbins's gunfighter ballads, is an ode to Johnny Cash ("from a farmer's shack comes the man in black we all know").
This is JD & the Straight Shot in action, the band formed by the titular JD in 2001. At the beginning, he admits, "we were horrible! But every band starts off being horrible. The difference was we were old and horrible, which is sort of unforgiveable."
Dolan, then in his mid-forties, was indeed a late starter in the music business, even if he had been an enthusiastic guitar-player and songwriter since his teens. But since that rocky start the band has evolved gradually, and now has five albums to its name with the sixth, Ballyhoo!, due out in February. Dolan shrewdly entrusted guitarist Marc Copely with the task of putting together the current line-up, and it's now a hot little combo packed with Nashville expertise. Fiddler Slaver has played alongside Rod Stewart, Trace Adkins and Martina McBride, and as well as having made an appearance in the TV series Nashville, she's the girlfriend of Chris Carmack, who plays the gay country singer Will Lexington on the show.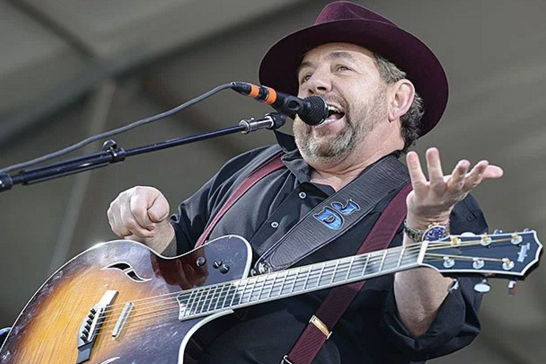 Bass player Byron House is a seasoned pro who has worked with Emmylou Harris, Rodney Crowell and Robert Plant's Band of Joy. Copely himself can list a string of music, film and TV credits which includes writing the song "Midnight Run" for Willie Nelson to perform in the movie Lawless, and collaborations with Rosanne Cash, Bono, Carole King and more. Then there's Dolan's son Aidan, not only a singer-songwriter but also a graduate in composition from New York University.
However, the trick in the tale is that his work with the Straight Shot is only half, or somewhat less than half, of the Jim Dolan story. In a parallel universe he's James L Dolan, President and CEO of Cablevision Systems Corporation and Executive Chairman of the Madison Square Garden Company. The Madison Square Garden Company is a multi-headed corporate beast, which not only controls New York's Madison Square Garden, Radio City Music Hall and the Beacon Theatre, but oversees a mass of cable TV networks and manages a prestigious cluster of sports teams including basketball team the New York Knicks and hockey team the New York Rangers. His brother Larry owns the Cleveland Indians baseball team. His dad is 89-year-old billionaire Charles Dolan, who founded Cablevision and HBO. Jim recalls that Dolan Snr "didn't think that being a musician was a credible career path."
Let's face it, if the band went belly-up, Jim wouldn't find himself scrabbling for welfare cheques, and trying to be country-rocker by night and dynastic business magnate by day has earned him a certain amount of scepticism and ridicule. As he admitted himself, "I worry about the other ways that people know me. I worry that they aren't going to listen to the music... You are definitely putting it out there and making yourself vulnerable and susceptible to criticism."
It hasn't helped that Dolan's business activities have been wreathed in assorted controversies. In a caustic New York Times piece last year, sports columnist Michael Powell wrote that "Dolan breaks federal labor laws and fires union leaders with impunity; he mints money from a public cable monopoly; and he gets a property tax exemption worth $54 million this year for Madison Square Garden, a for-profit enterprise... His Knicks team, dollar for dollar, has been the worst team in the league for 14 years now..."
Jim doesn't seem to regard the corporate business world as a popularity contest, even though being a musician sort of is, but the two halves of his life do have their overlapping moments. For instance, the Straight Shot's song "Fall From Grace" concerns itself with former New York governer Eliot Spitzer, while "Governor's Blues" takes aim at New Jersey governor Chris Christie and the "Bridgegate" brouhaha, in which closure of access lanes to the George Washington bridge lit the fuse on a huge corruption scandal.
"I'm just writing what I thought," chuckles Dolan. "'Governor's Blues' is a light-hearted song and it's meant to be funny. All about 'be careful crossing this guy, he's going to close down the highway by your house', which of course he unequivocally denies. So it's probably true."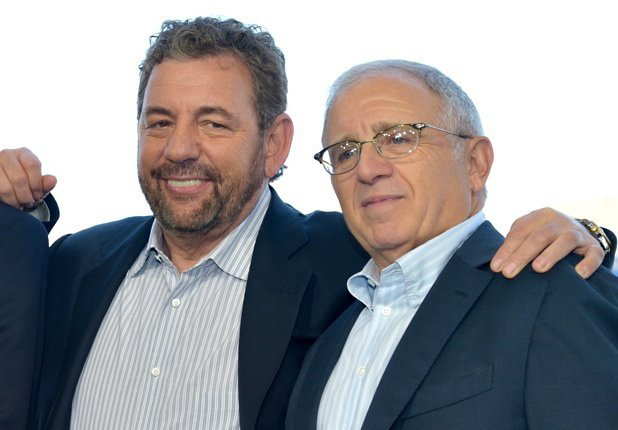 It's inevitable that Dolan's high-powered connections should have given his musical ambitions a leg-up. He's a close friend of Irving Azoff, manager of the Eagles and supremo of Azoff Music Management (Dolan and Azoff pictured right). In 2013 Azoff and Dolan embarked on a $300m joint venture between their respective companies that will involve signing and managing artists and putting on live events. Meanwhile the Straight Shot have frequently played support slots with the Eagles and opened for them at Madison Square Garden in 2014. Eagles guitarist Joe Walsh even produced their 2014 album, Where I've Been (though when asked if Dolan was a better musician or businessman, Walsh answered "businessman".)
But you can judge for yourself. The band begin a string of UK dates at Stroud on Wednesday this week, where they'll be playing material from the forthcoming Ballyhoo!. This will doubtless include "Under That Hood", Dolan's reflections on the controversial shooting of black Florida teenager Trayvon Martin in 2012.
"It's not typical of us to write something as controversial as that, we look to write from our hearts," Dolan reflected. "In the United States freedom of speech is very important, and part of the freedom of speech is saying 'hey everybody look at this, look how wrong this is'. I hope that song does the same thing. This just happened to be something that at least for me I felt in my heart, so it got written about."
JD & the Straight Shot play The Convent, Stroud (27 January), The Rocking Chair, Sheffield (28), Oran Mor, Glasgow (30), The Empire, Belfast (31) and The Forge, London (1 February). The album Ballyhoo! is released on CD/vinyl 26 February
Trying to be country-rocker by night and dynastic business magnate by day has brought him a certain amount of ridicule
Explore topics
Share this article