Le Guess Who? 2023, Utrecht - deep listening and deft dancing |

reviews, news & interviews
Le Guess Who? 2023, Utrecht - deep listening and deft dancing
Le Guess Who? 2023, Utrecht - deep listening and deft dancing
The music festival celebrates its quarter-century reign over the Dutch city
Thursday, 16 November 2023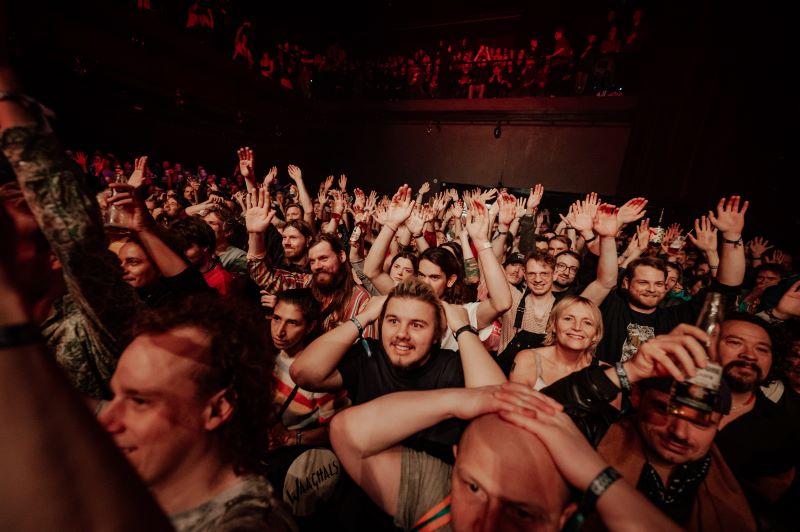 This year's 'Le Guess Who?' festival in Utrecht's TivoliVredenburg music complex
On a Friday morning under the Dom Tower, the tallest church spire in the Netherlands, our enthusiastic guide explains that we're standing on 2000 years of history. Formed on the frontier of the Roman Empire, Utrecht originally bordered the river Rhine.
But forward-thinking
festival
Le Guess Who?'s quarter-century rein proves that the city is no longer fenced in.
The longstanding Dutch weekender consistently champions a far-flung programme affording you time and space to explore and discover. In a world that's bowing under the weight of political and social conflict, LGW? happily boasts the coming together of over 60 countries from its delegates list. As the festival doors opened for its 16th edition, the organisers shared their message for this year's event: the power of listening.
If deep listening is crucial for the dissemination of great music then there's no better space than in the bellows of central hub TivoliVredenburg's Grote Zaal. This year's Anonymous Project is an experimental take on streamlining our senses. Three unannounced acts perform inside a cube, obscured by amorphic shapes and colours. Like a refined take on The Masked Singer, the concept forces us to confront how much an artist's image impacts our perception of the sound. And in a world where little is left to the imagination, it's thrilling to never really know the identities of these concealed creatives. (But seriously, Richard Dawson, was that you?)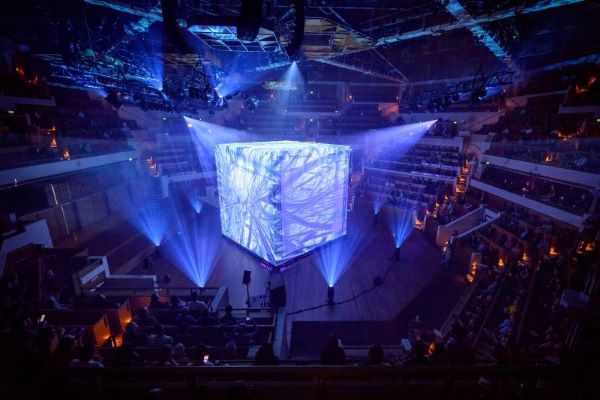 Speaking of shapeshifting sounds, we're treated to two experimental artists just in the cavernous surrounds of the gothic Janserk alone. Like LGW?'s ethos, award-winning Scottish small pipes player Brighde Chaimbeul respects the deep-rooted traditions of her Gaellic ancestors but brings her ideas, and instrument, into the 21st Century. Not to be confused with the bagpipes blasting out from a ruddied street performer on the square at Edinbrugh's Grassmarket, Chaimbeul's bellow-powered pipes serve up a signature drone. Enveloping the audience with cerebral sounds, she shares captivating tales of old folklore from the outer Hebrides seasoned with mythical creatures and menacing mermaids.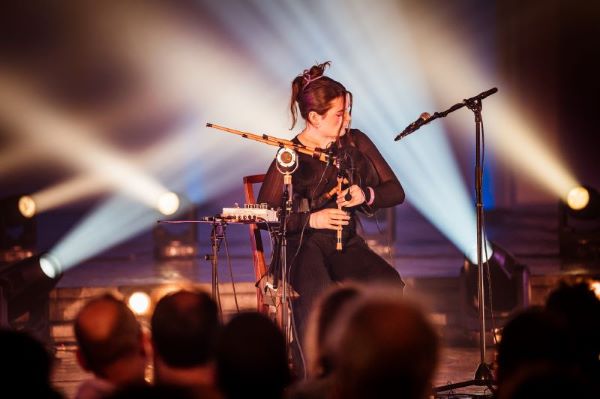 Meanwhile, composer and visual artist Damsel Elysium's captivating breathwork feels almost rooted in the healing traditions of Finnmark and Nord-Troms, despite being based in the UK. Past performances have seen her appear alongside the London Contemporary Orchestra. Tonight, needling violin lines play out behind rumbling vibrations that could shake even the Dom Tower. With the addition of her signature double bass, we're almost swept up in a film score.
The cinematic sounds continue with South Carolina-based artist Contour. Movie clips and artful sound triggers bleed into soulful shimmers as the multi-faceted creative spins songs from 2022's Onwards! "Hearing Voices" is vulnerable and apologetic while the "Trench Player" opens with lines from African American poet Nikki Giovanni's "The Great White Pax", as the songwriter grapples with race, identity, life and death. These notions are played out in his newer material too. He later dedicates his set to those oppressed in Palestine and Sudan, admitting stoically: "This song was written with them in mind, it's not an empty dedication."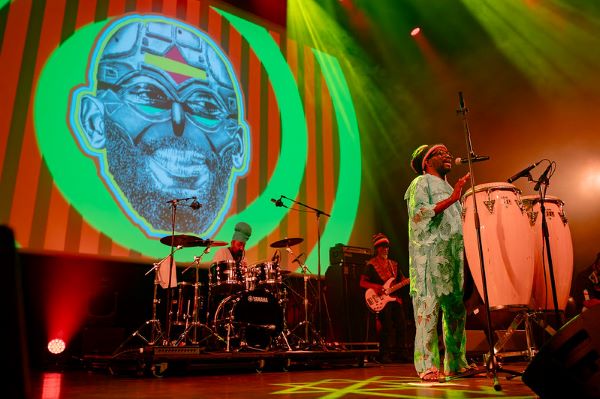 Another act famed for their exceptionally beautiful craft and one of the most groundbreaking dub acts in history, African Head Charge, brings their triumphant mix of psychedelia, trance, afro, and tribal rhythms to the stage of TivoliVrendenburg's Ronda. A long-running studio and live collaboration between English dub producer Adrian Sherwood and master Jamaican percussionist Bonjo Lyabinghi Noah, the sprawling cast of musicians artfully dance between the 80s institution of tracks like "The Race", taken from 1981's My Life In A Hole In The Ground, through to this year's A Trip to Bolgatanga with percussive-powered "I Am A Winner". Noah insists that the vibrations from tonight's set are "good for your heart, kidneys and lungs" and we're not about to argue.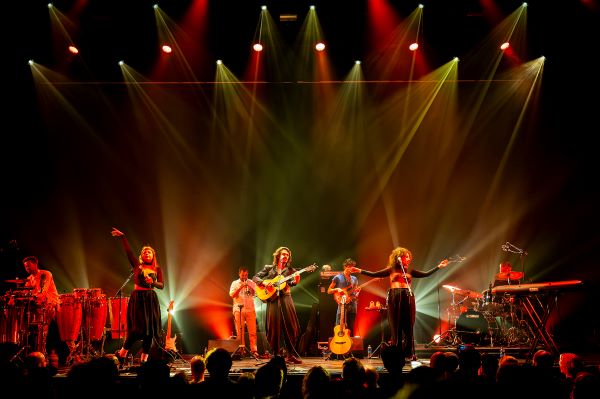 Chanelling an equally joyous spirit, Brazilian Lain-Grammy-winning quartet Bala Desejo conjure up the same sunshine-soaked horn trills as spritely sixties ensemble Spanky and Our Gang. Multi-instrumentalist and core composer Zé Ibarra appears like a stylish matador in a glittery two-piece suit and a hefty band of bare midriff commanding the stage alongside his fellow frontpeople Dora Morelenbum and Julia Mestre. Slinky groove "Lua Comanche" calls for us to live life fully, passionately embracing all the beauty life has to offer.
It's a sentiment that electronic pop pair Decisive Pink thrives on up in the lofty surrounds of TivoliVrendenburg's Cloud Nine. The magical melding of visionary LA artist and former Dirty Projectors' bassist, Angel Deradoorian and Russian songwriter and producer, the band builds on a lot of the latter's erratic maximalism for a colour-blocked performance piece that might've stolen the weekend. Tottering onto the stage in matching black leotards, blood-red leggings, and scarlet heels, there's everything from Charlotte Adigery-style laughter tracks to full-on flutes (because if Lizzo can, why not?) Standout "Potato Tomato" is surrealist, no-wave nonsense at its finest and surely, as the pair's debut album name suggests, their ticket to fame.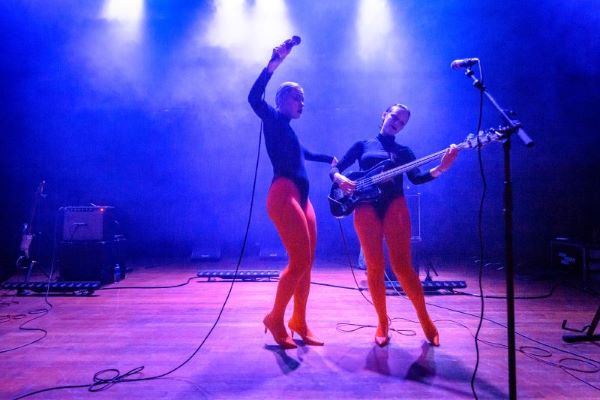 If Decisive Pink are pondering the humble spud, Michigan experimentalist's Wolf Eyes are pounding at them with a wrecking ball. Hopping on the number 8 bus for the emerging creative district Rotsoord, De Helling hosts the group's set up which is surprisingly minimal (two guys, two beat boxes) for such an enormous sound. Reverberations pulsate through your bones. But, at times, the noise band's efforts come across more like a persistent mosquito than a formidable beast. If you're looking for industrial sounds, can we instead implore you towards the hip hop horrorcore and nu-metal angst of Backxwash?
Two songs in and the Zambian-Canadian rapper has Ronda's sizeable pit swirling, riling them up with "Black Magic" and its sinister piano stabbing between vocalist Ashanti Mutinta's furious spats. "BLOOD IN THE WATER" dishes out club-crashing fury in just shy of two minutes. Much like the multifaceted Contour, Mutinta's set platforms poignant moments from Black history with excerpts from Malcolm X's hugely moving speech at Ronald Stokes' funeral in LA after being killed by the LAPD. Sixty years on, and in the wake of 2020's George Floyd protests, Backxwash's raucous rage feels necessary and worthy of stadium-sized support.
Muscular rhythms continue to rein throughout post-rock project Moin's reinvention of rock. Spawned from the ashes of Tom Halstead and Joe Andrew's enigmatic electronica Raime, the pair are joined by longtime collaborator and powerhouse percussionist Valentina Magletti (Vanishing Twin and Holy Tongue who also perform at LGW? 23). Driving guitars and cleverly synched voiceovers substitute your traditional melody as a disembodied voice asks: "Can you hear me? You don't know me but I know you / I sure as fuck know you" in fuzz-drenched "Melon" taken from 2022's Paste.
Shrouded in spotlights, the band appears as nothing more than silhouettes as pleasing pinched harmonics ring out like discordant early Biffy Clyro. And on the note of being obscured, there's one band on this weekend's bill who have spent their decade-spanning career appearing as nothing more than a footnote in musical history despite changing the face of modern dance music. New York no-wave veterans ESG rightfully take centre stage for their final-ever European performance.
As founder (and the only remaining original member of the sister troupe) Renee Scroggins enters, she holds onto the arm of her daughter and bassist Nicole Nicholas. Her other hand grips a walking cane. Settling herself into a chair alongside a box of percussive trinkets, she's joined by percussionist Nicolas Nicholas and touring drummer Mike G(iordano). Opening their set to the tune of their dance-inducing debut, we're treated to the snare drum raps of "Come Away" before shuffling into earlier effort "Earn It" and, as Nicole explains, "a very sampled song" "UFO" which sees Scroggins back on guitar for one track. 1991's compilation standout, "Erase You", finds the frontwoman on her feet and garners rousing applause from the crowd as she surveys the scene.
If Le Guess Who? had a Legends slot, surely this underrated, funk institution would be it. For forty years, ESG have been bringing the beat and for one night only, Utrecht was at the very heart. Deeply listening and deftly dancing until the bitter end.