The Great Escape Festival 2023, Brighton review - a long, hot, messy Day Three |

reviews, news & interviews
The Great Escape Festival 2023, Brighton review - a long, hot, messy Day Three
The Great Escape Festival 2023, Brighton review - a long, hot, messy Day Three
Our team check out Teen Jesus and the Jean Teasers, Thumpasaurus, Nice Biscuit, Moonlight Parade and more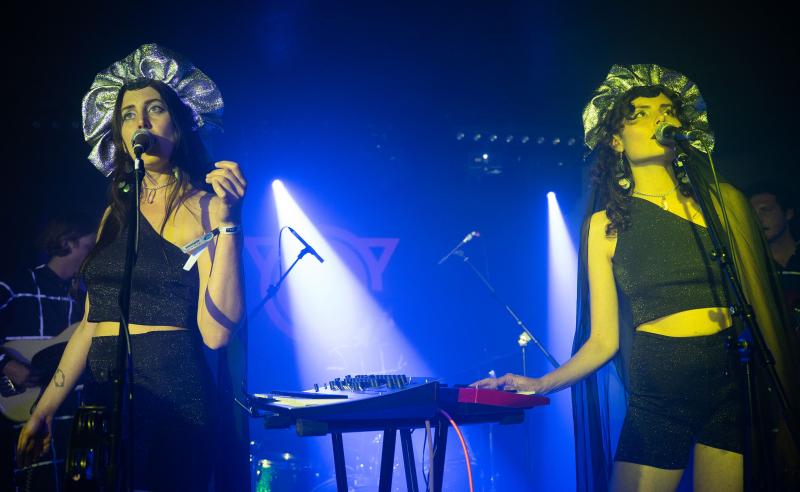 Nice Biscuit give good deadpan
"stay with the beer. beer is continuous blood. a continuous lover." So said Charles Bukowski in his poem "how to be a great writer". Who am I to argue. It's a bright day and 11.50 AM. The sun isn't past the yard-arm but the beer is cold and good. IPA. Finetime and I stand with Vanessa, her 18-year-old son Cody and her mate Jodie. Vanessa has a short blond crop which glows.
We're to the west of Brighton, by the sea, the outdoor enclave of The Great Escape. As in other years, the three stages are dominated on Saturday by Australian acts. We're here to catch the first of the day in the Amazon New Music marquee, Teen Jesus and the Jean Teasers (pictured below left), an all-female four-piece from Canberra who continue the recent tradition of Aussie bands with great names… but great names which one wonders if they'll still love at 35-years-old and six albums into a career (see also Psychedelic Porn Crumpets and Amyl and the Sniffers).
Almost every set at The Great Escape is half an hour, a sampling of wares, which suits Teen Jesus who ramraid their way through, two parts rock to one part punk. Tattooed and young-looking, they emanate teen-girls-on-the-town good time energy ("Everyone's accent is so much fun," enthuses bassist Jaida Stephenson guilelessly at one point). Singer Anna Ryan, her hair bright red and cropped, is a feisty presence up front, while guitarist Scarlett McKahey and Stephenson grin through choreographed antics for "Up to Summit".
They're tight, musically sharp, a touch of L7 about the music, as they tackle the contagious likes of "Lights Out". Just when I'm thinking, "This lot got zip but they could do with an anthem," they close with the ragingly brilliant feminist battle cry "Girl Sports". "Maybe you should try sticking to girl sports/And men would like it better if you didn't talk/ Don't get me wrong, you're pretty good for a girl band/It's kind of complicated you won't understand," runs the verse, followed by plenty of shouty cathartic swearing. It fits the bill.
Leaving the tent I spot a striking looking beer can. Designer. Liquid Death it's called, with a squiggly graphic of a skull. Except it's not beer, it's water. It's awful. It's brilliant. I throw it away as if it were an electric eel. "I could sell that to my mates," says Cody. Capitalism end times.
There's a Melbourne artist on shortly called Big Wett, a "sex positive" act, whose tunes include "PU$$Y", "No.1 Pussy" and "Eat my Ass". Vanessa tells me her son recommended the gig as something she'd enjoy. "Why's that?" she asked him. "Well, she was walking round Brighton with a metre-long dildo called Big Dick Rick." "Oh," said Vanessa. What else can a mother say…
More IPA. More sun. It glints off the converted Airstream behind us, the MVT Stage. A woman sings, playing an acoustic guitar, accompanied by a guy on an electric bass, both wearing shades. It's singer-songwritery stuff but unusually bluesey and twangy. She is Melbourne artist Gena Rose Bruce. It sounds as if it might have something to offer if I paid more attention. But I don't. Instead, Finetime and I head to Brighton Pier, buy chips.
On the Pier is Horatio's, the pub amidst all the fairground rides. The outside bar, lightly breezy, on the west side, offers a gorgeous, sun-glazed, blue-sea view up Brighton's coastline. We chat to a gaggle of lads. Well, they're not lads at all. Fellas. Full-grown men our age. But when men travel in groups drinking beer together, "lads" seems somehow appropriate. I tell them we're waiting to see Brighton jazzers Ebi Soda (pictured below right). One of them, called Deano, mishears, "Eeh, by soda," he says, making it sounds like an old Yorkshire adage.
Inside the pub Ebi Soda kick off, led by virtuoso trombonist Will Heaton. Their first number is their John Barry-ish single "Pseudocreme". It's a peach. They weave intricate grooves, Heaton sparring with new sixth member, trumpet player Dan Gray. Their look today is lean-bodied, pastel leisurewear, white tees, PlayStation tans and shadowy eye sockets such as might sometimes be associated with weed use. Their sound initially suits the delicious day, Seventies film theme funky, although their guitarist does that eyes-closed wank-face thing, which I've always found difficult. They move into a drum & bass one, kind of LTJ Bukem-ish, but the latter half of the set descends into jazz-funk noodle and I wander back outside.
Jodie is denigrating the band but, since she later says she has very specific tastes (edgy indie with a dash of rock, as far as I can tell), this probably won't affect their career. IPA again. Beavertown Neck Oil. The fact they sell it in Horatio's, a seaside day-trip tourist joint that not long ago just sold Fosters, says a lot about the fortunate spread of ales in the UK. Back inside for the terribly-named Los Angeles band Thumpasaurus (pictured below left).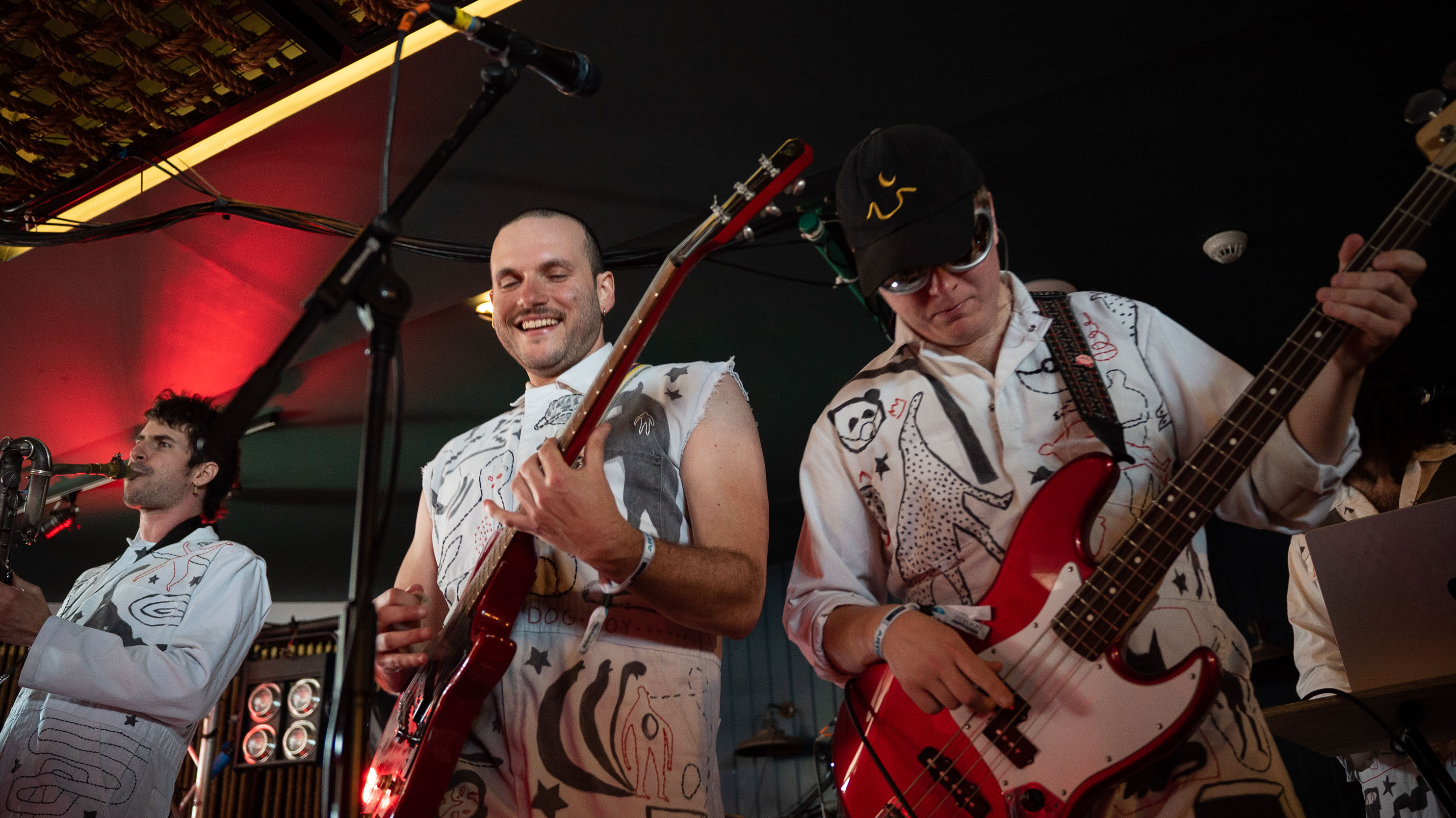 They're a six-piece clad in white boiler suits, decorated with what look like black marker pen hieroglyphs. They are led by shaven-headed, lightly moustachioed frontman Lucas Tamaren (who also moonlights as a stand-up comedian back home), and have a screen beside them on which are projected films that match the song content, Sammy Davis Jr and Beyoncé dancing like it's their life during a number called "Dance Like It's Your Life", or a pixelated psychedelic cartoon cat playing piano during a keyboard solo.
They begin with "Struttin'", the song whose video has probably pulled the capacity crowd that now fills Horatio's (there are queues outside). On record it's a bit Scissor Sisters, no bad thing, but live they're much spikier. Sure, there's George Clinton in there, but also James Chance and the Contortions, very early Chili Peppers, even a smidgeon of Frank Zappa. These harder-edged comparisons are particularly noticeable on final number "I'm Pissed" ("I know it means something different over here," says Tamaren).
They're a purposeful blast, a kind of a no wave wedding band, the crowd going nuts, and their set peaking with a song called "Alien" with everyone singing along to the chorus, "I borrow this body because I like to party".
"Horatio, I love you," Tamaren tells us, as if we were all Lord Nelson, and then they're gone.
Leaving our compadres, Finetime and I skitter off to dip into the Alternative Escape. On top of the 32 Great Escape venues, there are a bunch of mostly free events, as well as Brighton Festival events, Brighton Fringe events, the Spiegeltent, and the Caravanserai festival set-up. It's a good time to be in this town-gone-city.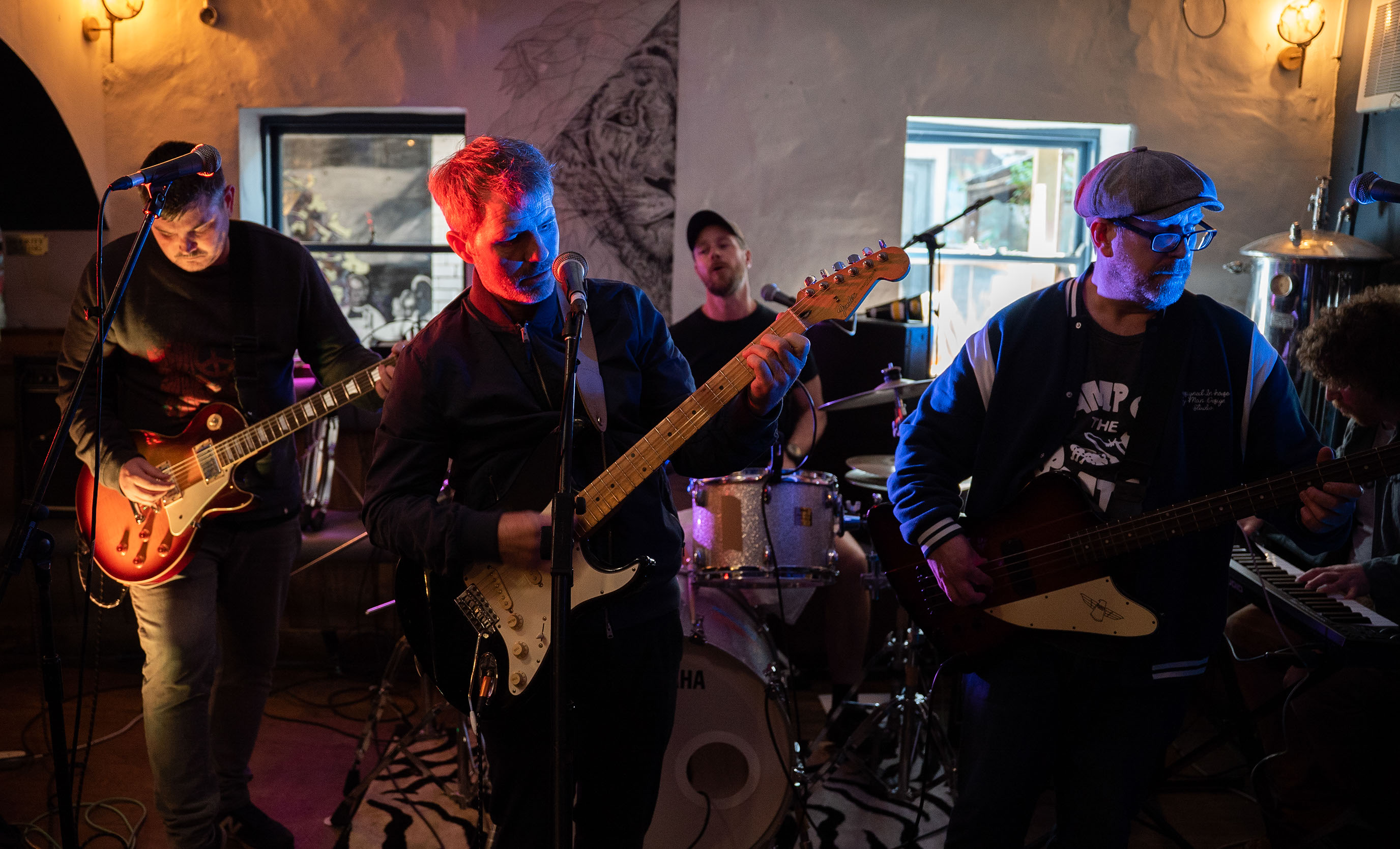 At the Black Lion pub Worthing's Moonlight Parade are playing (pictured right), a five-year-old band (not a band of five-year-olds), three albums into their career. Their music is pure Nineties Brit-rock, mod-ish, clanging guitars, anthemic melodies and songs that have that decade's wide-eyed sky's-the-limit optimistic longing. Think Charlatans and Stone Roses. There's a song that seems to be called "Trippin'" but might not be and another called "The Way I Feel". The five-piece deliver them with precision to a small but keen late afternoon crowd. Singer-guitarist Ben Todd hits the notes. He has a far-away look, as if he's wondering what he might buy from Morrisons for dinner. Or maybe he's just dreaming of the 1990s. I'm guilty of that myself. A very fine decade.
Wandering away, we run into Cody, who's now working as a runner for the Great Escape on his bike. He zooms by. Then I spot a glamorous young black woman, long colourful fingernails, blinged-up, sorting her weave, seated in the open door of a smart motor. "Hey," I say, "Are you Girlsofgrime?" "How did you guess?" she jokes back. I wish her well with their set and we head onto Volks on the seafront for Manchester outfit Mandy, Indiana.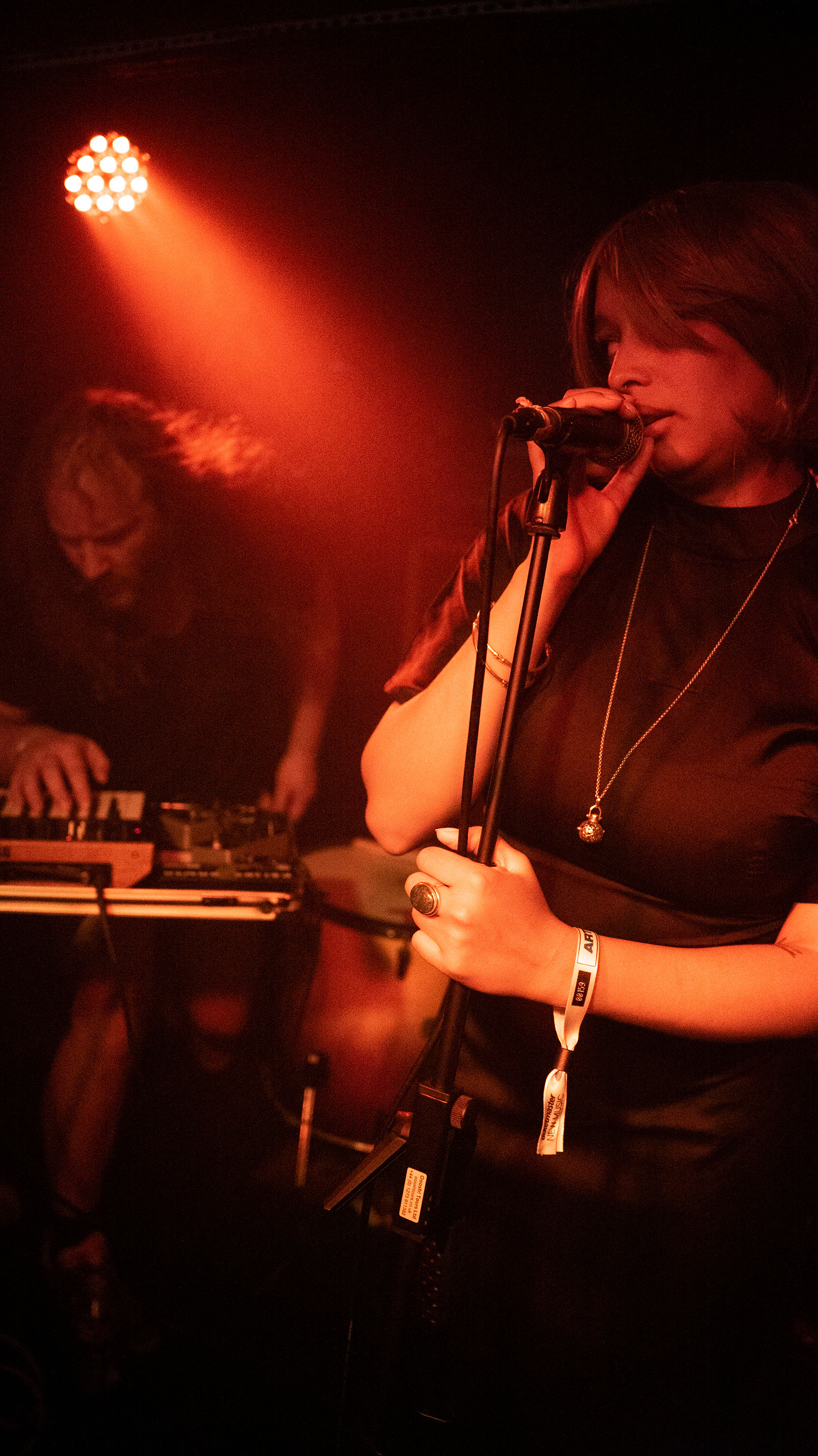 Vanessa and Jodie are in a long queue outside. Finetime and I, with our media passes, scoot straight to the front and make our way in. This does not often happen. But it does sometimes. I feel a bit bad. But not too bad. Once Vanessa's inside, she and I have a debate about it. I am not sure any of us have won, though. Volks is famously low-end. I associate it with listening to drum & bass at 3.00 AM, everyone titted, walls dripping, the stench of amyl, ruined toilets. The main room is jammed, humid and hot. Mandy, Indiana (pictured left), fronted by punk-ish French singer-rapper Valentine Caulfield, create a bass-led industrial post-punk racket, redolent of World Domination Enterprises. It's a raw, abrasive sound which comes together on songs such as "Pinking Shears". I'd like to see them again but, after 20 minutes here, Vanessa and Jodie leave and Finetime retires to the outdoor smoking area. I join him.
We are then approached by a Venezuelan woman we vaguely know who gives us a test tube of bongo waffles. Time for some food, to fuel the evening session. The Sawadee Thai restaurant on St James's Street fills us with satay, fish curry, pad thai, all topped with warmed rice wine which, along with the bongo waffles, sends us out to the evening twinkly refreshed. We pause at the Bar Broadway on Steine Street. This used to be gay mecca called The Queen's Head with Freddie Mercury on the pub sign. The vibe is still strong, a stunning drag queen towers over the bear-like security outside and we chat to a woman from a hen party.
Our final shift is at another LGBT+ hub, the Revenge Club, tonight transformed into an indie venue, despite the neon booths celebrating Britney and Gaga. We're here to see Aussie outfit Nice Biscuit but arrive early so catch the preceding act, Butch Kassidy (pictured below right), a London six-piece with a female violinist and a singing drummer, who heavily channel Godspeed You! Black Emperor. With Keith Moon drum rolls and a wall of sound, their flop-fringed shoegaze-noise assault is effective but has been done many times before.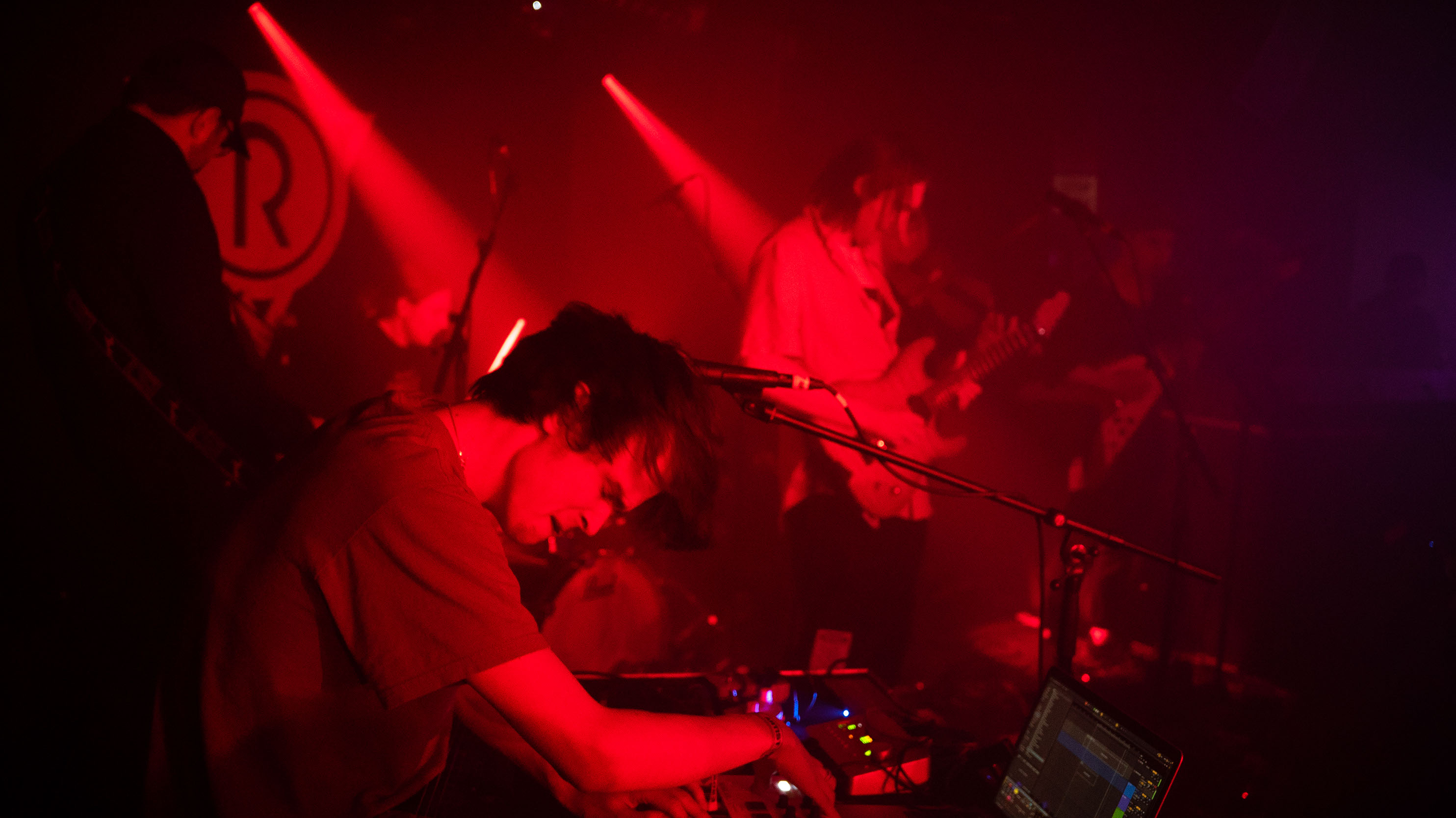 Vanessa, who's reappeared looking a little the worse for wear, writes "Fucking dreadful" on my notepad. Which is a little unfair. She is more impressed with Nice Biscuit (pictured below left), as am I. Prior to the Great Escape, as I spent my days checking our material on YouTube by bands I'd never heard of, it was their music that most stood out.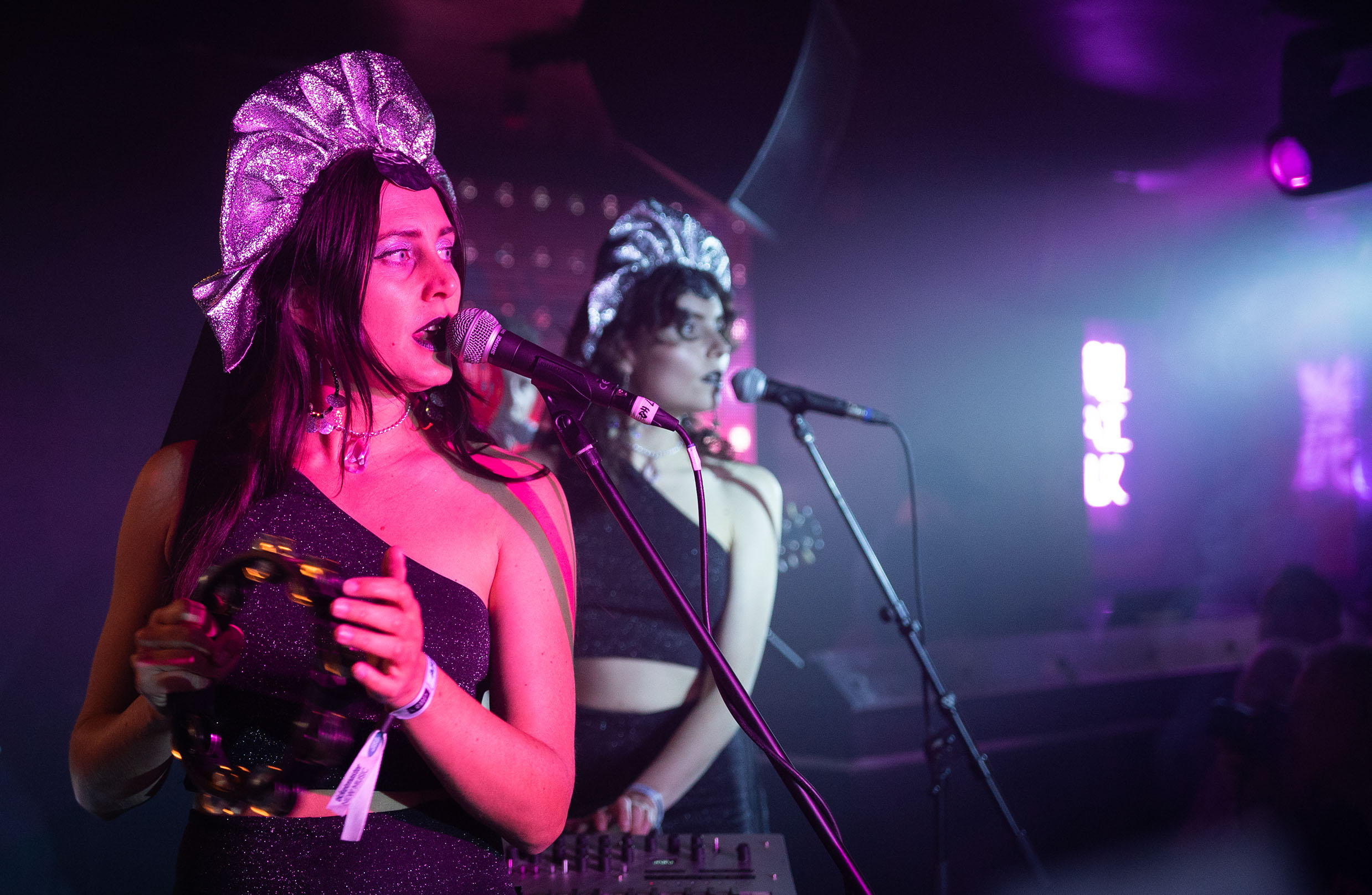 From Brisbane, they're Krautrock pop band, fronted by two women, Billie Star and Grace Cuell, who are clad identically in glitzy black tops and miniskirts, glam white boots, and headdresses that look like giant silver scrunchy hair bands. Most Great Escape acts try and pack as many songs into their half hour as possible. Not Nice Biscuit. Over steady motorik rhythms, the groove breathes and the frontwoman duo sings sweetly, reminding of the Anadin Brothers from Doctor and the Medics, all those decades ago.
They're actually a bit too deadpan. The duo stare fixedly at the ceiling as they sing and play synths, expressionless, not chatting to the audience. It's schtick that undoubtedly works for their usual fanbase, but in this small, sweaty environment, where many have just come to see what they're like, perhaps more human engagement might have pepped things up. But the music is very fine, like a girl-pop Hawkwind.
As the final act of the night appears, my system is fizzing happily in a stew of IPA, bongo waffles, and rice wine. Egypt-raised, London-based singer Nuha Ruby Ra (pictured right) is no wallflower. Heavily kohl-eyed, mop of black hair, clad in a black jerkin and red vest-top, under which she's naked, she brandishes two microphones, one set to echo/reverb. With backing tracks, she delivers a set that's much more ballistic than her recorded music. Live, her sound combines aspects of goth, EDM, metal (even Glitterbeat on "6 in the Morning"), as she layers vocals and builds a sound of doomed threat. Consistently bathed in red light, she has charisma, turning her relatively sparse single "Sparky" into something noisy and venomous.
From there, it's all the best sort of mess, Mrs Fitzherbert's pub, dancing to dodgy disco, spending too much in an off-license, taxi, Cody advising me to listen to "chill drill" MC Knucks, collapsing people, a post-Eurovision party somewhere very, very late.
Like Bukowski said,
"drink more beer.
there's time
and if there's not
that's alright
too."
Who am I to argue.
Below: Watch the entertaining video for "Struttin'" by Thumpasaurus
It's like a pixelated psychedelic cartoon cat playing piano
rating
Share this article