The Great Escape Festival 2023, Brighton review - a vibrant dip into Day One |

reviews, news & interviews
The Great Escape Festival 2023, Brighton review - a vibrant dip into Day One
The Great Escape Festival 2023, Brighton review - a vibrant dip into Day One
Our team check out Moonchild Sanelly, Shelf Lives, Yot Club and Hannes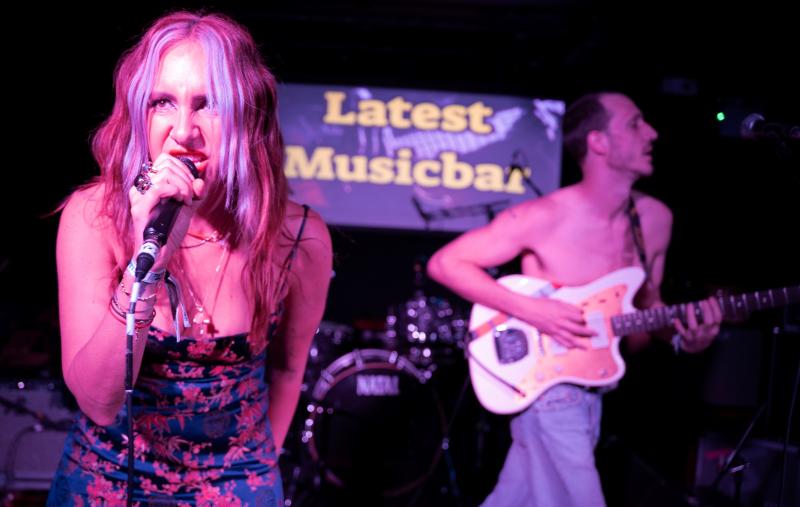 Shelf Lives, a-sneerin' and a-snarlin'
Brighton is writhing with music biz sorts. The Great Escape is here, the multi-venue festival that's taken place here for over a decade-and-a-half, presenting bands from all over the world, most of them little known, at least in the UK.
It takes place over four days, Wednesday to Saturday, although not much happens on Wednesday, so the real Day One is Thursday, and here we are. We'll be back Saturday for a full day-long mash-up but, to start off, here's a quick dive into the first evening, starting at the Latest Music Bar, on a central street perpendicular to the seafront. Upstairs is an airy bar-space, but down in the basement is where it's happening.
There's a choice of 32 venues, all with different line-ups, and that's without taking into account the Alternative Escape, and Brighton Festival and Fringe events. It's all go! But, I've decided to see Yot Club, rising Nashville artist Ryan Kaiser (pictured below left). He is an unassuming figure, taking the stage in a flowery Hawaiian shirt, Croc-ish shoes, his face bearing a schoolboy moustache. He looks like an American every-guy.
But his guitar-playing shows that he is not. His kit is a white electric guitar and laptop providing the beats. "I'm kind of rushing that you're all in this room with me," he tells us, and slips into "Landlord" from his new album Off the Grid. His music veers between awkward bedroom pop to indie-punkier fare (he throws in a cover of "Anything" by US post-punkers Suburban Lawns).
He plays by far his biggest number "YKWIM" ("You know what I mean"), which he says he almost didn't release, but which now has upwards of 450 million plays on Spotify. But, for me, its short, pared-back, lonely boy charms are put in the shade by punchier fare, notably the final two cuts, where he really seems to be getting into his stride (each act at Great Escape only has half an hour), the "Roadrunner"-ish "Saturday" – in fact, there's something of Jonathan Richman about his vocals too, that and Avi Buffalo, the reedy, nasal quality - and the final driving "Japan". Like Ziggy, boy, can he play guitar.
After a half hour break and a beer upstairs, London duo Shelf Lives pack the Latest Basement and, vigorously live up to the promise of their debut, Yes, Offence, one of last year's best albums. Bare-topped guitarist Jonny Hillyard, in pale ripped jeans and a checkered belt, starts things off with a squall of riffage, before the electronic beats kick in and Canadian frontwoman Sabrina di Giulio (pictured below right) lets rip.
Clad svelte in a mini-dress, with fat-soled high boots, a silver crucifix at her neck, she glares out from under red-auburn hair with white highlights at the front. "I hate people and people hate me," run the lyrics to "I Don't Like Me You", typical of their oeuvre, a sneering antidote to all the poor-me therapy music that currently dominates pop. They tear through the Peter Gunn-goes-electro-punk "Shock Horror" ("Shock horror, you're stuck/Do you feel like you suck, yeah?... but Daddy doesn't give a fuck! Ha!") and "All the Problems" which has a proper alt-rock sing-along chorus (which of course is "Tell me something you like about yourself"!)
There is something of Die Antwoord about their deadpan snarkiness but Shelf Lives are not arch in that way, and a whole lot more rockin', as they prove closing with their single "Bite", wherein di Giulio attacks her keyboard, shrieks, with strobes going nuts for further emphasis. This pair are definitely ones to watch.
A quick wander up Brighton Pier leads us to Horatio's, the pub amid the fairground. I'm taking a punt on Swedish act Hannes (pictured below left), after watching a bunch of YouTube videos where he (Hannes Irengård) and an impressive female singer spar on songs that mingle R&B with Balearica, the whole sometimes giving off Erlend Øye vibes.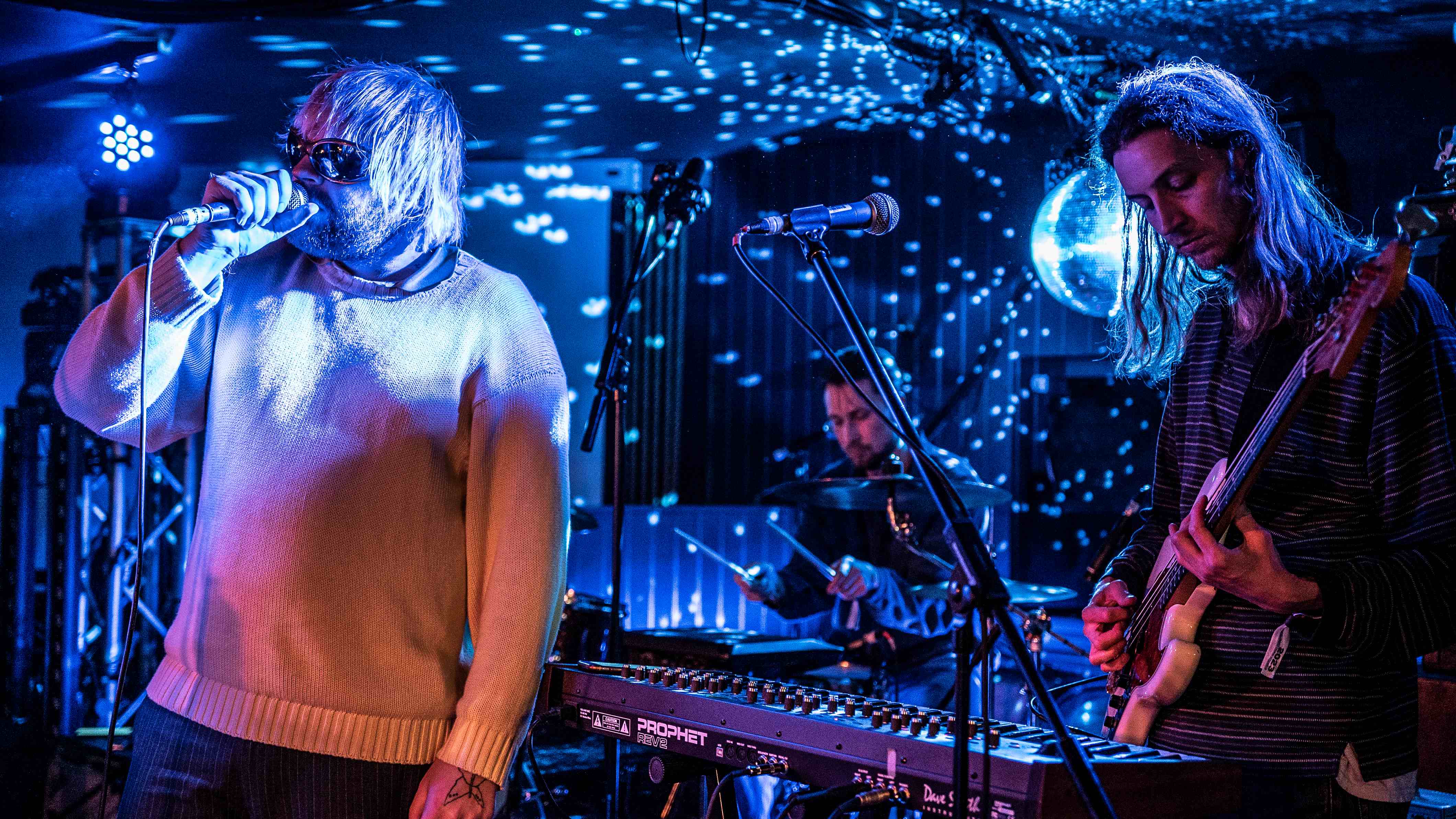 However, in concert, this female singer is not present, and everything is the less for it. Accompanied by a traditional guitar/drums/bass set-up, Irengård is front-centre on Mellotron keys, a blonde Brian Jones mop tops Bono-The Fly shades and a comfy white jumper. He has problems with his kit - "My pedal to my keyboard is fucking me in the ass" – and his music, at least for this half hour gig, does not live up to the promise of the lovely sunny-stoned ease of "Stockholmsvy" and is more redolent, at its least likable, of the earnest, eyes-closed pleading of Ed Sheeran.
A short taxi ride takes theartsdesk team to a very different proposition at The Old Market in Hove. It's a Transgressive Records takeover and, as we arrive, South African five-piece The Joy are closing their set. I only catch one song but realise that I saw them doing a gorgeous impromptu doo-wop acapella performance in the sunny street outside Mrs Fitzherbert's pub earlier. We're here, instead, for Moonchild Sanelly (pictured below right) the sex-positive rapper-singer-showgirl, also from South Africa.
She is not short of charisma, bursting onto the stage, shaking her trademark mop of thick blue dreads, clad in a body stocking with two holes at the front where her green-bra'd boobs pop out. She regularly turns and waves her tattooed booty at us. Her DJ is almost equally outrageous, clad in shiny green spandex-style trousers that look like packing tape, and a "top" of the same which covers his shoulders but not his nipples. During the show he joins her regularly to perform catchy camp dance routines.
At the start of her set she gives us the cute "Bird so Bad" ("I wanna be a bird so bad"!) but is soon into tunes such as "Too Late", about bangin' a married man, and the awesome "Demon", wherein she has the audience sing along to "She's a heffer, she's a demon". The music, all from the deck set-up, is Afro-electro-techno-hip-hop, bangin' club sounds that owe a debt to trap and even South Africa's self-developed ravey music, gqom.
It's noticeable that the recorded backing track has her vocals fully in place so that she's just accompanying them. This is lame. She makes up for it, though, when she comes into the audience for the final two songs and, in the middle of a circle, drags crowd members in to dance with her, including wonderfully improvised choreography with a group of young guys of African origin, all moving in synch. She has, in other words, created a party. She's a real character and I head out into the warm-ish Brighton night suffused with her joie de vivre.
Below: Watch the video for "Bite" by Shelf Lives
She comes into the audience and, in the middle of a circle, drags crowd members in to dance with her
rating
Share this article