Melody Gardot, Barbican Hall |

reviews, news & interviews
Melody Gardot, Barbican Hall
Melody Gardot, Barbican Hall
Sophisticated torch singer adds Brazilian influences and oozes style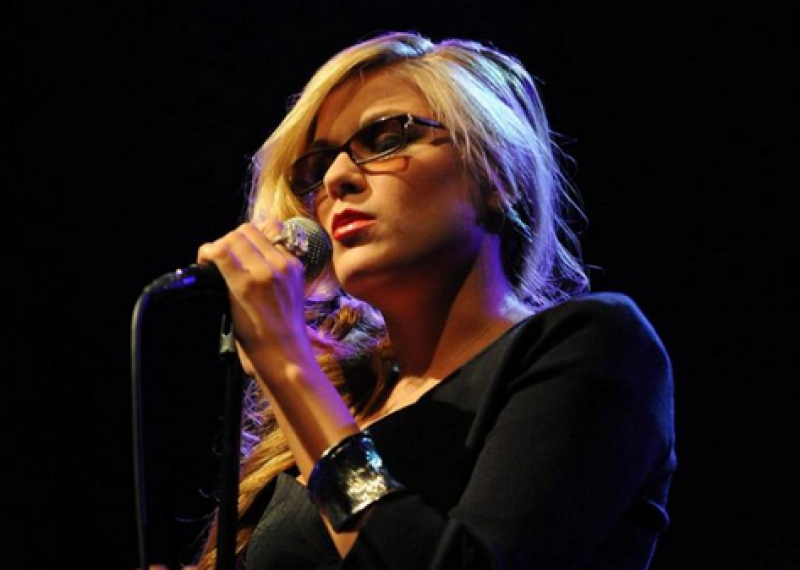 Melody Gardot: Style and substance
The moody lights and the smoke make it look like Melody Gardot is emerging from the swamp, probably somewhere near New Orleans, as she begins her set singing a capella. Her walking stick and shades (the result of a bad accident in 2003) only add to the initial feeling that she is the spiritual heir, if not the actual misbegotten daughter of a figure like Dr John, the Night Tripper.
As an ex-fashion student, she oozes style, no bad thing in a jazz world that often equates scruffiness with authenticity.
With a first rate band joining her on stage, directed by drummer Chuck Staab and including "Mr Everything" Irwin Hall to the fore on sax, flute and clarinet, the music wasn't startlingly original, but it was delivered with superb élan. Gardot has been travelling the world in the last couple of years, and the influence of Brazil in particular on songs like "Mira" and "Lisboa", both from her recent album The Absence, has been added to the jazz and blues mix with which she established her name.
If you do 'Summertime' you are going to be compared to Billie Holiday and Ella Fitzgerald, and are likely going to lose
Lisbon is also where the support singer Luisa Sobral comes from, a brilliant talent who also wonderfully conjures up a nostalgic sense of place in her songs. (She is on Later With Jools Holland this week and will be performing in London again in January, and theartsdesk hopes to revisit her then).
From Philadelphia, Melody Gardot, like Woody Allen's recent films, seems to have an enjoyably romantic if rose-tinted idea of Europe, as she told tales of children playing soccer at 3 a.m. in Lisbon ("a paradise by the sea") or joining in with "vagabond" buskers in Paris. Another kind of singer might sing about grittier, even political matters, but Gardot's are songs of delight and personal heartaches.
She proved she could do torch singing with the best of them on songs like "Baby I'm a Fool," aided by a band who at times flirted with - but avoided - cliché, partly due to the innovative use of cello and tremendous jazz guitar from Mitchell Long.
For those of us who saw her when she broke through here with "My One And Only Thrill" (the song remains a highlight of her set) a few years back she has become a more sophisticated performer, even if it comes at the cost of losing some of the unguarded passion that drew in those earlier audiences.
Towards the end of the set, she took a slightly risky strategy of doing some covers. If you do "Summertime" you are going to be compared to Billie Holiday and Ella Fitzgerald, and are likely going to lose. If you do "Fever", everyone will have Peggy Lee's version in their head. "Somewhere Over the Rainbow", though, was a quirkily clever re-invention, with cellist Stephan Brawn playing his cello like a blues guitar. It showed Gardot at her playful best and left the audience purring with pleasure.
The London Jazz Festival continues until 18 November
Follow Peter Culshaw on Twitter @PeterCulshaw
Watch Melody Gardot perform "Mira"
She has become a more sophisticated performer, even at the cost of losing some of the unguarded passion that drew in those earlier audiences
rating
Share this article