Muse, 02 review - bombastic Brit-rock with a sci-fi theme |

reviews, news & interviews
Muse, 02 review - bombastic Brit-rock with a sci-fi theme
Muse, 02 review - bombastic Brit-rock with a sci-fi theme
Instrumental genius and a brilliantly ludicrous cocktail of styles
Monday, 16 September 2019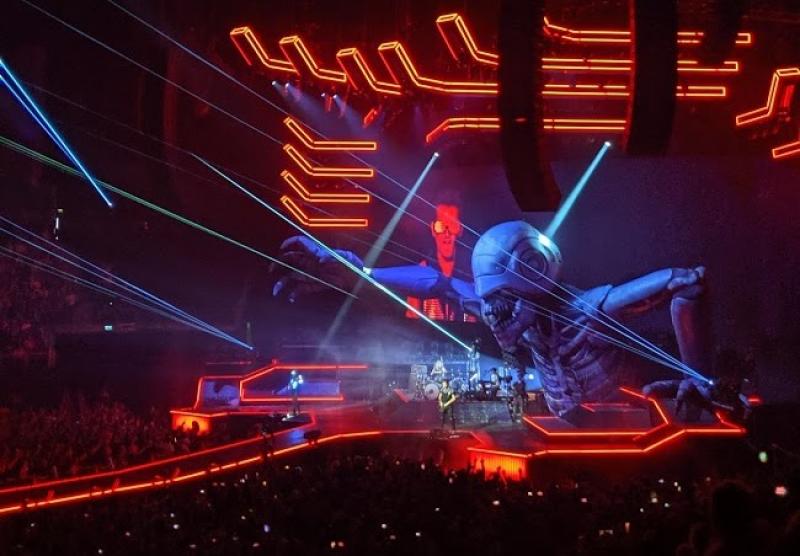 Dystopian laser light shows and progressive rock
For a band mostly known as a brilliantly ludicrous cocktail of other's people's sound-styles, the Simulation Theory tour is proof that Muse have become musical legends in their own right.
Yes, their progressive rock is the combined conglomeration that would result of you threw Queen, The Darkness, Prince and Radiohead in the tumble dryer and they came out crackling with static. But while there are intelligent and irreverent references to elements of the above, the bombastic futuristic narrative and preposterously prophetic wisdom of Muse's lyrics combined with instrumental genius and crunchy guitar riffs, result in a savagely spacey sci-fi style that's very much their own.
Opening with "Algorithm", a strong song warning us that AI machines will take over the world, we see trombone players covered in LED piping and cyberpunk sunglasses. The stage is full of neon chevrons, Space Invader strobe lights, dancers wearing boiler suits and Tron helmets. Chewy synths and simmering tensions remind of Stranger Things, and there's even a visitor from the Upside Down in "Psycho".
The spectacular guitar solos ("Pressure") locate us in a place of solid rock that has also perfectly captured the cultural zeitgeist of both nostalgia and futurism. Muse have an artfully amusing duality which makes us think that while this is all quite entertaining, in reality, it could actually be a bit frightening.
Two claps and a fist-bump signal "Uprising", during which Matt Bellamy gives over to the audience for the chorus that rings with particular strength. It suddenly feels a little political, this seething mass of fans with their hands in the air, adrenalin coursing, as they sing "they will not force us, they will stop degrading us, they will not control us, we will be victorious".
Coursing between the new album with "Propaganda" and old favourites like "My Plug In Baby" and "Hysteria", it's like hard rock meets Starlight Express by way of Ghostbusters, as dancers in black PVC spray the front row with smoke machine guns as the strobe lights kick in.
We take a quick pause for "Dig Down" as the auditorium lights up with phones and lasers wrap the stage in beams of thin light, before "Madness" bounds into "Time Is Running Out", then "Take A Bow", before mayhem is unleashed with the black holes, revelations and expectations of "Starlight".
A giant robot skeleton puppet appears, gurning above the band who blast out "Algorithm" again, with more spectacular laser effects and dancers with light sabres. The hard metal rock of "Newborn" sees wildness in the mosh pit before "Knights of Cydonia" and a musical finale that sees giant balloons bounce across the auditorium to the sound of face-melting psychedelic guitar jams.
It's a special kind of genius that can take such a legacy of iconic influences, and pair them with a tongue-in-cheek poke at what dystopia could look like while recognising the burgeoning trend for new-wave nostalgia – all via the medium of rock music.
It's like hard rock meets 'Starlight Express' by way of 'Ghostbusters'
rating
Explore topics
Share this article